All about Orange Bud from Dutch Passion
Orange Bud is still at the top of Dutch Passions best seller list 25 years after she was introduced, you will still find her in the coffee shops of Amsterdam and she remains a favourite Orange Skunk selection.  How does a variety remain iconic for so long?  Alchimia took a trip to Amsterdam and met the Dutch Passion team to ask them for some inside information.
From the beginning, what is Orange Bud and how did you develop her?
Dutch Passion.  In the early days of the Dutch cannabis seed breeding programs there were 4 main cannabis varieties which were to become the foundation of many of todays varieties.  There were Haze, Blueberry, Northern Lights and Skunk.  All of these were stable, true breeding varieties and, as one of the original Dutch seed companies, we were lucky enough to have special genetics lines of them all.  The Skunk selections were of great interest to Dutch Passion in those days, offering top class yields of frosty and highly potent cannabis with those unique aromas and taste.  Our contacts and connections allowed us access to some remarkable Skunk cultivars and one particular Skunk selection was exceptional.  The Skunk had an unusual scent of oranges, if you rubbed the buds on your fingers you could still smell the orange zest 10 minutes later.  The buds were often draped in rich golden orange hairs and the yields were much higher than most of the other Skunk selections.  It was a one-in-a-million variety which the whole team adored with a wonderfully smooth and powerful anti anxiety high. This Orange Skunk was worked on extensively for a few years to stabilise and was released in the 1980's.  We gave her the name 'Orange Bud' and knew this was unlike anything else in our seed collection.  Our customers immediately told us they loved the variety and before long she was in the coffee shops and she is still there today.
You have developed many different cannabis varieties, what is the one thing that is so special about Orange Bud?
For a variety to remain so well loved for decades there needs to be several really special aspects to the variety.  In the case of Orange Bud the main reason people grow her is simply because she is so strong and powerful.  A small amount in a joint or vaporiser is all you need to get stoned, we are convinced that many of our customers are repeat growers simply for that reason.  Other grow Orange Bud because she is a reliable producer of top quality cannabis; many of our customers grow cannabis once or twice a year and they don't want to take risks with new unproven genetics when they know that a variety like Orange Bud will not let them down.  And then there are the connoisseur home growers who demand an original authentic Orange Skunk which has not been crossed or hybridised.  These connoisseur growers are not growing for cash, they just want the best quality pot that they can grow, complete with the Orange aroma, rich skunky taste and devastating high.  Orange Bud is special in several important aspects, quality, reputation, consistency, taste, aroma and effect. We don't think there is any 'single' reason for her success, we think its a combination of reasons that make her popular.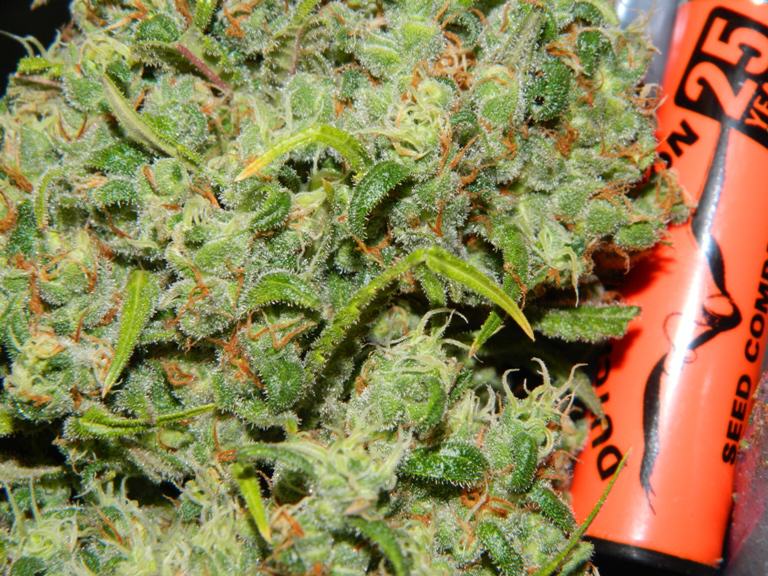 Is the Orange Bud variety ever going to be hybridised?
No, our Orange Bud is based on the original and best 1980's genetics and therefore we will not change her.  Lots of customers have written to us requesting that this variety is never changed and of course we agree.  However we have recently created Orange Hill Special , which is a cross of original Orange Bud and our Californian Orange.  This means we have 3 members of the Orange family, each offers a slightly different type of experience and high.  Orange Bud remains the same as she was in the 1980's and we are sure that is part of the reason for her continued popularity.  Orange Bud is available in both feminized seeds and regular seeds, around 97% of our sales are feminized and just 3% of sales are in regular (non-feminized).  The regular Orange Bud seeds are popular with old-school growers and also with smaller seed banks that like to use our 'Orange' genetics for their own breeding experiments.
What type of grower does Orange Bud most appeal to?
Orange Bud appeals to all kinds of growers, and that has to be part of the reason for her popularity.  Orange Bud is a tough, robust variety, its easy for new growers to produce above-average harvests of strong cannabis from her.  Orange Bud also has possibly more repeat growers than any of our other varieties, for some people its the only variety they need.  And of course there are plenty of experienced home growers that like to grow Orange Bud every year or two.  Its an easy variety for indoor and outdoor growing, she grows strongly and needs no special care or attention.  Indoors she typically reaches 1.5 meters and outdoors she can reach 3-4 metres tall with unrestricted root space, plenty of sun and good quality conditions.  Orange Bud is one of those varieties that everyone should try at least once.
The articles published by Alchimiaweb, S.L. are reserved for adult clients only. We would like to remind our customers that cannabis seeds are not listed in the European Community catalogue. They are products intended for genetic conservation and collecting, in no case for cultivation. In some countries it is strictly forbidden to germinate cannabis seeds, other than those authorised by the European Union. We recommend our customers not to infringe the law in any way, we are not responsible for their use.