Growing cannabis with Botanicare nutrients
Cannabis and Botanicare nutrients
Today we present you a grow report of Bubble OG Kush regular seeds using the Pure Blend Pro range of nutrients formulated by Botanicare.
For this crop, we used coco coir from Biobizz, a substrate that we know well and that will allow us to determine the quality of this new range of fertilizers, new on the European market but well known by American users, both indoor and outdoor farmers.
We also used a 1m2 grow tent and a 600W lighting system with a Lumatek digital ballast. We installed a 600W MH lamp for the growth stage and a 600W HPS bulb for the flowering period.
The air circulation system consists of a 125mm 330m3/h air extractor to remove the air and a 125mm 160m3/h air extractor blowing fresh air inside the tent. Both extractors are connected to a climate control unit.
The pots used for the initial phase had a capacity of 0,5L, 1,65L for the definitive containers (13 x 13 x 13 cm). We usually perform a transplant to promote the growth of the root ball before putting the plants to bigger containers.
This is the complete list of the Botanicare products used for this report:
Pure Blend Pro Bloom
Rizho blast
ZHO innoculant
Hydroplex
Cal-Mag Plus
Likid karma
Silika Blast
Seaplex
1st week of growth of Bubble OG Kush and Botanicare
We germinated our seeds in peat moss pellets and put them in 0.5L pots as soon as they sprouted. We used our own OG Kush x Bubblegum cross, which is a strain well known by the grower and that will help us to rate the quality of Botanicare's Pure Blend range of organic products.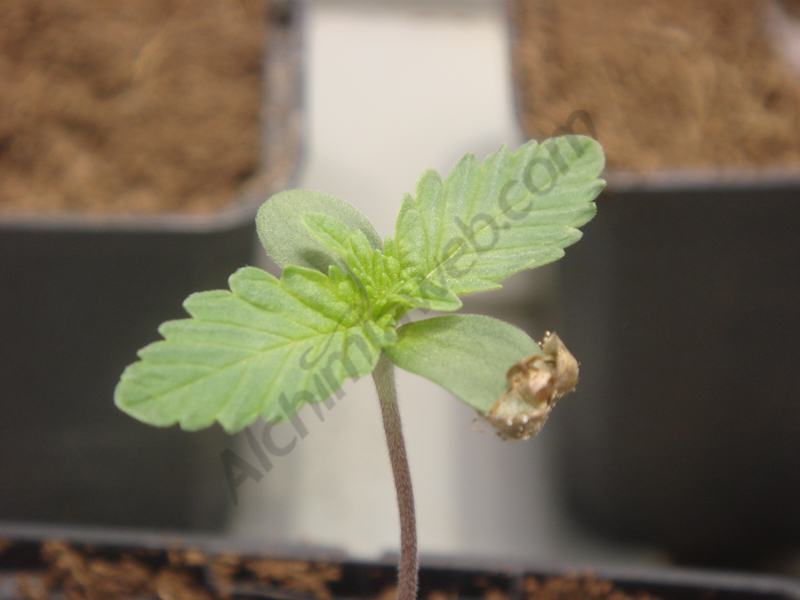 We added microbial life to our irrigation water from the early stages of the plants life. The product used was ZHO Inoculant, which allows the plant to develop a healthy and lush root system with abundant root hairs.
We do this because the plant won't start developing its aerial part (stems, leafs...) until it has a nicely developed root ball. Normally, as soon as we can see roots at the bottom of the pot, plants will start demanding more nutrients; it will be time then to raise the EC of the nutrient solution, that is to say, to start using some type of nutrients. In this case, we used Pure Blend Pro Grow.
Liquid Karma, a product with high amounts of humic and fulvic acids from leonardite and yucca extract (NPK 0.1 - 0.1 - 0.5) acts as catalyzer and keeps the metabolism of plants healthy and active. We also used Cal-Mag Plus so plants do not show deficiencies of calcium or magnesium, two important elements for plant development. Our tap water had an initial EC of 0.3, which we raised to 0.4 with Cal-Mag.
During this first week of growth the humidity levels have been kept between 70 and 80%, either at day or at night. Minimum temperatures have been around 18ºC (64ºF), while maximum temperatures reached 24ºC (75ºF). Using a clip fan inside the grow tent works great to avoid heat/air pockets. If needed, we can also use a Medussa tutor for plants, which is very helpful at the early stages of the plants.
2nd week of growth of Bubble OG Kush with Pure Blend Pro Grow
After a first week of growth under a 18/6 light schedule, plants look healthy and green. We are still using our 6L humidifier to keep humidity levels high and constant during this crucial stage.
Since we have been using Rhizo Blast, roots have developed nicely and plants look great. EC levels were raised from 0.8 to 1.0, since plants start demanding more nutrients as soon as they have a nice root ball. Silika Blast, a product made from silicon, is a great source of this element, which promotes resistance to bad climate conditions (temperature/humidity fluctuations) in plants and should be an obvious choice for any cannabis grower.
At the end of the second week we'll transplant our small plants into bigger containers. Fill the new containers with some substrate, put some ZHO Inoculant on it and you are ready to transplant. This greatly improves root development in the new growing media.
We have installed an automated irrigation system so plants are properly and uniformly watered every day, although during these early stages the system was activated manually, although you can easily program your waterings (from 1 minute lenght) with a digital timer. The drippers we used had a capacity of 40ml/minute.
Temperature and humidity are still constant, 18ºC (64ºF) at night and around 25ºC (77ºF) with the lights on.
A few days after the transplant we can already observe new roots at the bottom of the pot. The plants have now a nice size, so we'll switch to bloom in few days. We have checked that ZHO Inoculant and Rhizo Blast truly help to develop an efficient and healthy root system with lots of root hairs.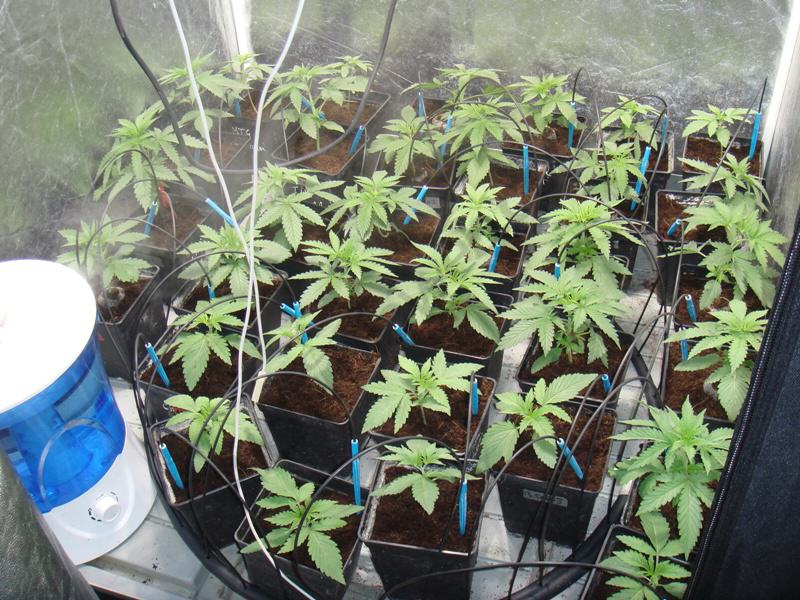 As we mentioned before, we used a clip fan to dissipate a little bit the heat produced by the bulb. We put the fan right under the reflector but not pointing it directly to the bulb, since it needs a certain temperature to operate properly and offer the maximum amount of lumens. If the bulb doesn't have the correct operating temperature, its performance will be lower but it will need the same power, thus wasting energy and money.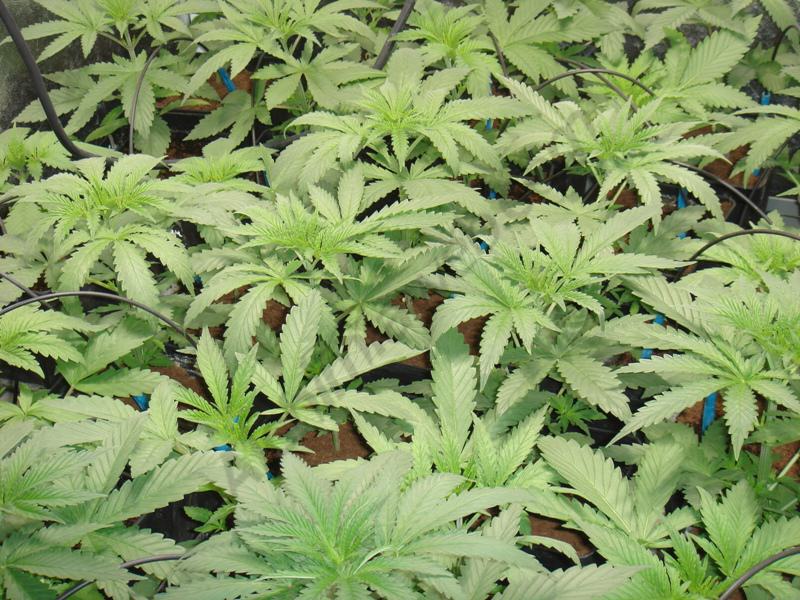 1st week of flowering and stretch of cannabis plants
As soon as we put our plants under a 12/12 photoperiod, they'll start stretching and flowering. It is time now to remove any male plants since we don't want our buds seeded. Female ratio was slightly higher than 50%, which is normal when using regular seeds, from which feminized seeds are developed later on. It should be noted that, prior to the development of feminized seeds, cannabis growers often enjoyed wider genotypes and, obviously, a more diverse number of phenotypes than those found in feminized seeds.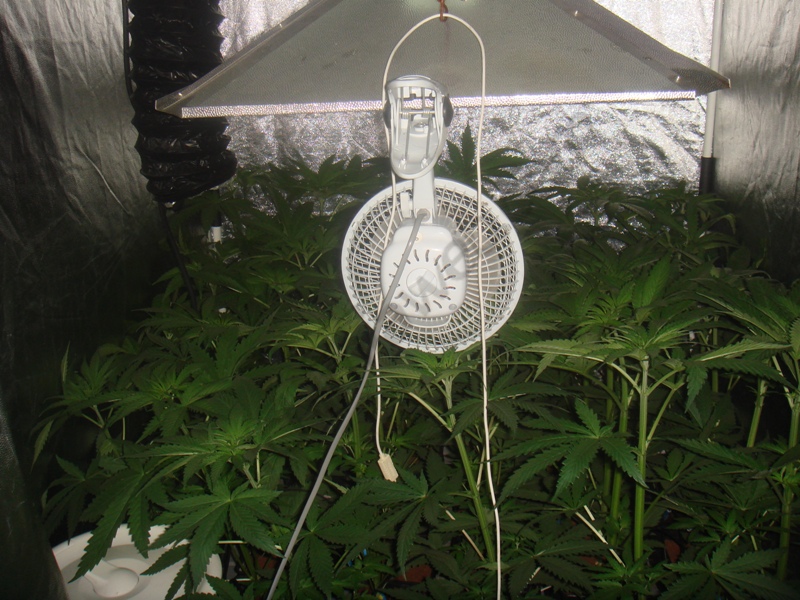 After removing the males we notice that we have extra drippers now. We can remove them or use them with the other plants. In this case, and as we had almost 50% of our initial drippers unused, we decided to use them and put an extra dripper in each pot (2 drippers per pot).
Since we wanted to observe the development of the lower branches of this strain, we didn't prune our plants at all. If we'd have been focused on yields, then we'd have removed these lower branches so bud production would concentrate on the main cola.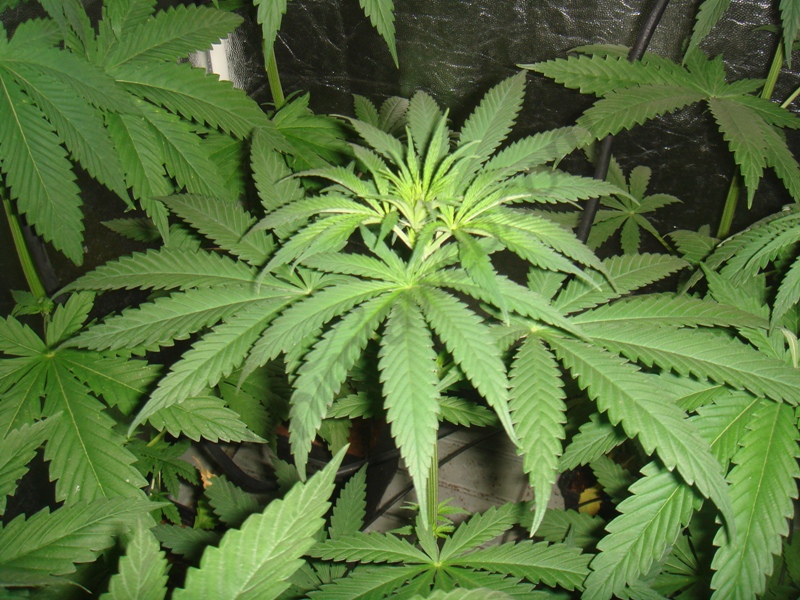 2nd week of flowering and stretch
Once into the second week of bloom, we look again for males or hermies to ensure that we only have pure females in the grow tent. Since we can't find anything unusual, we keep our ratio between female cannabis plants and males.
Since we are growing 30 plants in a 1m2 tent, we used the SOG technique to promote development of the central bud. It must be noted that this technique works better with cuttings, since you don't have to remove plants at the beginning of flowering and so you won't have empty slots after removing the males. We tried to remove the male plants as soon as possible so our females had more available space for the stretch phase.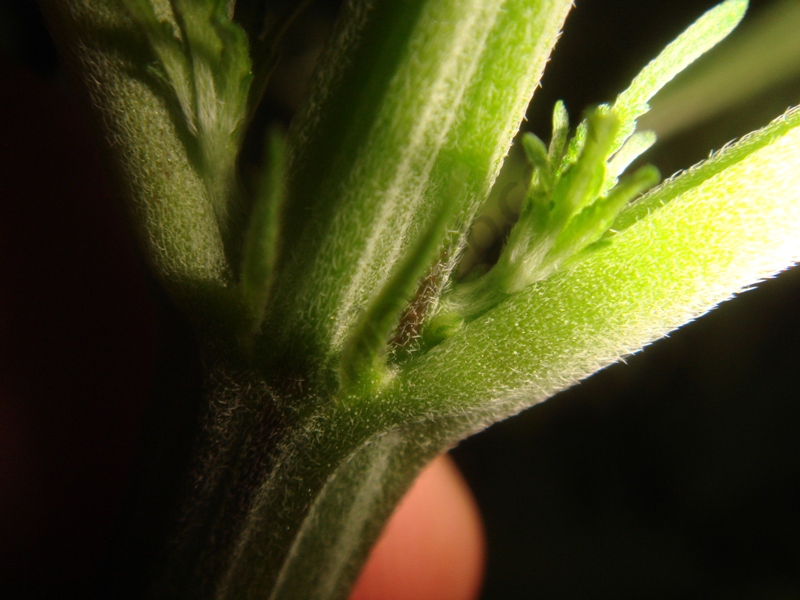 Today, we still don't know the exact reason why plants  turn male or female. It is believed to be something linked to several environmental factors like lumens, stress, temperature and humidity fluctuations, etc. The study of dioic plants is still inconclusive with regard to this subject.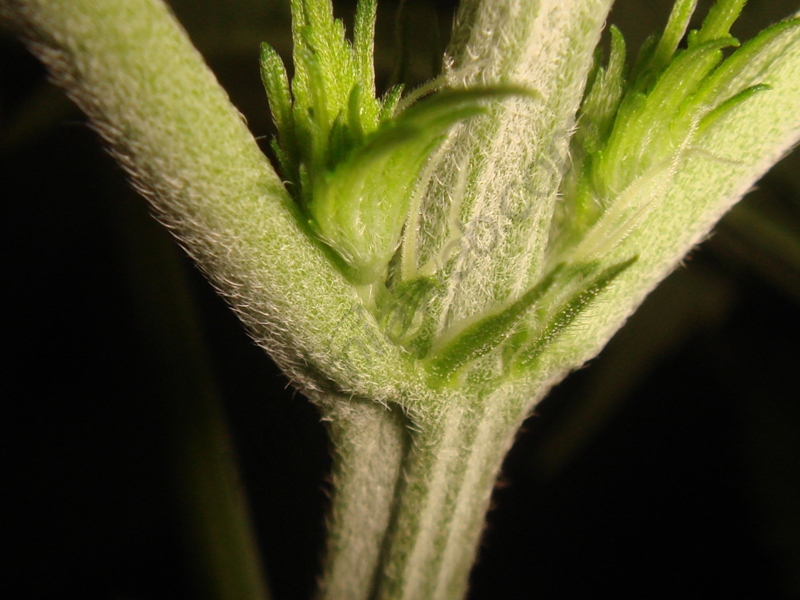 The only way of not having males is either growing feminized seeds or growing cuttings. Still, genetic diversity is drastically reduced if we choose one of these options. Finding new and exciting phenotypes is really hard when using feminized seeds, since we are working with a very restricted genepools.
Feeding schedule for the first 4 weeks
Initial water EC: 0,3
ZHO inoculant: 1 teaspoon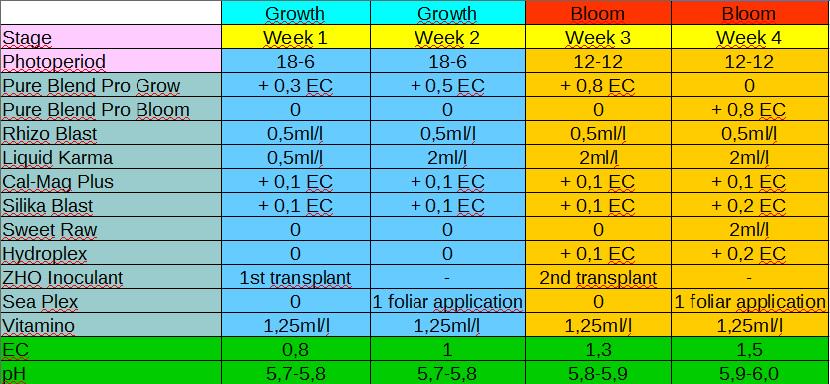 3rd week of flowering of Bubble OG Kush using Botanicare nutrients
Once the plants start developing flowers we must modify our nutrient solution. After a first week of bloom - transition stage - in which we used the growth nutrient so our plants didn't show nitrogen deficiencies, we started using Pure Blend Pro Bloom as base nutrient.
At this stage, we can already see the first trichomes on the buds and closer leafs. We have kept the same EC value than during growth, although it is time now to provide our plants with some extra P and K. Thus, we started using Hydroplex at this point. Basically, as soon as you see the plants develop the first flowers (around week 3 into flowering, although this mainly depends on varieties), you can start using the feeding chart for the bloom stage. We continue using Cal-Mag Plus.
The colour of the Bubble OG Kush is bright and healthy, so everything is fine. Plants are assimilating the nutrients without problem, and the microbial life is highly enhancing nutrient uptake. If nothing changes, this is going to be an excellent crop.
During the third week, plants start fattening the buds. Trichome production also increases, so using some type of smell control system is advised at this point. We used the Neutralizer to remove any odour from our cannabis plants.
Resin production is awesome at this point. We can already notice that this strain is ideal for cannabis concentrates and for lovers of frosty buds. The nutrients are doing their job perfectly and the buds have a very pleasant sweet scent.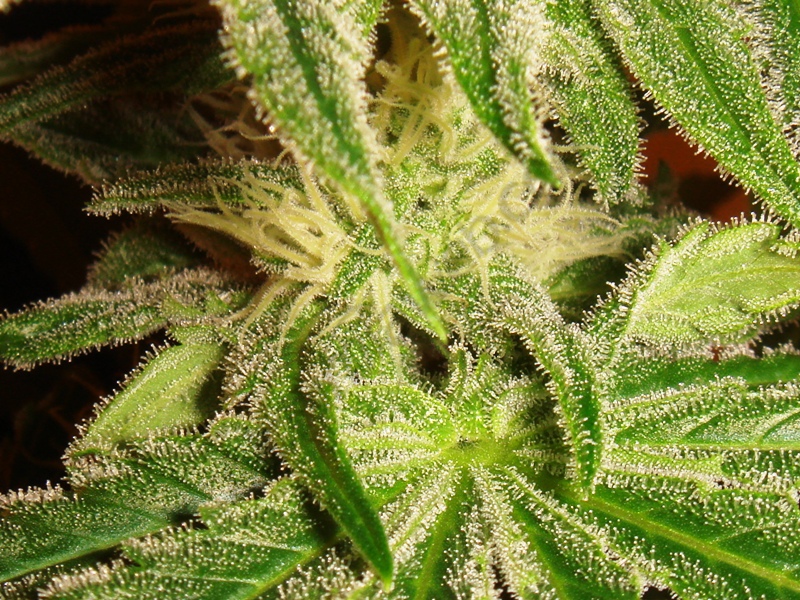 Pure Blend Pro Soil is a mostly organic vegan fertilizer. We raised the nutrient concentration to 2.0 during the 4th week and the plants didn't show any symptom of overfeeding, neither on the young parts of the plant nor on the lower area, where nutrient lockouts usually happen.
Overfeeding - especially with nitrogen from mineral nutrients - cause the younger parts of the plant to become "burned" or curl downwards, developing a very dark green colour. If this happens, we should quickly flush the roots of our plants.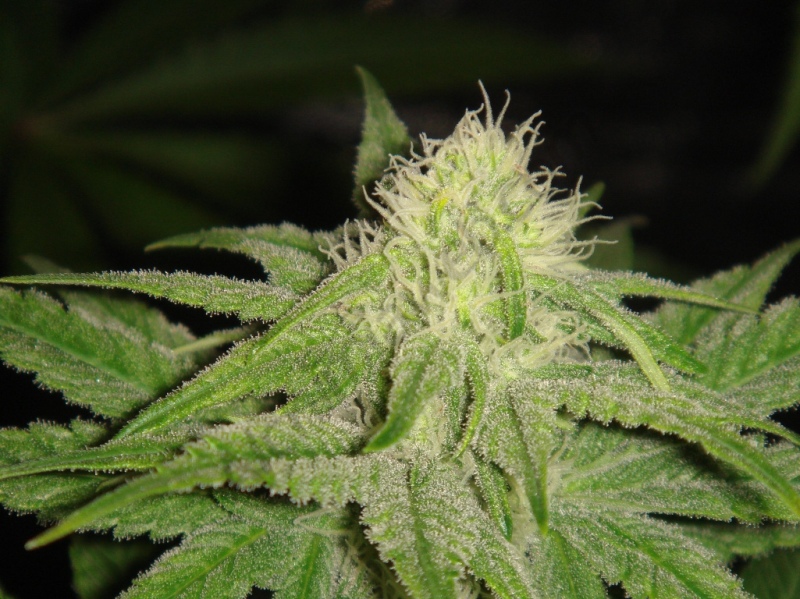 4th week of flowering Bubble OG Kush with Botanicare nutrients
At this point, plants have stopped growing and start developing a solid bud structure. Since we used the SOG technique, our target is getting plants with a single main cola. We used Sweet Raw to balance the metabolism of our plants and enhance their vitality in this crucial stage. It also provides the plants with sugars, thus improving the taste of the buds.
Temperature and humidity levels are still constant (18-26ºC), so we don't have any problem with molds or pests. During the first 4 weeks of bloom, we recommend keeping relatively high - 60% - humidity levels to stimulate the development of buds. The clip fan is always on to dissipate the heat produced by the bulb during the day and to keep humidity under control at night.
During this week, we raised a little bit the concentration of Hydroplex, using the same amount of Pure Blend Pro Bloom. Hydroplex is a concentrated PK booster (0-10-6) that also promotes the formation of natural vitamins and enzymes by the plant, reducing stress and providing sweeter flavour.
We used neem oil and propolis before switching to flowering to keep pests under control, with excellent results. If we had some pest at this point, we'd use an insecticide for the last time, although at this stage it is best not to use any kind of foliar application at all.
When growing a new strain, it is advisable to regularly check the trichome heads in order to establish a correct harvest date. In our case, and as we can see in the above picture, trichomes were already turning from translucent to milky colour.
The plants are now focusing on producing buds and trichomes, so the more healthy they are the more flowers, cannabinoids and terpenes they'll produce.
5th week of flowering using Botanicare Pure Blend Pro Bloom
Plants are developing buds and resin without problem, getting bigger and fatter everyday. The grow tent smells incredibly sweet. We performed a drainage test to check the substrate. If the media is too saturated with nutrients, then we should flush the roots to balance the EC of the substrate.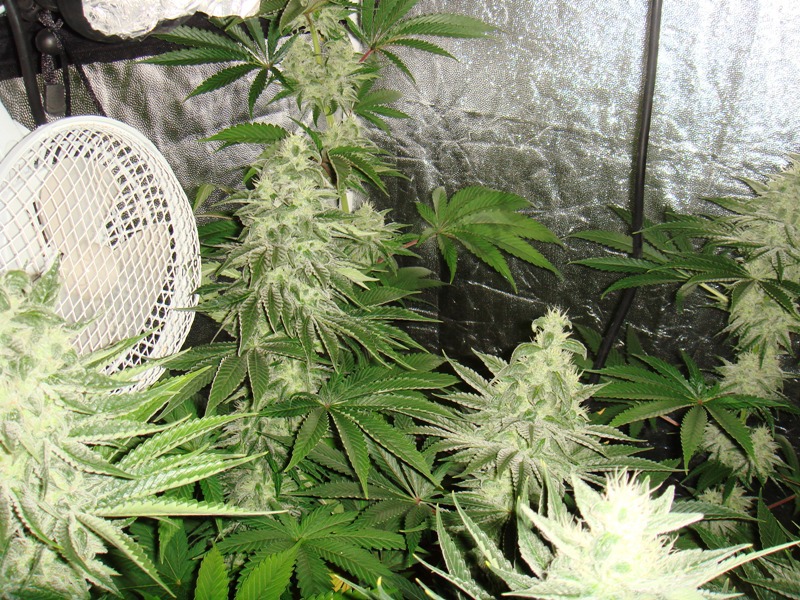 It is not strange to find salt accumulations in the substrate. This salts make the EC of the growing media to raise, causing nutrient disorders. Use an EC meter to check the electroconductivity of your nutrient solution before watering and then collect some drainage water from the bottom of the pot and measure the EC value again. These values should always be balanced, otherwise plants can suffer nutrient lockouts.
As we already mentioned, in case of overfeeding our plants we should flush them abundantly with tap water, watering them with 2-3 times the normal amount of water. There are products on the market that help roots to assimilate excess nutrients, which can be used to flush the roots in a more effective way.
6th week of flowering with Botanicare nutrients
Once we reach the 6th week, we should reduce a little bit the concentration of nutrients. We went from 2.0 to 1.7 to make sure that we are not overfeeding our plants, since at this point they don't need as much nutrients as few weeks before.
From this week and until harvest we'll gradually reduce the EC of our nutrient solution, maintaining the pH range between 6 and 6.3 so that plants can properly absorb the remaining nutrients on the substrate.
Once we have covered half the flowering period, the plants fatten their buds for a few more weeks and then begin to ripen the trichomes. Thus, at this stage plants do not grow in height and focus their energy in bud and resin production.
For this crucial stage we used our base nutrient, a bloom stimulator, a PK booster, some extra calcium and magnesium, Liquid Karma to provide plants with humic and fulvic acids and Silika Blast, a product that greatly reduces stress thanks to its high concentration of silicone.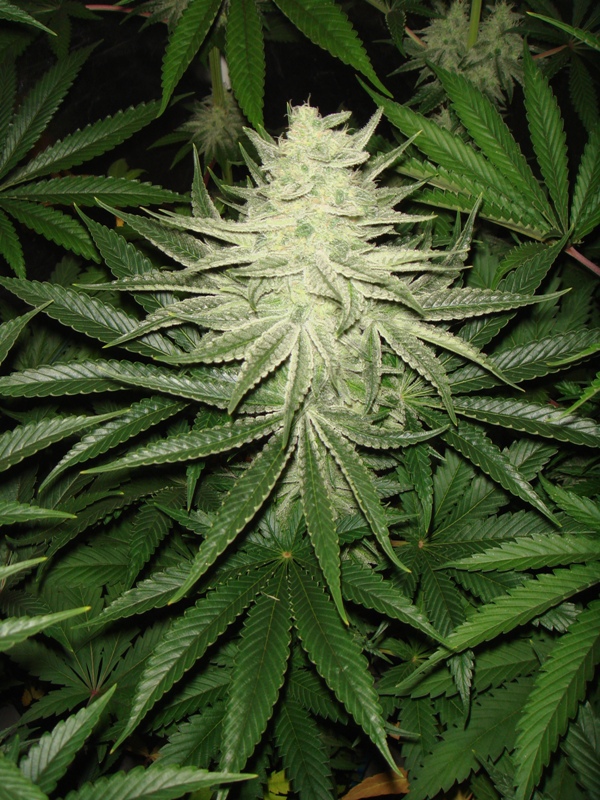 7th week of flowering of Bubble OG Kush
Trichomes have a prominent role at this stage. They cover every single bud and small leaf of the plants so they look bright and frosty. Most heads are now milky, and some of them even have amber hues.
Buds are getting more and more compact, especially in Bubblegum predominant phenotypes, which are also the most resinous plants. Everything suggests that this phenotype will be the first to be harvested.
We carefully check the trichome heads with a magnifying glass to know the best time to harvest our plants. We found a difference of around 7 days between phenotypes. This means that, at this point, we are using two irrigating solutions, since we are already watering the fastest pheno with tap water while still using some nutrients with the other.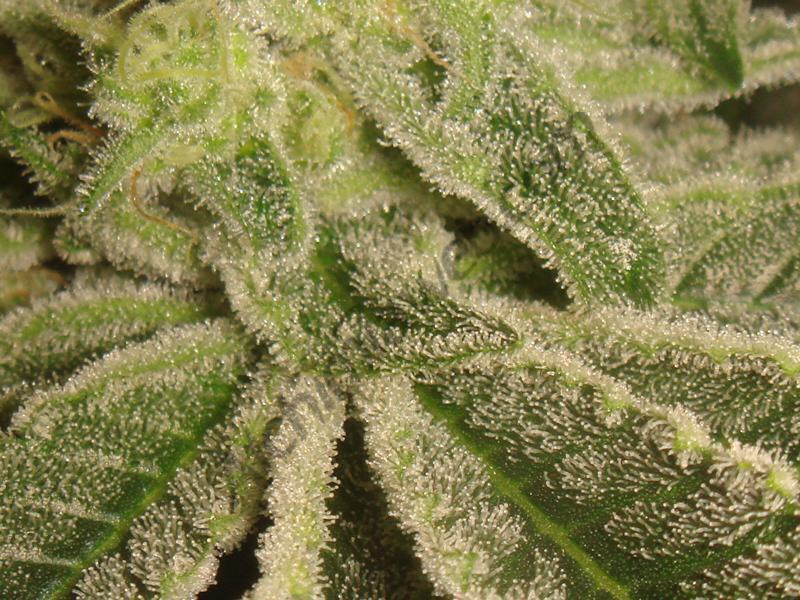 Unless our substrate is saturated with nutrients - in which case we'd flush the roots - it is always better to gradually decrease the nutrient concentration during the last weeks of flowering, and use tap water - or RO water - for the last days.
To ensure that our plants are clean from fertilizers and additives, we used Clearex so excess salts would be quickly assimilated by the plants.
Using nutrients until harvest is not recommended at all, since the few extra grams that we'll get are not worth the taste. Our buds should always have a clean, pleasant flavour, without bad/harsh aftertaste.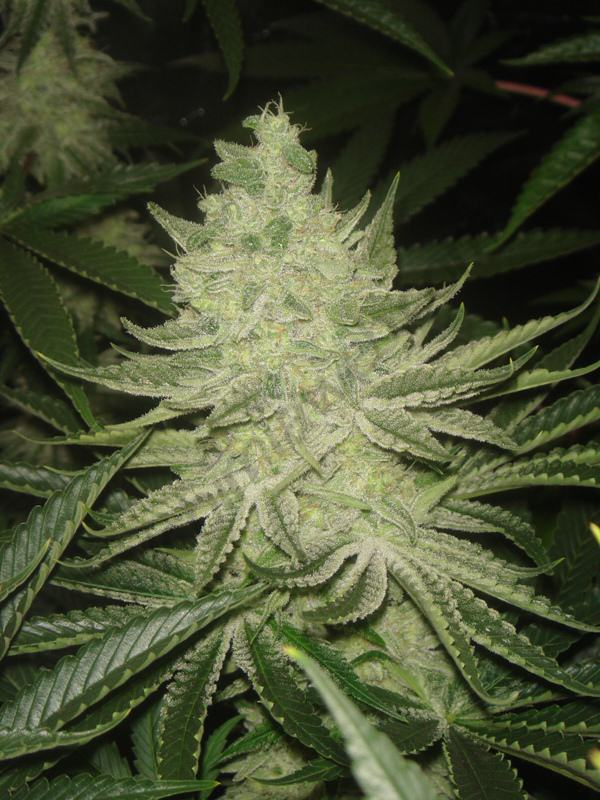 It is also important that plants are not stressed during these last weeks, since some strains tend to develop male flowers if stressed at the end of the flowering period. Plants feel that they are ending their life without being pollinated, so sometimes they may develop a few male clusters to produce at least a few seeds.
8th week of flowering of Bubble OG Kush
During this last week we can observe that buds are completely developed. Many pistils have turned orange, although it doesn't necessarily mean that we have to harvest our plants right now. Again, checking the colour of the trichomes with a magnifying glass is known to be a much more reliable method to determine harvest time.
The roots are still healthy and white. Using microbial life has been decisive to achieve such formation of root hairs, which also allowed us to reduce the growth period, saving money and time.
Once we have checked that our trichomes are ripe and most leaves have turned yellow - they have lost all nutrients stored in their tissues - it is time to remove all fan leaves and then proceed to trim our buds. We discarded any plant material without trichomes and saved the trim with resin glands for further processing into concentrates.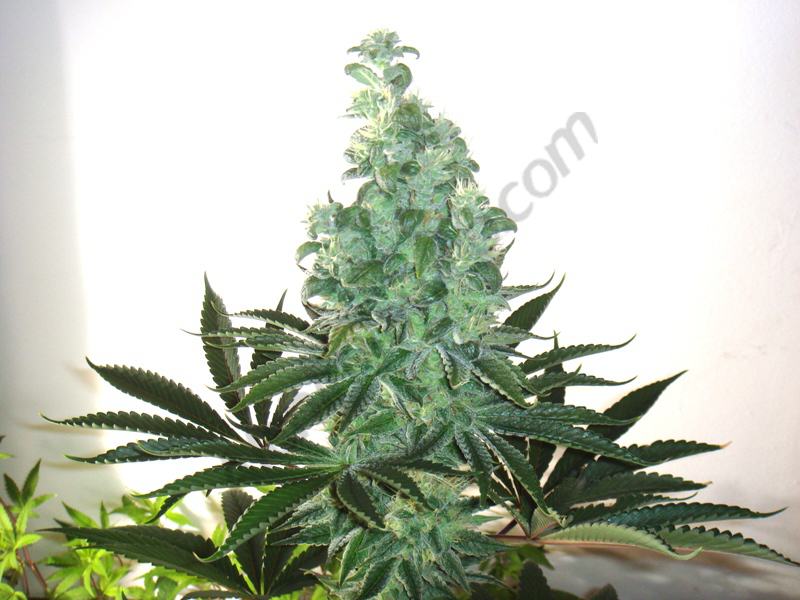 This trim contains high amounts of top quality trichomes, so we kept it in the fridge to make a Fresh Chilled extraction, which is basically the same than using fresh frozen material but in this case we don't freeze the trim/buds to avoid the ice nucleation process that occurs in the plant tissues, piercing the cell walls and allowing chlorophyll to escape and contaminante our resin.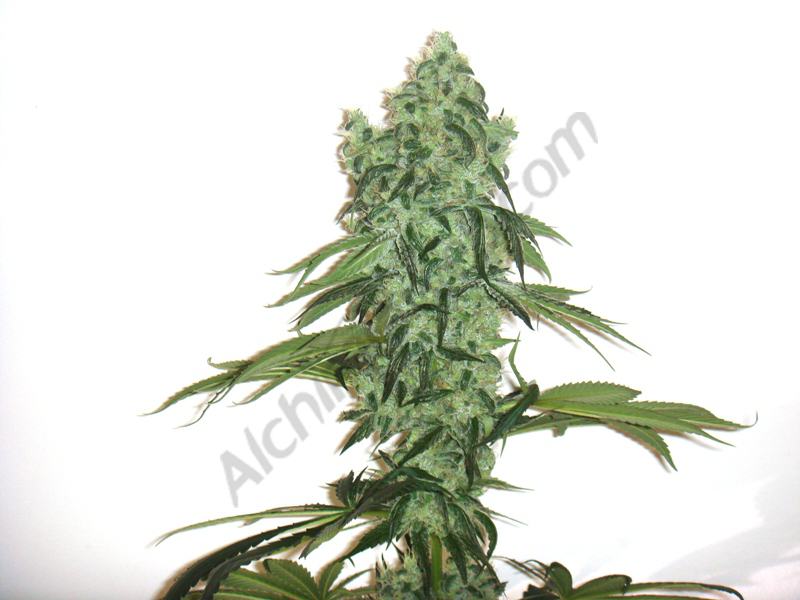 Once we have removed all fan leaves and trimmed our buds, we put the plants to dry for a minimum of 7 days. Then, we removed the buds from the stems and let them dry for a few more days to avoid botrytis, a very harmful mold that would ruin our buds. As you can see in the following picture, crossing two exceptional resin producers have brought an offspring that keeps this trait and even improves it, a true wonder for hash lovers.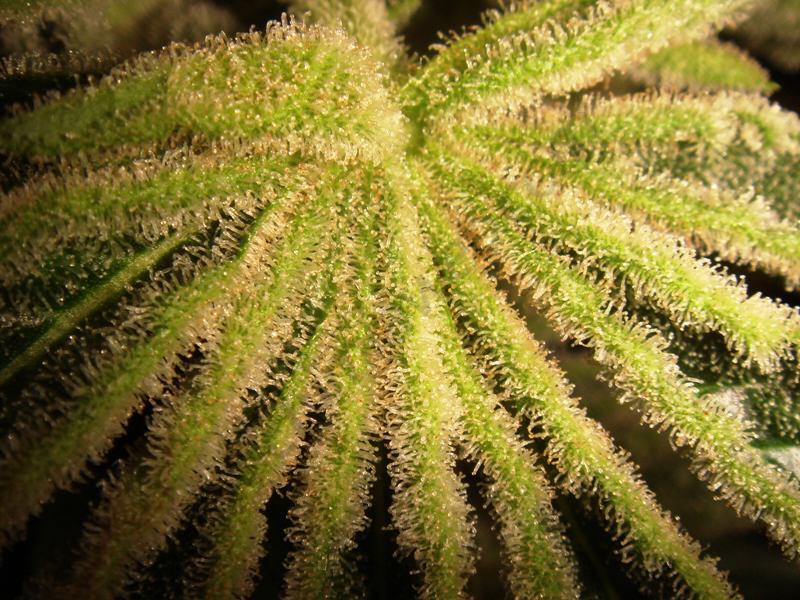 It is important to give our buds a proper drying process, slow and with constant temperature and humidity, in order to keep the terpene profile as intact as possible. If this process is not performed correctly, our buds won't be as compact as they'd have been and we'll lose a considerable part of their terpene range.
Feeding chart for the flowering stage with Botanicare products
Initial water EC: 0,3

Bubble OG Kush plant ready to harvest
Final report of Botanicare products for growing cannabis
We have successfully cultivated our plants using Botanicare nutrients with excellent results and no problems at all. Nutrient uptake has been performed perfectly, which is demonstrated by the rapid and healthy growth of the plants. Using root stimulators and other additives has proved to be effective to stimulate the metabolism of the plants and thus achieve correct and balanced nutrient assimilation.
The base nutrients are concentrated enough so that we don't need large amounts of fertilizer to get high EC values. Both the smell and taste are more pleasant than with mineral nutrients, with which sometimes we can find a more "rude" flavour.
Resin development has been amazing, something strongly associated with the plants genetics but that also depends on proper nutrition. We changed our nutrient solution and washed our reservoir every 7 days and didn't use any kind of cleaning product for hydroponic systems since there was no problem at all regarding that.
All products used have perfectly complemented each other, with no signs of nutritional disorders. These fertilizers are quickly assimilated so there's no need to use large amounts of nutrients.
Botanicare have proven that their range of nutrients is balanced and complete, easy to use and totally recommendable. We'll use Botanicare again for sure!
The articles published by Alchimiaweb, S.L. are reserved for adult clients only. We would like to remind our customers that cannabis seeds are not listed in the European Community catalogue. They are products intended for genetic conservation and collecting, in no case for cultivation. In some countries it is strictly forbidden to germinate cannabis seeds, other than those authorised by the European Union. We recommend our customers not to infringe the law in any way, we are not responsible for their use.