Cannabis seeds to produce fuel
A car running on hemp fuel?
During 2001, Grayson Sigler and Kelly Sigler travelled through the United States and Canada with a Mercedes Benz 1-Class using a very original fuel for their vehicle: Bio-diesel made from oils extracted from cannabis seeds. Hemp seeds contain high amounts of oils that can be easily converted into bio-diesel, suitable for any Diesel engine. What would seem crazy to some people is actually completely viable, as this couple of activists showed to everyone: yes, cars can be powered by bio-diesel engines using fuel from hemp seeds!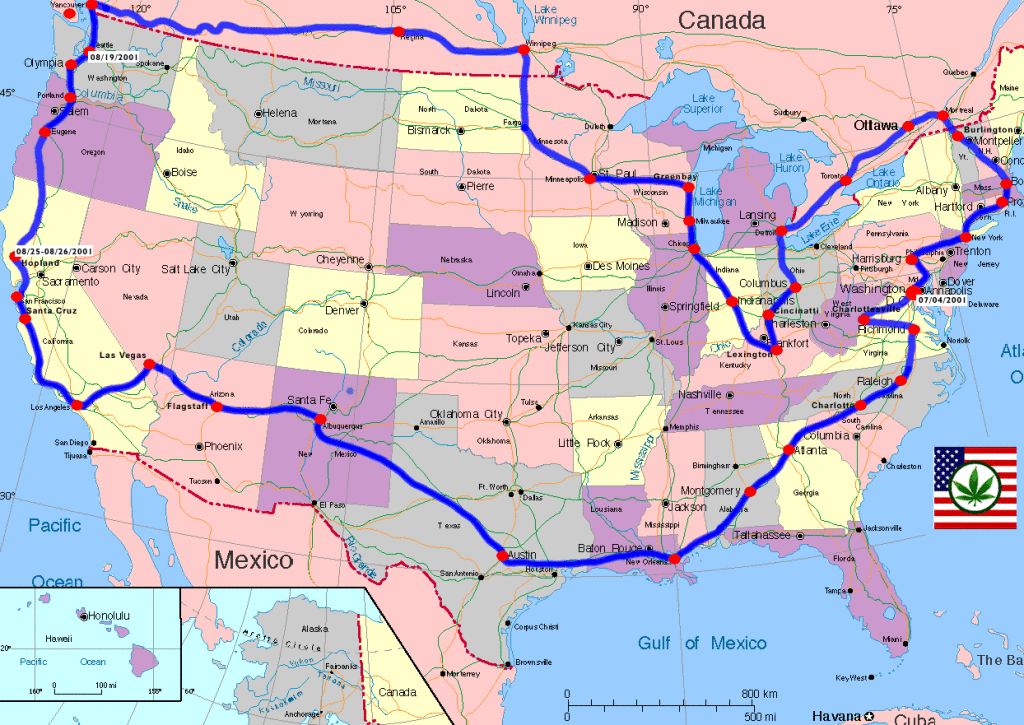 But the idea is not new. Henry Ford, president of the renowned car brand Ford during 1906-1919 and 1943-1945, already had this idea in mind: the fuel of the future would be ethyl alcohols. In this sense, Ford noticed about the possible uses of hemp and started working. He himself built a car made of resin from hemp fibers (among others), and drove a car powered with alcohol produced from hemp seeds. It was the first Hemp Car ever.
Cannabis seeds for producing bio-diesel
Indeed, bio-diesel (methyl esters) can be easily made from oils or fats, of course including hemp seed oil. The only things needed are a fat or oil, alcohol and a catalyst. Normally, methanol is the chosen alcohol and the reaction of these three elements produce bio-diesel and small amounts of glycerin. Needless to say, biodiesel is much less contaminant than petroleum diesel.
Fuels coming from the biomass are much more environmentally friendly than fossil fuels, and its use is much more rational and efficient (especially if we take into account environmental costs). As a matter of fact, hemp biodiesel produced by university students has achieved a 97% conversion efficiency.
Apart from this fact, hemp is believed to produce the most biomass of any other plant on the planet, so using hemp to produce fuel seems the right way to go. It is estimated that cannabis biomass could produce up to 90% of all energy produced by fossil fuels, and we should also remember that hemp oil is natural, non-toxic, biodegradable and can be made into any oil-based substance such as paints, varnishes, detergents, solvents, even directly sold as nutritional supplement.
Furthermore, two types of fuel can be made from hemp: bio-diesel (made from the oil of the pressed seeds) and ethanol/methanol (made from the fermented stalk) are both processed from hemp by using different processes such as gasification, acid hydrolysis and enzymes. Today, using hemp bio-diesel and hemp ethanol/methanol - hemp fuels - should be a must if we want to take care of our planet and produce sustainable fuels.
Grow your own fuel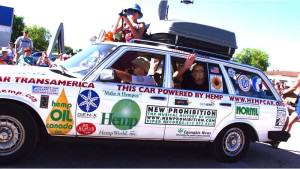 50 years after Ford's projects, on 20 April 2001, Grayson and Kelly Sigler started in Washington a trip that took them to New York, Chicago, Mineapolis, Vancouver, Seattle, Portland and that ended after 13.000 miles (almost 21.000 kilometres) in the same city were it was started on 1 October 2001. In numbers, they travelled 13.000 miles during 92 days, visited 50 cities, made 462 interviews, used 600 gallons of hemp fuel and took 8782 photos...absolutely amazing!
The car used for that trip was named Hempcar and it was exclusively powered with bio-diesel made from pressed cannabis seeds and supplied by activists and volunteers from both countries. Bio-diesel runs in any conventional diesel engine and can be stored anywhere where petroleum diesel fuels are stored, so no modifications are needed to use it. Actually, bio-diesel extends the lifespan of the engine since its lubricating action is better than that of petroleum diesel.
During their trip, Grayson and Kelly gave talks and conferences on the industrial uses of cannabis. Sigler stated:
"I'd like to see hemp growing in my country, and I'd like to see a better use from canadians, especially regarding energy.

Grow your own fuel"
For more information , see hempcar.org
The articles published by Alchimiaweb, S.L. are reserved for adult clients only. We would like to remind our customers that cannabis seeds are not listed in the European Community catalogue. They are products intended for genetic conservation and collecting, in no case for cultivation. In some countries it is strictly forbidden to germinate cannabis seeds, other than those authorised by the European Union. We recommend our customers not to infringe the law in any way, we are not responsible for their use.