Dab-a-Doo 2015 Barcelona
This past Thursday 19th March, three members of the Alchimia team participated in the second edition  of Dab-a-Doo Barcelona, an exceptional and unique cannabis event in the European territory.
It is a cannabinoid extraction tasting and competition divided into two categories: solvent extractions - basically BHO - and solventless resin separations, including different types of hashish like dry sift or water hash. This event is organized by Mila from Pollinator, the famous brand of marijuana resin extraction machines.
2015 Dab-a-Doo Barcelona Hashish and BHO Cup
This year, Dab-a-Doo took place in the night club Sr. Lobo, which was rented for the ocassion gathering 200 participants: 150 judges and 50 VIPs. Every participant had a gift bag with its entrance ticket containing:
Dab-a-Doo case, with around 30 samples to taste and rate (0,1gr per sample)
A BHO vaporizer (vapen), 2015 Dab-a-Doo special edition
A small glass bubbler (rig) for the judges who ordered it (+30€)
Official 2015 Dab-a-Doo Barcelona t-shirt
A set of small gifts: rolling paper, Biobizz t-shirt, rag (fabric used to clean the dabber), pins, fertilizer samples, cannabis magazines, etc.
As one can imagine, the atmosphere was happy and cheerful. Good music of different but easy-listening styles with a moderated volume, what allowed the participants to chat and share knowledge easily. A dense fog quickly spreaded through the club, a delicious mix of cannabis scents.
The submitted sampled were of great quality, particularly some shatters with exceptional aromas.  One of our prefered samples was an extraction of the Mango Haze marijuana made by Just be medimonkey extracts.
That night we could met lots of people, among which was the activist and journalist Laurent Apel from the ASUD association , or the members of "Principes Actifs", a French medical marijuana patients association.
All dabbing lovers enjoyed the party, using this smoking method and their prefered glass bubblers to taste the different cannabinoid extractions submitted. Lots of English guys gathered there, and all participants enjoyed dabbing and using a vaporizer specially designed for the occassion, besides rolling the classic joints.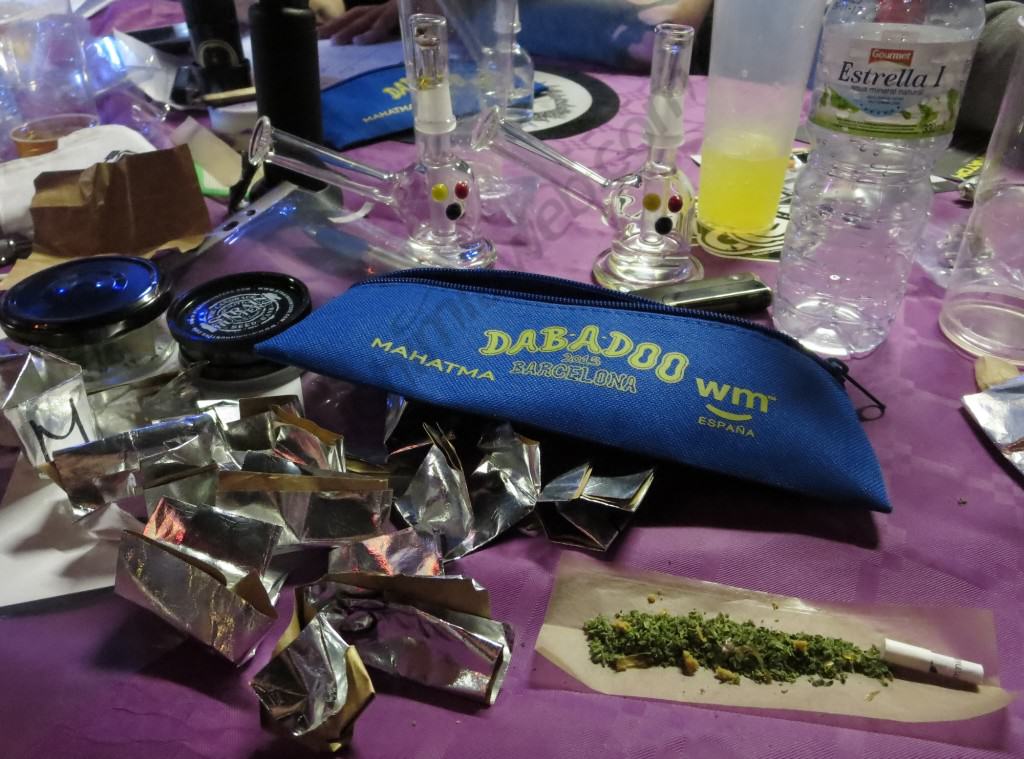 The tasting was blind, so any judge could know the genetics or the extractor of the samples. They were supposed to be rated following 4 criteria: appearance, smell, taste and effect, being the latter the harder to perceive after a few tastings. The organoleptic properties were of main importance then.
At the end of the night, the most highly rated samples were rewarded. The awards were performed by renowned cannabis personalities like Jorge Cervantes or Mark and Jodie Emery, the famous couple of Canadian activists. Here you have a list of all the submitted samples during the 2015 Dab-a-Doo Barcelona:
Winners at 2015 Dab-a-Doo Barcelona:
Solventless (hash):
1.- Skb Sensational Kind Bud with Star Dog
2.- House of the great gardener with BARB73
3.- Serious seeds & great gardener with Warlock 90
Solvent (BHO,...):
1.- Oil Hunters with Lemon Kush wax
2.- Mahatma with Snow Wreck
3.- Nerd extracciones feat. la Kalada with Tangie from DNA Genetics
We would like to thank Mila, the sponsors (Mahatma, Weedmaps,...) and the organizing team of Dab-a-Doo for offering us such an interesting and amazing cannabis event.
The articles published by Alchimiaweb, S.L. are reserved for adult clients only. In France, the age of majority is set at 18 years old. Consult your country's legislation and obey it. Alchimiaweb, SL is a Spanish company governed by Spanish law and can not, in any case, be held responsible for any misuse or non-compliance with the laws and regulations specific to each country, in relation to the articles published on its Blog. We remind you that the cultivation of cannabis seeds on French territory is strongly prohibited by law. We do not encourage our customers to break the law in any way and are not responsible for their use.