Expogrow 2015 Awards
IV Expogrow Cannabis Cup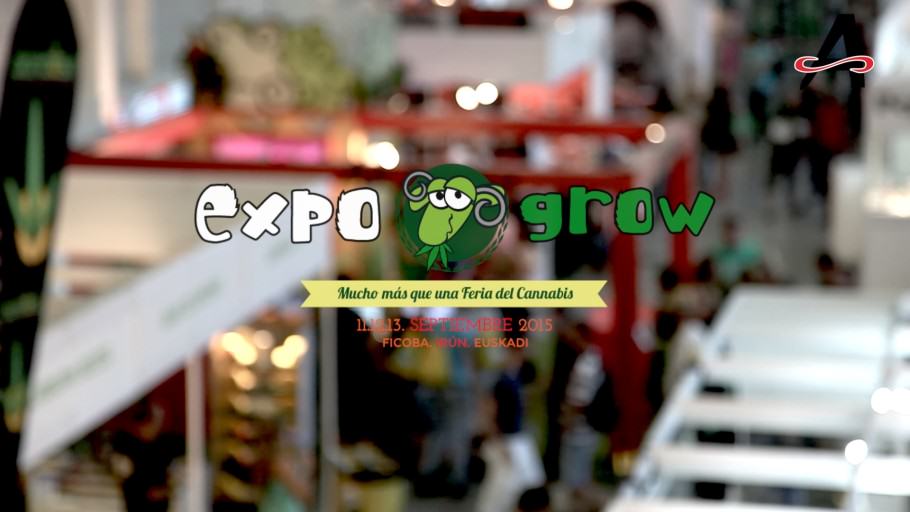 The Expogrow Cannabis Cup has been held once again as one of the main activities of 2015 Expogrow Cannabis Fair. The voting system has been changed with respect to other editions, being the participating seedbanks the judges of the submitted samples.
This fact turns the competition into a much more fun and interesting event, where the different contestants must judge the wok of their colleagues.
These are the awarded strains, keep them in mind for the next season...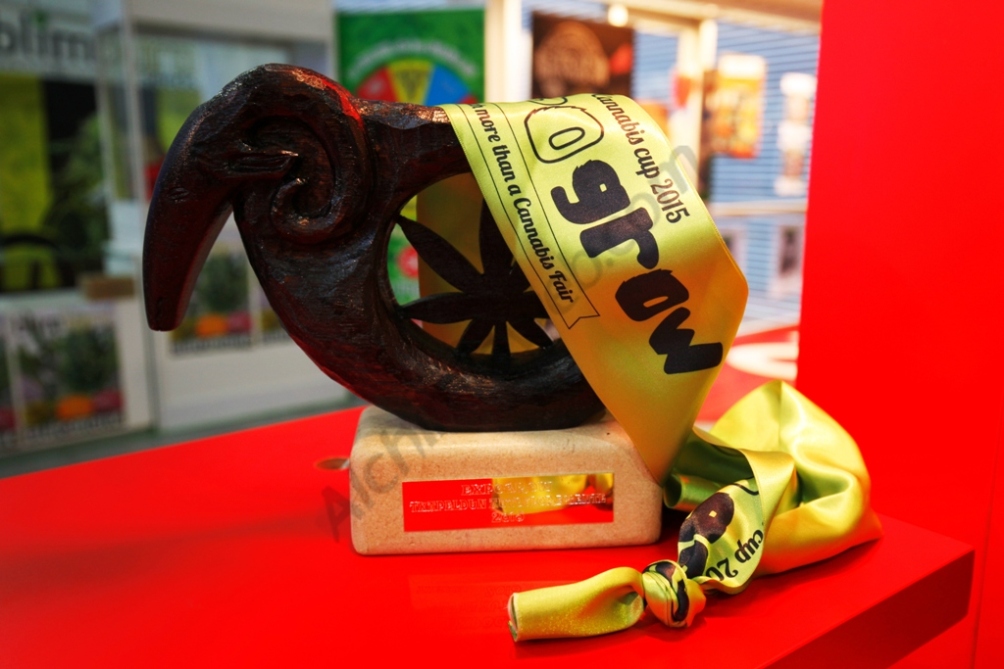 Winners at 2015 Expogrow Cannabis Cup
Best Sativa:
1 ? Sterling Haze from Nirvana Seeds
2 ? Sour Ripper from Ripper Seeds
3 ? Purple Strawberry Bliss from Phenofinder Seeds
Best Indica:
2 ? M.O.B. from T.H. Seeds
3 ? Skywalker from DNA Genetics
Best Autoflowering strain:
3 ? Sweet Mango from Green House Seeds
Best solvent extraction:
2 ? Toxic from Ripper Seeds & Oil hunters / Veganic Tangie Live Resin from Breeder Collective (empate)
3 ? Shatter Icer from R-kiem Seeds
Best solventless extraction:
1 ? Oxus from Breeder Seed
2 ? Barb from House Of The Great Gardener
3 ? GG#1 from House Of The Great Gardener
Cheesy Auto from Philosopher Seeds, 1st prize for Best Auto
We are especially proud of the award won by our friends from Philosopher Seeds with their Cheesy Auto. The work done during years has finally seen its reward with this prize. Congratulations to the Philosopher's team, you deserve this award mates!
IV Expogrow Awards
Besides the Cannabis Cup, the efforts of all participants to bring new and innovative products and strains to the sector were rewarded with different prizes in regard with nutrients, growing equipment, paraphernalia, etc.
Here you have the list of the winners:
Best Stand: Barney?s Farm
Best Seedbank: Sensi Seeds
Best growing product: Smart Pot fabric containers
Best paraphernalia product: Accutemp vacuum oven from Across International
Best hemp product: Porta Peta from Gaga Trading (carrying case for joints)
Best nutrient: B.A.C.
Best publication: ?Hydroponics for everybody" from Mama Publishing
Best Media: Cáñamo Magazine
Best International Activist: Augusto Vitale
Best national activist: Jaime Prat from Cáñamo Magazine
2nd European Flame Off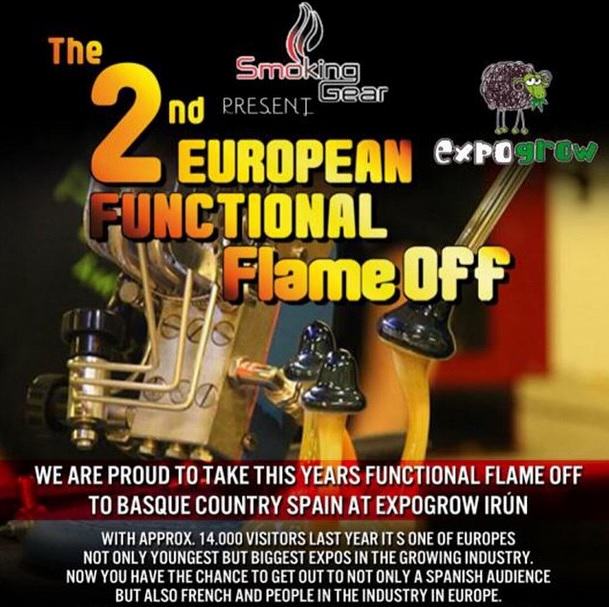 On this year's edition, Expogrow has also presented the second european Flame Off contest, where different glassblowers competed to make a functional glass piece in a certain amount of time.
The judges of this competition were internationally renowned glassblowers like JD-Maplesden, Justanotherglassblowe (JAG) and Marble Slinger.
Contestants:
Heliox Glass, Badabing Gaswerk, Katsu_sure, Red Bubble Glass, Original Glass, Mellow Glass,  Amsterdam Glass Worx, Hiveglass, Merlin and Dok Glass.
Voting took place on Sunday morning, and the visitors could also vote for the best piece since there were two voting categories: Jury and Popular. The winners were:
Flame Off Popular voting:
Heliox Glass
Hive Glass
Katsu_Sure
Flame Off Jury voting:
Steffan de Original Glass
Martin de Dok Glass
Helio de Heliox Glass
Alchimia sponsors your high
One of the activities that Expogrow has welcomed with open arms has been the surprise that Alchimia had for all the visitors of the fair. We had a spectacular captive balloon with our company logo so anyone could ride it and enjoy the trip and the splendid views from about 15 metres high.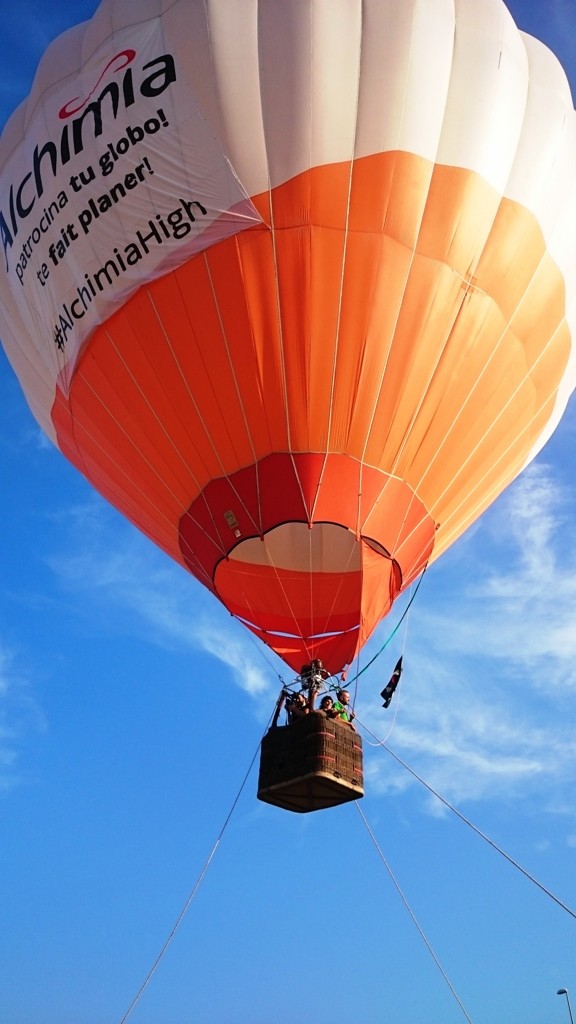 To ride the balloon, the visitors had to find six different Alchimia products that we left in six different stands throughout the fair. These products were: one Alchimia ballast by Lumi, one Alchimia HPS lamp, a Clip fan, an in-line air extractor, a set of Alchimia light hangers and one Alchinet mesh. Everyone who finded these six products was allowed to ride the ballooon and entered the draw for a complete drying kit with grow tent.
We could also enjoy the balloon during the concerts at night, what created a spectacular atmosphere for all visitors of the Ficoba fairground.
The Alchimia team would like to congratulate and thank all participants and visitors for their professionality, fellowship and passion for cannabis, who have made Expogrow to become such an interesting and important event, a true reference in the sector.
See you next year in Irun!