Grow report of Key Lime Pie x Do-Si-Dos by Philosopher Seeds
Key Lime Pie x Do-Si-Dos by Philosopher Seeds is one of these new genetics with American soul that are taking the European market by storm with the quality of their flowers, which stand out for their taste and aroma produced by a terpene mixture that is as delicious as unique. We also have to stress its powerful psychedelic and relaxing effect, which is well-balanced between the world of Indica and Sativa strains.
Let's take a look at how Key Lime Pie x Do-Si-Dos responded to some stress tests under 315w CMH lights.
These tests were carried out under certain parameters well known to many indoor growers, especially during the summer: high temperatures of between 30º and 40ºC, low humidity, poor air recirculation, disruptions between the irrigation ECs, high contrast periods of drought and humidity... that is, what can be summarized as quite disastrous growing conditions. The results obtained, which we anticipate were surprising, are shown below.
Growth of Key Lime Pie x Do-Si-Dos
The plants were cultivated in coco coir with Metrop nutrients from seed to harvest, starting from feminized seeds instead of clones. This way, we could also take a broader look into these genetics.
All seeds germinated and enjoyed a proper development during the first days, when the humidity was low (40% when ideally it should have been 70 to 80% for the first few days). The result was excellent, with an even, stable and vigorous growth from all the seeds.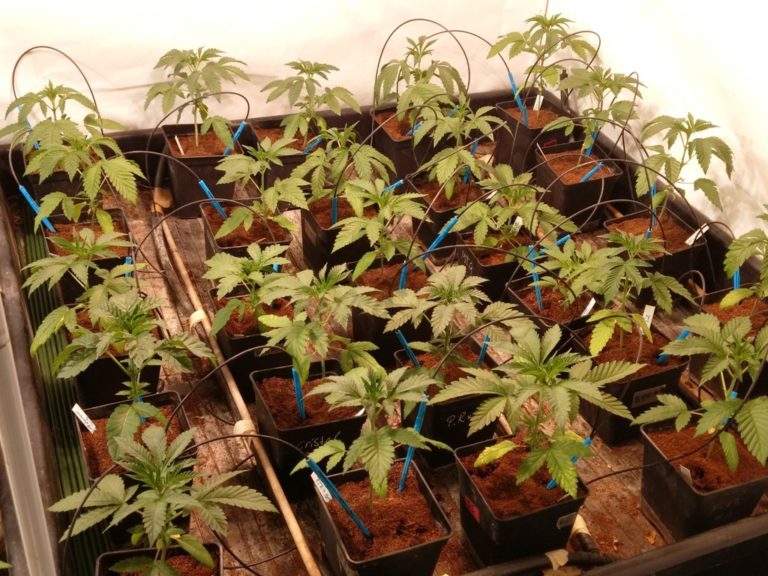 After a few days of high temperatures with a minimum of no less than 30ºC even during the night period, the plants responded well. The stomata in the leaves did not close or were not affected as much as usual, so the serrated edges were left facing up, as it usually happens when temperatures are constantly high.
The plants' colour was adequate, and a significant EC value, higher than usual, was used in order to observe if the plants were stressed or started blocking certain nutrients.
So far, the results were extraordinary, since the plants had endured high EC levels without any problem, compared to other plants with different genetics, which at the same time did show an excess of nitrogen through claw-like leaves. This didn't happen to the Key Lime Pie x Do-Si-Dos, indicating that it was able to assimilate a large amount of nutrients and, therefore, tolerate any errors committed when fertilizing them.
The vegetative phase before bloom
The plants' growth rate remained balanced, providing a uniform sea of green. We didn't apply any topping or pruning to the lower branches or the leaves, by which we understand that the plant grew naturally; the final structure for this type of cultivation is a single main cola. The plant developed 4 small lower branches that played the role of satellite branches which didn't grow much due to the large number of plants per m2.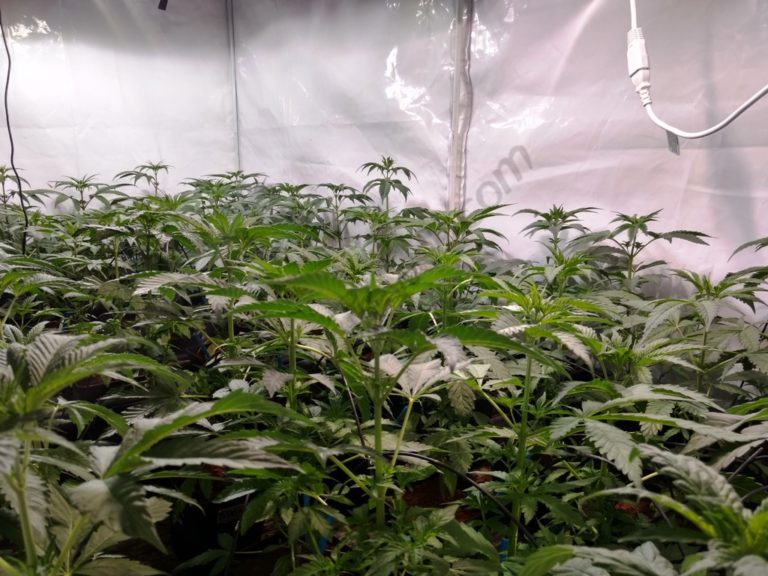 We continued with high temperatures and low humidity (without a fan to move the air), and the result was pretty good. The root system kept expanding inside the 13x13x13cm pots (1.65L). We carried on using Metrop stimulators to achieve the fastest possible growth within the given growing conditions.
Key Lime Pie x Do-Si-Dos stretching period
During the stretching phase, we observed a similar height on all the Key Lime Pie x Do-Si-Dos seeds, which were fairly stable. The plant growth during this phase was as expected, given the genetics of this new Indica/Sativa hybrid.
The stretch of the main stem was 2.5 times its initial size, something to bear in mind if the plants are not very tall. The internodal distance remained fairly compact, which translates into a single bud in the first few inches of the plant, the spot where it concentrates a large part of its production.
It should be noted that this type of genetics responds very well to pruning and training, so it's an excellent option for topping (continued apical pruning) to widen the plant in order to get a large number of tips that develop numerous buds, thus achieving awesome yields. It also accepts other techniques such as Supercropping and SCROG.
Key Lime Pie x Do-Si-Dos flowering
The first buds appeared after 15 days from the photoperiod change, switching from the vegetative light schedule (18/6h) to the typical 12/12h for flowering. The first sign of early flowering was the smell, which already stood out in the flowers that could be seen at first sight, with their small trichomes that were to grow and increase their population as the crop advanced.
We then increased the amount of nutrients by using an EC of 1.6-1.8, and raising it every day after the emergence of the first buds. It should be noted that we continued with temperatures more associated with the desert than with a country with a Mediterranean climate, and yet the cultivation was still easy to manage. We have to admit that we didn't use any phytosanitary products in order to check the presence of insects such as spider mites, something that never happened.
KLP x Do-Si-Dos in full bloom
After some weeks, our plants were in mid flowering, had developed the bud structure, and were focused on developing huge buds before reaching the final stage of maturation.
At this point, the electroconductivity was increased to a maximum of 2.4 by controlling the drain water, to check whether there was a salt build-up in the substrate, which could be an issue for novice growers who normally do not take into account the problem of accumulation of salts. In this case, we were able to observe that the flowering was correct, even with a high EC level in the drainage water of 2.9-3.2. This is a very significant fact for the plant's resistance to this problem.
As we reached the maximum drainage EC, we used longer irrigations to reduce the pot's EC so the plants could carry on flowering. In terms of aroma, the plants were at the height of their terpene production; the smell was excellent and powerful, so the use of anti-odor systems such as carbon filters, the Neutralizer or other elements is a must.
The flowers development did not stop in any case, so it can be said that, even with very high temperatures, all plants responded amazingly and were very easy to grow.
The resin production was slightly affected by the environmental conditions, since high temperatures often cause a decrease in terms of trichome production and terpene content. Even so, the amount of trichomes per bud was, to our understanding, excellent compared to other strains.
End of Philosopher Seeds' KLP x Do-Si-Dos cultivation
Once our plants were ready, we were able to establish that this is a cannabis strain that, even under unfavourable conditions, did not develop male flowers or bananas, so we can trust its resistance to poor growing conditions.
The final buds were hard as rocks and covered in resin, although they could have accumulated more trichomes with more appropriate conditions, especially with cooler temperatures. In this case, we were not checking the quality, which is more than proved, but its resistance to different problems that can arise in different stages of cultivation.
We can say that this strain can be grown with high temperatures without too many problems.
Key Lime Pie x Do-Si-Dos harvest
We harvested Key Lime Pie x Do-Si-Dos after 55 days of flowering, when the vast majority of the trichomes were whitish and some amber. We recommend a nice air renewal and a controlled humidity at this stage, in order to avoid the dreaded botrytis. Since the flowers are very compact, it's possible that the botrytis fungus shows up when least expected.
We can certainly recommend this strain to both novice and professional growers, since both will be astonished by its traits in uncontrolled climate conditions, and how well it reacts in well-managed cultivation environments.
We leave you with some photos of the harvested buds, so you can see the end result for yourself. It's a pity that the smell and taste, as well as the effect, can't be perceived in the images, but it really is an excellent strain made up by some lesser-known genes that, step by step, will be entering the market thanks to its awesome traits.
We'd like to add that the resin extractions performed with this strain provided high returns, so it's also ideal to make all types of extracts, whether it is ice water hash, dry sift, rosin or BHO, among others.
¡Key Lime Pie x Do-Si-Dos is a highly recommended strain!
Happy growing!
The articles published by Alchimiaweb, S.L. are reserved for adult clients only. In France, the age of majority is set at 18 years old. Consult your country's legislation and obey it. Alchimiaweb, SL is a Spanish company governed by Spanish law and can not, in any case, be held responsible for any misuse or non-compliance with the laws and regulations specific to each country, in relation to the articles published on its Blog. We remind you that the cultivation of cannabis seeds on French territory is strongly prohibited by law. We do not encourage our customers to break the law in any way and are not responsible for their use.