Portela by R-Kiem Seeds, a high-flying Sativa
The R-Kiem Seeds collective - born in Spain in 1998 - is a well-known company in the cannabis seed sector, offering feminised seeds (they also have the renowned R-Kiem strain in regular form) of top grade genetics, either for indoor or outdoor farmers. With a relatively short catalogue - 7 varieties - they ensure that both seed production and development of new strains remain under their control, without the need of third parties.
Today we present you one of the most renowned varieties in R-Kiem's collection of seeds, Portela, a mostly Sativa genetics that will captivate all types of growers not only for her delicious flavour but also for her motivating and uplifting effect. Her name comes from a small village in Galicia (Spain) where most genetics of this seed bank were kept for years, which is also the home town of many relatives of Angel (co-founder of the company together with his father).
Portela genetics
This hybrid comes from a cross between the legendary Jamaican Lambsbread and one of the flagship strains of R-Kiem' catalogue, ICER. Thanks to this combination, some of the wildest traits of the Jamaican parent have been tamed, although keeping the essence of this unique Sativa, which after all is one of the favourite strains of many rastafaris born in this wonderful Caribbean island.
To develop this variety R-Kiem started with one of their best males, an ICER plant which they have been keeping for years for his awesome characteristics. ICER is, in turn, a cross between the famous San Fernando Valley OG Kush and a particularly resinous selection of Ice Cream from Paradise Seeds, which offers a very rare and appreciated flavour reminiscent of vanilla and pine trees. The result (ICER) is one of the best plants for making resin extractions ever created by R-Kiem Seeds, with an astounding production of glandular trichomes and delightful acid notes.
As mentioned before, the female parent used to develop Portela was Jamaican Lambsbread, which was brought directly from the island by Angel (father) in 1991. Born in the famous region of the Blue Mountains (north-east Kingston, on Jamaica's eastern coast), this area is well-know for the quality of its coffee (one of the best in the world) and, of course, for its marijuana! With a maximum height of 2.256 metres above sea level and a privileged micro-climate, it is the birthplace of some of the most potent Jamaican Sativas. Her uplifting effect and unique aroma have made Jamaican Lambsbread one of the most appreciated and sought-after cannabis strains of the island.
Cultivation of Portela from R-Kiem Seeds
The breeders at R-Kiem have endeavoured to fix the most desirable traits of each parent, thus getting a plant with great vegetative vigour (a growth period of no more than 3 weeks is advised for indoor growers) and abundant resin production. Due her vigour and growth pattern, it is an excellent strain for using the SCROG technique, since she'll quickly cover the available space and will reward the grower with amazing yields. Root growth is also outstanding, which ensures a very high rooting rate when taking clones and a fast recovey after each transplant. It is then an excellent choice for those looking for a good, productive mother plant, which will quickly produce tens of clones that will root without a problem.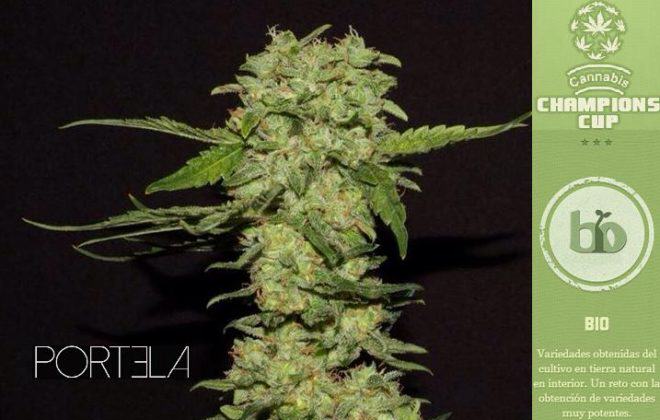 The bloom period of the Jamaican parent is highly reduced by the influence of the ICER genes, needing around 9 weeks to be ready to harvest, around early October if grown outdoors (northern hemisphere). After several backcrosses, the guys at R-Kiem finally got a stable cannabis strain with the typical traits of quality Sativas in terms of effect and flavour, but with the bloom period, resin production and flower density of the most appreciated Indicas.
Portela mainly shows two phenotypes, although they both share a high number of traits. The main difference between them is the growth pattern: while the first pheno grows slender and tall, the other one grows more compact and bushy. Still, they both share Sativa dominance and a very early flowering for a plant with these characteristics.
The scent and taste remind of classic tropical Sativas, with citric notes on a Haze background. The smell during bloom is very intense, so being discreet is essential in outdoor crops, as well as using carbon filters and/or ozonizers in indoor cultivation.
Without a doubt, and if you're a lover of stimulating Sativas, Portela should be one of your next choices for coming crops. You'll get awesome results either if grown with artificial lighting or in outdoor gardens, with abundant production of compact, frosty buds. Do not hesitate to try this easy to grow Sativa, you won't be disappointed!
R-Kiem Seeds Portela info:
Genetics: Jamaican Lambsbread x ICER
Mostly Sativa hybrid
Indoor flowering: 9 weeks
Outdoor harvest (Northern hemisphere): early October
Outdoor harvest (Southern hemisphere): early April
Indoor yield: 450-500g/m2
Outdoor yield: 400-700g/plant
THC content: High
R-Kiem Seeds Portela awards:
1st prize, 2014 Summer Cannabis Cup Barcelona, Professionals category
3rd prize, 2014 Spannabis Cannabis Champions Cup Barcelona, Bio category
2nd prize, 2015 Cannaval Tenerife, Hash category
1st prize, 2015 Cannaval Tenerife, Indoor category
The articles published by Alchimiaweb, S.L. are reserved for adult clients only. We would like to remind our customers that cannabis seeds are not listed in the European Community catalogue. They are products intended for genetic conservation and collecting, in no case for cultivation. In some countries it is strictly forbidden to germinate cannabis seeds, other than those authorised by the European Union. We recommend our customers not to infringe the law in any way, we are not responsible for their use.