Presenting Purple Caper Seeds in Alchimia
Purple Caper Seeds: quality seeds of North American provenance
Purple Caper Seeds is a US seed bank specialising in regular seeds. Established in the state of California, where both medical and recreational cannabis have been legalised.
This seed bank has been cultivating and selecting quality genetics both indoors and outdoors for 25 years. They are known to have the best parental plants in the Bay Area and Central Valley, where many of the best seed banks in the State of California are located.
The very finest genetics have been collected and sourced over time from among the best clubs and growers in the area. These selected female strains have been crossed with the best males from their genetic library and the results have all been tested.
Any crosses which didn't give the desired results were rejected, with only those examples that came up to the banks tough requirements in terms of yield, flavour, aroma and potency being selected. Only the best specimens are further worked to F4 generation to obtain highly stable regular seeds, always appreciated for indoor grows.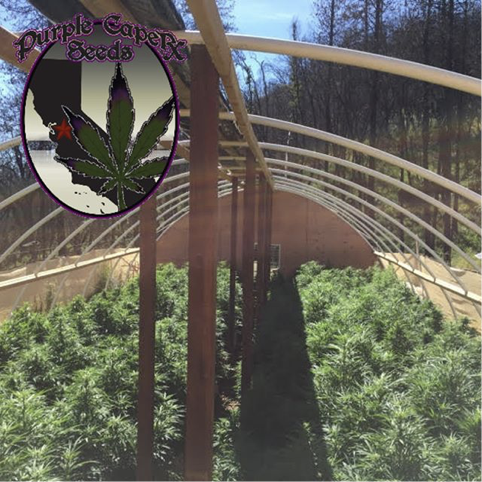 Nowadays the bank boasts a wide variety of seeds with many different genetics, which can now be found at alchimiaweb.com. Let's have a look at the newest, most outstanding strains, the ones most sought after by US cannabis consumers.
Gelato BX by Purple Caper Seeds
Gelato is one of the new strains that is currently dominating the United States cannabis market. It is a high quality cannabis plant whose genetics are composed of Sunset Sherbet x Cookies (Thin Mint Cut).
Gelato was born in Bay Area, with the help of Cookie Fam Genetics, the original creators of the Girl Scout Cookies genetic family of plants. Gelato was originally only available in clone format. The breeders at Purple Caper Seeds have worked this strain to create a regular version so that growers all over the world can enjoy the best qualities of these desirable and famous clone-only genetics that were once only available in US dispensaries and nurseries.
In this case a Cookies (F2) male was used to recreate the Gelato in regular seed form without losing any of the characteristics that have made it one of the most demanded varieties in American dispensaries.
It really stands out from its competitors for its mouthwateringly fruity flavour reminiscent of ice cream, complemented by a potently energetic and psychoactive effect that, as time passes, will evolve into a physically relaxing sensation.
Given its THC levels as high as 25%, Gelato BX is not suitable for new or occasional smokers. Even for those more experienced consumers with higher tolerance to THC this strain can present a real challenge, due to its euphoric, sativa effect accompanied by the relaxing background you'd expect from Cookies Family strains.
Gorilla Glue BX or GG4 by Purple Caper Seeds
Gorilla Glue #4 or GG4 is another strain that has come to dominate cannabis cultivation, first in American dispensaries and then in private grows across the USA. It has arrived in Europe with a great splash, and these days can be found in cannabis clubs all over Spain, and is now finally available in regular seed format by Purple Caper Seeds.
The world famous GG4 or Gorilla Glue #4 was created from a genetic base of Sour Dubb x Chem Sister and was originally only found in clone format in American dispensaries.
In this case the breeders at Purple Caper Seeds carried out a backcross (BX) using an OG Kush male to maintain the original power and flavour of GG4 and to provide the international cannabis market with regular seeds, allowing all growers to have their own version of GG4, retaining the best characteristics of the original GG4 and even improving it in terms of vigour and ease of cultivation.
The original essence of GG4 stays the same, with its earthy terpene profile mixed with lemon, pine and a touch of mint, but by making a good selection you can find phenotypes with even more flavour than the original clone.
Just like its mother, it's capable of producing huge amounts of trichomes that end up not only coating the buds completely, but also covering the great majority of leaves, which makes it a superior strain for resin extractions, giving extremely high returns with a remarkable flavour and a potency that surprises all who try it.
Go wild with GG4 BX and make your crop a jungle fit for gorillas to live in, but be careful not to get a monkey on your back!
Grandma's Batch by Purple Caper Seeds
Grandma's Batch is a variety created by crossing Candyland from the Grand Daddy Purple seed bank with Cookies (F2) resulting in a high quality plant with internationally famous cannabis genetics of the highest repute, in this case Bay Platinum Cookies x Grand Daddy Purp.
It is, in all senses, a very complete variety, an indica plant with steady and sure vegetative growth that stays compact, with large leaves and dark green color. The hybrid vigour of the cross has improved upon the growth of Candyland, which was originally a bit on the slow side.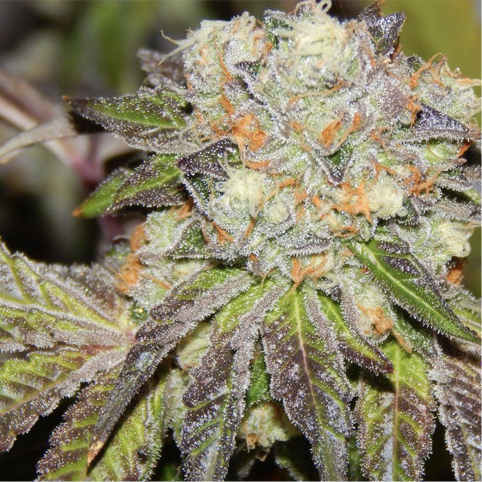 In flowering Grandma's Batch maintains the character of its Candyland mother: flavour, aroma and beauty. It should be noted that this hybrid has greatly improved its yield while maintaining the original quality, as demonstrated by the two prizes it won at the NorCal High Times Cannabis Cup, it's a champion strain of the highest calibre!
Grandma's Batch makes an excellent choice for fans of plants with a sweet, mellow balanced taste in the mouth that doesn't overpower the taste buds but lingers for a long time afterwards, along with its pleasant, happy effect with psychedelic touches. With all these winning qualities, it's sure to become treasured by those who get the opportunity to cultivate it.
Purple Punch by Purple Caper Seeds
Purple Punch is the result of a backcross of the original clone selected in the United States. This strain has stormed the cannabis award scene in no time at all: it not only came 2nd in the Best Medical Flowers category at the 2017 High Times Cannabis Cup, but was also listed in both the Top 10 best Indica strains and the Top 10 resin concentrates of 2017 according to High Times magazine.
It is a hybrid of Larry OG x Grand Daddy Purple backcrossed to the original elite clone of GDP, giving results equal in quality to the original cutting, but with the difference that the seeds boast greater vegetative vigour and a higher yield of buds.
It is a very potent strain, giving a knockout effect without being overly narcotic, but with a pronounced couch-lock effect, perfect to smoke after a good dinner or before going to bed, it is ideal to get to sleep, or stimulate your appetite and relieve nausea, stress, etc.
Purple Punch is guaranteed to gain recognition as a gourmet strain for lovers of high quality flowers with great medicinal potency and a delicious taste.
Sherbert BX by Purple Caper Seeds
Sunset Sherbet is another strain awarded at the 2017 High Times Cannabis Cup, where it won 2nd prize in the category Best Hybrid Flowers, and in the 2017 Amsterdam Cannabis Cup the original clone of Sunset Sherbet also won 3rd prize in Best Seed Bank Flowers for Phenofinders.
Sherbet or Sherbert BX is a cross of Pink Panties with Girl Scout Cookies (Thin Mint Cut), resulting in a cannabis hybrid that offers a complex, fruity and sweet flavour profile with the powerful terpene load of GSC Thin Mint, an explosion of flavours in the mouth that smokers will fall in love with.
Its effect is relaxing while cerebrally active which makes it an excellent strain for those looking for inspiration with a centred, motivating effect, but with a touch of psychedelia. It is ideal for consumers seeking creativity, relaxation and potency, a combination found in very few varieties on the international market.
Wedding Cake by Purple Caper Seeds
Wedding Cake is another of the awesome new additions to the Purple Caper Seeds catalogue, being one of the latest new strains sweeping the US cannabis market, both for its effect and its taste.
It is a cannabis plant with genetics originating from the Cookies family, being made up of GSC and Cherry Pie, and is considered by the bank as the best strain alongside Cookies for its amazing creamy flavour, luxurious like a wedding cake.
Wedding Cake was originally only available in clone form, so the breeders at Purple Caper Seeds have had to work with it considerably to ensure the seeds produce the same results as the elite clone. It's also worth pointing out that this variety is much more productive from regular seeds than from the original cutting.
Releasing this variety in regular seed form gives any grower the possibility of selecting and keeping a mother plant of Wedding Cake, enabling them to always have an example of these elite US genetics in their garden and ensuring a constant supply of some of the best flowers from American dispensaries right in their own house.
Zkittlez by Purple Caper Seeds
Zkittlez is one of the newest, most famous US cannabis strains and has marked a new trend in the market. It is one of the best known varieties across the world and is greatly desired by all who have been able to taste it.
Its flavours and aromas are as potent as its name suggests, it's a plant with a sweet, sugary tropical candy flavour and a huge terpene content that envelops the whole bud, reminding us of a sweet tropical fruit punch.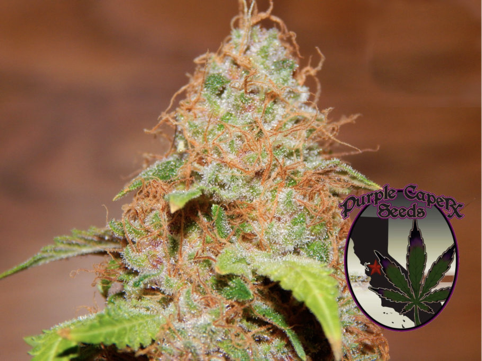 Zkittlez BX has a great bouquet and with just one puff the mouth is overwhelmed by a very clean and sweet fruity flavour that feels just like candy on the palate.
Its effect is the result of a synergy between the world of indica and sativa, because even though it's a mostly indica plant with a relaxing effect, it's gives a balanced high with a cheerful, motivating, euphoric effect that always leaves a broad grin on faces.
As well as tasty and potent, it's a really easy plant to cultivate and is at the same time highly productive, adding to the desirable characteristics that make it a perfect choice of strain for all cultivators and consumers of quality cannabis.
Now available in Alchimiaweb, thanks to Purple Caper Seeds we can enjoy the newest and most wanted North American cannabis strains in our very own homegrown cannabis garden.
The articles published by Alchimiaweb, S.L. are reserved for adult clients only. We would like to remind our customers that cannabis seeds are not listed in the European Community catalogue. They are products intended for genetic conservation and collecting, in no case for cultivation. In some countries it is strictly forbidden to germinate cannabis seeds, other than those authorised by the European Union. We recommend our customers not to infringe the law in any way, we are not responsible for their use.