R.I.P. Subcool
The international cannabis community is in mourning this week after the sad news of Subcool's passing. He was one of the most influential and highly-respected breeders on the scene, creator of legendary genetic lines such as Vortex, Querkle and Jack The Ripper, among many more. The brains and driving force behind TGA Subcool and later The Dank had for years been suffering from a rare hereditary disorder, to which he finally succumbed this past weekend.
Subcool, creator of exceptional plants
Born Montgomery Ball, but better known as Subcool, Monty, The Weed Nerd or Dave Bowman, this prolific US breeder dedicated his life to his great passions: cannabis cultivation and the development of new hybrids that would bring back unknown flavours and aromas. As a result of his work over the decades, there are now dozens of elite cultivars that originated from his laboratory, varieties that have become favourites of many growers and lovers of high-flying weed. Personally, I will always remember a rare phenotype of his Agent Orange, one of the most unique and delicious flavours that I've been lucky enough to taste.
Sadly, a disease called Alpha-1 Antitrypsin Deficiency has now taken this charismatic breeder. This is a hereditary genetic disorder that causes a chronic obstructive pulmonary disease (COPD) that usually leads to emphysema, and which we talked about with Subcool during an interview published on this blog a while ago. Unfortunately, having recovered from a hard divorce as well as the 2017 fire that devastated his home and business, this fatal disease has been finally beaten him after years of struggle.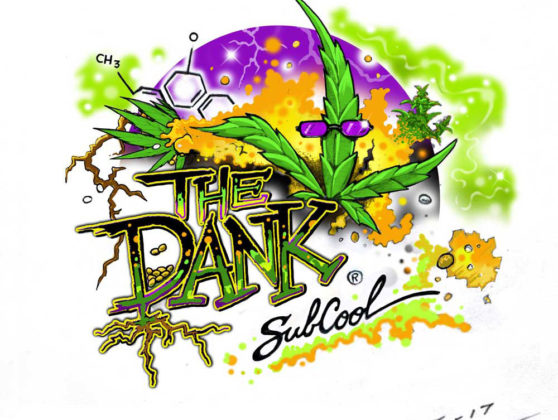 To celebrate the launch of his new seed bank "The Dank", we present an exclusive interview with top breeder Subcool, where we talk about the wildfires that devastated his home and business, and how he has risen from the ashes to come back even stronger than before. Sit back, get your bowls, bongs, pipes or vapes prepared and read some words from The Weed Nerd!
Subcool earned his reputation as a breeder of new and exotic varieties in Oregon, from where he managed to enter the prestigious High Times magazine 2009 hall of fame of seed banks with TGA Subcool, a project shared with his wife MzJill until their divorce. In 2013 they moved to California to continue their breeding programs, and then later, after the 2017 Santa Rosa wildfires that devastated their business and led to the separation of one of the most famous couples in the online weed world, Subcool finally relocated to Arizona.
After the divorce, MzJill retained the rights to use the TGA Genetics name, while Subcool sprang from the ashes by founding The Dank, an interesting new project based in Arizona that we also discussed in the aforementioned interview, and the fruit of which you can find in our online store. In addition, and aware of his health situation, during the last years he had been setting up the Subcool Seeds Corp, working with several breeders to preserve his legacy, an example of his work ethic, seriousness, and dedication.
Over the course of his career, he collaborated with media outlets such as CelebStoner, wrote a wonderful book entitled Dank: The quest for the very best Marijuana and had his own YouTube channel called The Weed Nerd. He had recently been working with some true heavyweights from the scene, such as Kyle Kushman, OG Raskal, GG4 and even Dinafem.
Without a doubt, the cannabis world has lost a unique character, someone who not only brought us new flavours, aromas and sensations but also offered us the pleasure of growing cannabis plants of a quality and personality rarely seen.
Here at Alchimia we join with the cannabis scene in mourning, Subcool was someone we knew Subcool well and held him in very high regard, we're really going to miss his humour and his positive attitude towards life.
Rest in peace!
The articles published by Alchimiaweb, S.L. are reserved for adult clients only. In France, the age of majority is set at 18 years old. Consult your country's legislation and obey it. Alchimiaweb, SL is a Spanish company governed by Spanish law and can not, in any case, be held responsible for any misuse or non-compliance with the laws and regulations specific to each country, in relation to the articles published on its Blog. We remind you that the cultivation of cannabis seeds on French territory is strongly prohibited by law. We do not encourage our customers to break the law in any way and are not responsible for their use.