Smoke Report: Purple Punch x Do-Si-Dos by Philosopher Seeds
In this article, we invite you to join us as we smoke a joint of Purple Punch x Do-Si-Dos by Philosopher Seeds, a variety that stands out for its incredible resin production, intense flavour and potent effect. Created by crossing the famous Purple Punch (Alpha Cut) with the equally popular Do-Si-Dos (Norcal Cut), this feminised hybrid offers the best of both plants, with a luxurious abundance of trichomes that are simply spectacular to behold.
Of course, if you've got any doubts about the proper procedure for tasting, we recommend you take a look at our article on the introduction to cannabis tasting, where we give a step by step explanation of how to correctly carry out the entire process. You'll find the link below.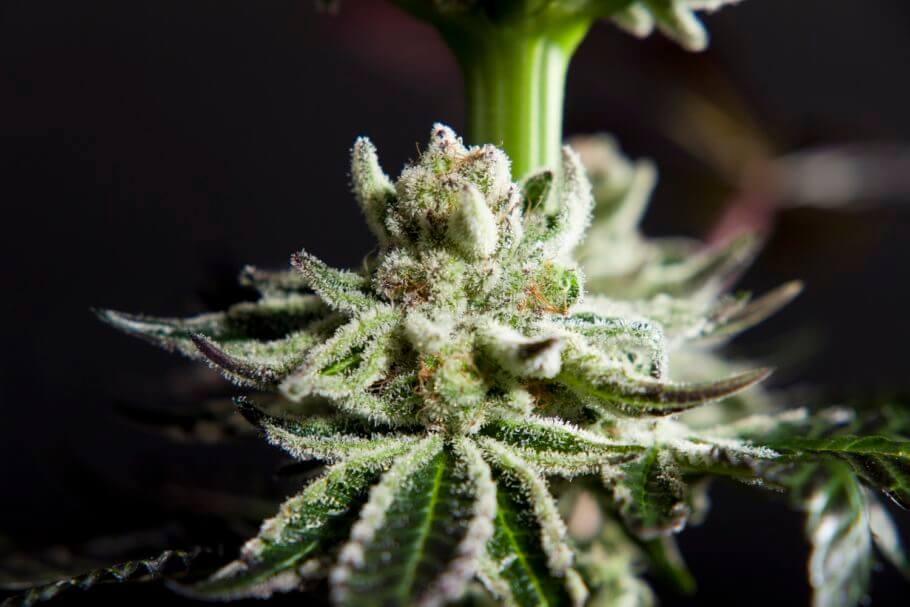 Cultivation information
The buds being sampled were grown with the following equipment and fertilisers. For this taste test, we chose an easy-to-find purple phenotype with an intense aroma.
Lighting system: Lumatek Aurora CMH 315W 3100K
Substrate: Ugro Coco Pure Air
Nutrients: The Metrop range of fertilisers, flushed with plain water for the last 2 weeks before harvest
Flowering period: 9 weeks
Photoperiod: 12 hours light / 12 hours darkness
Material sampled: Dried flowers
Organoleptic test
Pre-tasting evaluation
The bud has a rock-like appearance, with a medium calyx-leaf ratio. The layer of resin covering it is thick and with a great number of glandular trichomes, which break off easily. The flower is hard to the touch, thanks in part to being correctly dried, without haste, something that can even be noted in the sound made when breaking up the flowers with an aluminium grinder.
Before grinding, the bud gives off a creamy and sweet aroma, with clear notes of berries that intermingle with milky nuances. Once the bud is ground up, these notes of blackberries become more evident, along with a greater overall intensity of the aroma. Once the joint is rolled and given a "dry hit" (by puffing on the unlit joint), the creamy notes take centre-stage, leaving a pleasant and persistent sweet taste in the mouth.
In this article we will introduce you in the exciting world of marijuana tasting, both organoleptic as psychoactive. From the moment we open the container with the sample until the last exhalation during the tasting, a torrent of sensations perceived by the five senses invade our body. What we will try here is to classify and to note down these sensations evaluating them according to the taste of each one. What better way to pay tribute to the buds of that we have been taking care for months?
Lighting up!
In the traditional manner of cannabis tasting, the form of consumption is chosen to maximise the appreciation of the various nuances. In this case, a regular joint was rolled with RAW Organic Hemp Papers, a Jilter Filter and a cardboard filter tip.
The aroma given off by the burning joint is faithful to that of the dried flowers, although the touches of forest fruits are a little more difficult to perceive. However, these are very evident while taking the first puff, even before swallowing the smoke, which enters smoothly and without scratching the throat. On the exhale is when the creamy nuances predominate, like a sweet yoghurt, an exquisite flavour that tastes good enough to eat, and very long-lasting.
In a few words, and if I had to sum it up in one sentence: imagine smoking a joint of yoghurt with lots of sugar and blackberries... a true delicatessen!!!
Psychoactive test
Without a doubt, one of this variety's great strengths is its potent physical effect, which puts the body into a state of enjoyable lethargy, relaxing the muscles and producing a pleasant feeling of well-being. The high is fast-acting and forceful, a few tokes being enough to feel its effect both physically and cerebrally.
This effect is more typical of Indica varieties than that of the Do-Si-Dos clone, and it's clear that the Purple Punch mother has passed on its intensely narcotic and relaxing effect.
Medicinal properties of Purple Punch x Do-Si-Dos
This variety is ideal for those seeking to:
Stimulate the appetite
Relax muscles and joints
Fight insomnia and other sleep disorders
Relieve stress
We hope that this article has inspired you to carry out your own cannabis tasting sessions, reviews and smoke reports, it's truly astonishing to see just how much you can learn about a variety when you pay close attention. Please don't hesitate to share your thoughts and comments with us below!
Happy smoking!
The articles published by Alchimiaweb, S.L. are reserved for adult clients only. We would like to remind our customers that cannabis seeds are not listed in the European Community catalogue. They are products intended for genetic conservation and collecting, in no case for cultivation. In some countries it is strictly forbidden to germinate cannabis seeds, other than those authorised by the European Union. We recommend our customers not to infringe the law in any way, we are not responsible for their use.