Sour Ripper by Ripper Seeds
The multi-awarded Sour Ripper has become one of the most renowned cannabis strains from Ripper Seeds catalogue, doubtless thanks to its amazing sour and diesel flavour transmitted by one of the genetics used to create it, the legendary Sour Diesel.  The guys at Ripper Seeds have fixed the most desirable traits of this plant: vigorous growth, broad and scarce leaves (which makes trimming it a joke), intense effect and, of course, its unique sour scent.
However, Sour Ripper also shows some new traits that will surely delight all lovers of Sour Diesel: earlier flowering (9-10 weeks), more compact buds, increased yields...As you can see, it is an excellent breeding project in which the most desirable traits have been kept while some others have been improved. Next you'll enjoy a grow report from one of our official testers, who was indeed delighted by the quantity and quality of the harvested buds.
Growing Ripper Seeds with LED grow lights
The first thing that surprised our collaborator was seed vigour, since all seeds showed the radicle after just 24 hours germinating. After planting them, all seedlings were born after another 24 hours, something that tells us that they were carefully produced, dried and stored. He used a LED panel and the Green House Feeding range of nutrients for this grow, also some additives from Aptus.
Plants developed their characteristic broad leaves and intense green colour, with relatively long internodal spacing. After about two weeks of growth, our mate topped his plants to promote lateral branching and keep height under control. He also put a growing net to train and support the branches.
Flowering of Sour Ripper by Ripper Seeds
During the first two weeks into 12/12 photoperiod, Sour Ripper showed the vigour of Sour Diesel, with a considerable stretch until the first hairs appeared.  After this period, the plants stabilized their height and remained quite uniform, which highly improves light dispersion inside the grow tent. During this phase, the EC used was 1.6 and the pH value was set at 6.5.
The plants continued their flowering stage without a problem, keeping a uniform dark green canopy which promised an abundant harvest. Without a doubt, using the growing net improved the development of all branches, which were perfectly illuminated.
Our mate started adding a Calcium and Magnesium additive during the 3rd and 4th weeks. Bud production was obvious, and we were all amazed with the production of glandular trichomes in both flowers and leaves at this - still - early stage.
During the 5th and 6th weeks the smell inside the tent was impressive. Buds were getting fat every day, so our mate started using Aptus Topbooster to stimulate the production of new flowers. He also checked the colour of the trichomes and realized that harvest time was coming, so he'd soon begin the final flush.
Harvest of Sour Ripper by Ripper Seeds
The plants were flushed with water during two weeks (7th and 8th). In this way, they can use all remaining nutrients in the growing medium and their own leaves, which results in better organoleptic properties, that is to say, better smell and taste.
Trichome production was absolutely amazing, which indicated that this would be an excellent choice for making resin extracts. Many hairs turned into a beautiful reddish colour, while leaves turned purple as harvest approached.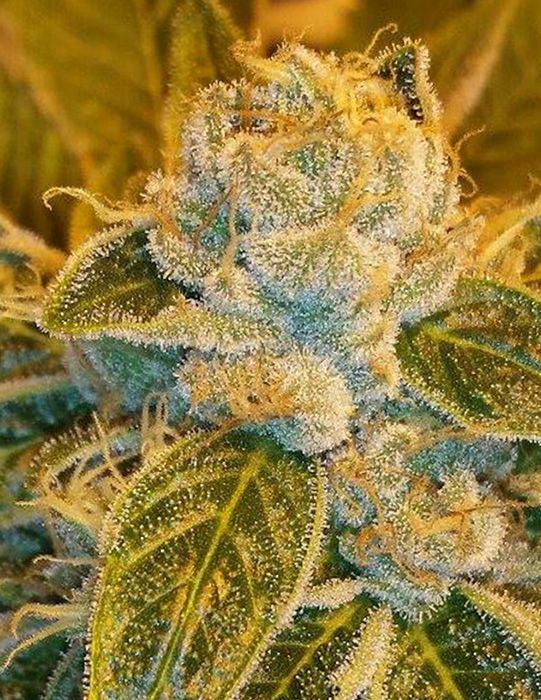 Sour Ripper proved to be an excellent producer of top grade buds, staying true to the original genetics. Easy to grow and ideal for the Scrog technique, it didn't demand high amounts of nutrients and completed the bloom stage in just 8 weeks, much faster than the original Sour Diesel.
Of course, and as we suspected, the quality of the extracts made with Sour Ripper was simply amazing, with a delicious and intense sour/diesel flavour. The effect was aso true to the Sour Diesel, stimulating and uplifting, a characteristic of this 80% Sativa strain.
Doubtless, Sour Ripper is a must for any lover of Diesel genetics, you won't be disappointed!
Happy harvests!
The articles published by Alchimiaweb, S.L. are reserved for adult clients only. We would like to remind our customers that cannabis seeds are not listed in the European Community catalogue. They are products intended for genetic conservation and collecting, in no case for cultivation. In some countries it is strictly forbidden to germinate cannabis seeds, other than those authorised by the European Union. We recommend our customers not to infringe the law in any way, we are not responsible for their use.