Vaporizer Puffit 2 from Discreet Vape
New version of the most discreet Vaporizer on the market
Discreet Vape, the company that introduced the Puffit portable vaporizer on the market - an asthma inhaler-shaped vaping device - and that released the Puffit X later on - a Puffit with a small bult-in fan which directs the generated vapour straight towards our lungs - has done it again!
As we can see, these guys are constantly working hard to improve their products and introduce new ones, as we could see lately with their hilarious BudBug automatic grinder, a bug-shaped grinder that operates while walking, leaving a track of grinded herb.
Directly from their R&D Department, and after the experience that the company obtained thanks to their first two models, the Puffit 2 arrives, designed to be more compact, more efficient, more practical and more durable, also with a more realistic and portable finish.
In short, designed to be better!
Features of Puffit 2
Apparently, vaporizer lovers are lucky because Puffit 2 has arrived to make a difference and has become consolidated as the most compact and discreet modular portable vaporizer on the current market.
Those who didn't know about this device will be impressed by its finish, features and usefulness.
The first difference is obvious: the new Puffit 2 (P2) is 20% smaller than the first Puffit version (P1), being slightly shorter in length, and significantly thinner. This makes it easier to carry in your pocket almost without noticing, and also makes it much more comfortable to hold and use.
The casing is made of one piece, what gives it a more robust and well finished look. There are no screws or USB ports visible, what highly increases discretion.
In addition, another strong point of this re-design is the autonomy of the battery, which has been increased by 75%, lasting for about 2 hours of use.
This battery is removable and can be replaced in case of failure or damage, which also allows us to have more than one battery ready to use. In this way, we'll always be able to vaporize our marijuana, even when travelling.
The vaporizer features a battery level display with four phases, what allows us to calculate the remaining time of use.
To ease this process, you can get an optional quick charger which charges our batteries in about one hour, so our P2 is always ready to vape.
Puffit 2, vaporizer for Cannabis, BHO and E-liquids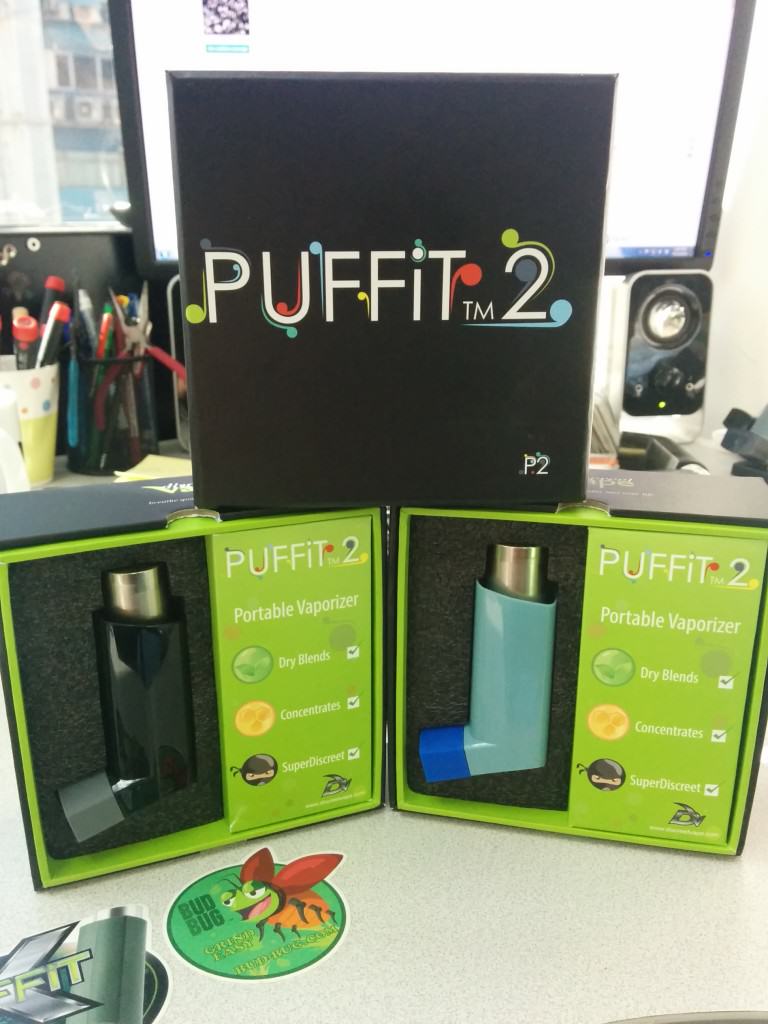 Another of the great improvements made on this vaping device is that, while in previous versions we could only use it with dry blends, we can now use our Puffit 2 with resins and concentrates.
In addition, its completely modular design allows to change the heating chamber for herbs and concentrates with two optional units, one for e-liquids and another "turbo unit", used to gain efficiency when vaping  concentrates. Both options are currently in development.
To modernise it even more and avoid unnecessary lights, Puffit 2 vibrates when it has reached the ideal temperature, thanks to it's haptic feedback system, which together with its digital temperature control system with 4 selectable modes makes it really efficient and quick to use.
The Pufft 2 portable vaporizer was presented to the professionals of the sector during the last 2015 Expogrow fair in Irún, will enter the market in October 2015 and its price will be around 100€.
Expand your lungs and your mind with Puffit 2.