Introducing Vegamatrix nutrients
Famous grower Kyle Kushman, creator of Strawberry Cough and expert in medical marijuana, presents Vegamatrix, his own brand of vegan and environmentally friendly nutrients for plants. Mainly composed of plant ingredients, with Vegamatrix you'll increase both the size and terpene content of your buds, which results in bigger yields and improved scent and taste.
In this article we present you the Vegamatrix range of nutrients, which we've tried from seed to harvest indoors with - we must admit - excellent results. Of course, you'll also find some tips to increase their efficacy and get the best possible results.
Vegamatrix range of nutrients for plants
The range of organic nutrients formulated by Vegamatrix includes the following products: Base nutrients for both the growth and bloom stages (Grow and Bloom), a stimulator rich in magnesium and calcium (Boost), an enzyme complex (Prime-Zyme), an aminoacid-based cocktail (Amp-It), a bloom booster (Big N Sticky), a growth booster made from seaweed (Hard N Quick) and, last but not least, an effective insecticide/fungicide formulated from plant ingredients (FTB).
One of the first striking things about these quality nutrients is the fact that almost all the products of the range are used in each and every watering. Indeed, during the second week of growth you should be using Growth, Bloom and Boost, something unusual with other organic nutrients. Thus, you'll use Grow, Bloom, Boost, Amp-It and Prime-Zyme during all the stages of the plant, ensuring correct and balanced nutrition at all times. As we mentioned, Vegamatrix nutrients are mostly made from plant extracts, with small amounts of mineral elements.
If you visit Vegamatrix website, you'll see Kyle Kushman recommending these nutrients for each watering and regardless the growing medium used, indoors, outdoors, etc. Still, and especially if you're using soil, you can use just water from time to time (every 2-3 waterings) without problems.
Kyle Kushman also recommends to use inoculants rich in beneficial bacteria and fungi like Monkey Myco or Aptus Mycor Mix. In this way, you'll promote the growth of microbial life in the substrate and facilitate nutrient uptake by the roots.
Let's take a closer look now at the products included in Vegamatrix range of fertilisers.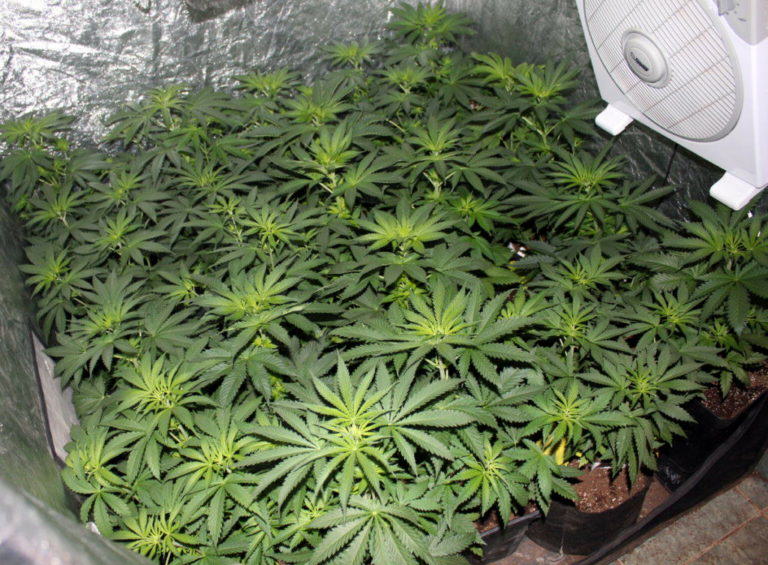 Vegamatrix Starter Pack
It is doubtless one of the best options for using the whole range of products in small indoor grows. With Vegamatrix Starter Pack, we grew 18 plants in 11L pots in a 120x120x200cm grow tent, using a 600W HPS grow lamp (actually, we had small amounts of each product remaining for the next grow). This pack also includes Vegamatrix FTB, an insecticide/fungicide that worked great since it quickly solved the only problem we had. The pack is composed of all the products that we'll see next.
Vegamatrix Grow
The composition of Vegamatrix Grow is almost 100% organic (95% natural ingredients, 5% mineral substances) and is formulated with chelates of plant origin, which improves absorption of nutrients and thus increases growth rate and bud development. It is the base nutrient for the growth stage, completely vegan and with 5-3-2 NPK content.
Vegamatrix Bloom
The base nutrient for the bloom stage formulated by Vegamatrix is also almost 100% organic and completely vegan. The 1-5-4 NPK content promotes production of flowers and root growth, which means higher yields and improved quality. Vegamatrix Bloom also feeds microbial life while stimulating production of resins and sugars.
Vegamatrix Boost
Vegamatrix Boost contains calcium, magnesium and plant extracts, everything necessary to boost the overall performance of your plants. As happens with Grow and Bloom, Boost should be used from the first stages and until the final flush, thus ensuring a correct balance of nutrients during cultivation.
Vegamatrix Prime-Zyme
Pryme-Zyme is a complete enzyme complex which stimulates microbial life and helps to complete the breakdown of dead roots and organic matter in the substrate. This improves the soil properties and texture and puts more nutrients available for the roots, stimulating the metabolism of plants and vegetables. Enzymes are normally used during the whole life cycle of plants. NPK content: 0-2-1
Vegamatrix Big N Sticky
With Big N Sticky, Vegamatrix offers a top quality bloom booster which is used when the first flowers appear and until the final flush. With 0-14-12 NPK content, both phosphorous and potasium are quickly absorbed by the roots and easily transformed into big and sticky colas. It is normally used during the peak of flowering, from the 3rd week to the 7th (depending on genetics).
Vegamatrix Hard N Quick
Hard N Quick is made from kelp extract and contains high amounts of cytokines and plant hormones which enhance the photosynthesis process and stimulate plant growth. Plants grow stronger and more compact, producing more fruits and flowers. Hard N Quick is used via foliar spray during the growth period and the first two weeks into flowering.
Vegamatrix Amp-It
Amp-It is a cocktail of micronutrients and L-amino acids, their most easy to absorb form. It enhances the metabolism of plants and stimulates the production of plant tissue, resulting in more resistant plants and improved yields.
Vegamatrix FTB
FTB by Vegamatrix is an effective broad spectrum insecticide and fungicide made from plant extracts (geranium, sunflower oil and cannabis terpenes), thus being 100% organic. It can be used at any stage of the plant, even during the last weeks of bloom. We actually had a little problem with powdery mildew two weeks before harvest and FTB proved to be truly effective, quickly eliminating the problem and with any type of unpleasant aftertaste. It is used via foliar spray during the dark hours.
Conclusions
Our plants developed perfectly with Vegamatrix nutrients. We did not find a single nutrient deficiency or imbalance, and they produced a nice amount of top grade buds, compact and frosty. We did use slightly lower doses than the recommended by the manufacturer, mainly because it was an indoor grow with small pots and we didn't want excess nutrients in our growing medium.
Vegamatrix FTB was particularly useful at the end of the bloom stage, and has become one of our favourite preventives for pests so far. Great job, guys!
Happy growing!