Vitalink nutrients available at Alchimiaweb
Alchimia have recently added the Vitalink range of nutrients and additives for plants to our catalogue, a British company that stands out for the excellent results of its products, formulated for soil, coco coir and even hydroponic systems. With 20 years experience in the sector, and with a factory located in Coventry (England), they're known for using top quality ingredients for their products, which are highly stable in solution. These products are registered and regulated by the corresponding authorities and go through a strict quality check process, thus ensuring that they're tried and trusted products.
We'll take a look now at the Vitalink products available in our shop and our website. We'll then see their base nutrients for soil and coco coir and their wide range of additives and boosters. You'll be amazed by the quality and yield of your crops with Vitalink nutrients, with vigorous and lush growth, abundant flowering and high resistance to pests and adverse environmental conditions. Thus, the overall performance of your plants is boosted, with the peace of mind of knowing that you're using 100% trusted, certified products.
Vitalink base nutrients
You have Vitalink nutrients for both soil and coco coir available at Alchimiaweb. We have two main single-part base nutrients for soil, depending on the stage of the plants: Vitalink Earth Max Grow (growth stage) and Vitalink Earth Max Bloom (bloom stage). Earth Max Grow is an efficient mix of mineral nutrients, especially formulated for the growth phase. It contains all the necessary macro and micro elements for a lush and healthy growth, also fulvic acids to enhance nutrient absorbtion. It can be used with any type of soil mix. On the other hand, Vitalink Earth Max Bloom contains everything necessary for an abundant production of flowers, as well as fulvic acids. Moreover, Vitalink Earth Max nutrients have been formulated to support healthy soil, maintaining the balance between microbial life and nutrient load.
Vitalink also offers base nutrients for growing in coco coir, called Coir Max A+B. They're two-part nutrients suitable for both the growth and bloom stages, with fulvic acids and a potent mix of chelated elements (EDDHA) that highly aid nutrient uptake. Their formula is highly stable, so checking and adjusting the pH and EC of your nutrient solution will be easier than ever.
Last but not least, Vitalink Silicon Max is a highly concentrated nutrient rich in silicon, which enhances the resistance of cell walls while reinforcing the plant structure. It also reduces transpiration in the plants while improving CO2 uptake, which results in stronger plants and increased yields. Moreover, this product also improves the production of chlorophyll and enhances the photosynthetic activity of plants, which can focus their energy on the production of flowers. Silicon Max is suitable for any stage of the plant, either growth or bloom.
Vitalink additives and boosters
We offer several products in this category. First of all, Vitalink CalMag is a concentrated product rich in calcium and magnesium which acts as growth booster and is especially suited for growing with soft water in coco or hydroponic systems. It is particularly recommended for long flowering strains and for keeping mother plants.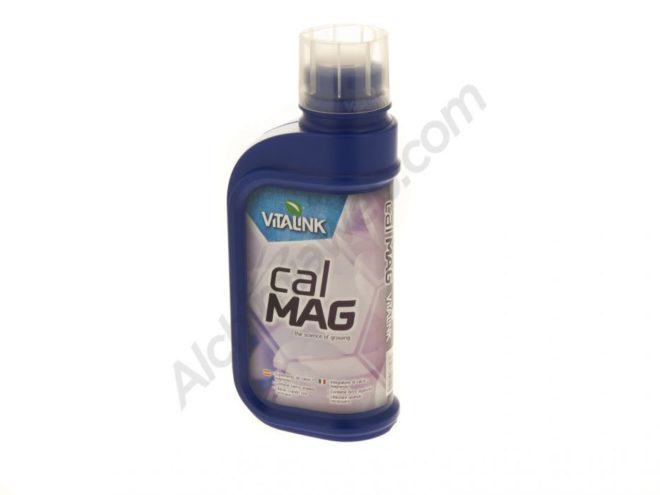 Vitalink Root Stim is a high quality stimulator formulated to promote amazing root growth and elaborated from seaweed extract (ascophyllum nodosum), rich in natural hormones. It also contains oligosaccharides especially selected to promote the growth of beneficial fungi and bacteria. Thus, it is mainly used as root stimulator during the growth stage and to feed the microbial life during the bloom period. Root Stim is suitable for any type of growing medium.
If you're looking for a product to enhance the overall performance of your plants while improving the absorbtion of nutrients, you should doubtless try Vitalink Fulvic. This complex, rich in fulvic acids, improves nutrient uptake and transportation while promoting root growth, which results in healthier crops and higher yields. Thanks to its formulation, it is quickly assimilated by the plants, either as foliar spray or as root feed. As the previous product, it can be used in all substrates.
Vitalink also offers a potent PK 13/14 additive. With its balanced phosphorous and potassium ratio, it ensures abundant production of resinous buds in all types of growing medium. Flowers develop faster and bigger, notably increasing their final weight. Do not mix this product with the next one we'll see, Vitalink Buddy.
Indeed, Vitalink Buddy is also a PK supplement but with lower P and K content and more magnesium and sulphur, which are essential elements for proper P and K uptake. It should be used from the third week into flowering and until the 5th or 6th (flowering peak), when we'll stop using Buddy and start using PK 13/14 during the following week. Then, we just have to flush the roots (or start using Buddy again until flushing). It is also suitable for all growing media.
Vitalink Chill is a useful biostimulator that promotes the production of growth hormones and increases the performance of plants in areas with hot temperatures (above 30ºC). This product has proved its efficiency in greenhouses in the Middle East, allowing plants to continue performing their metabolic processes despite adverse climate conditions (high temperatures and low RH). A must try for indoor grow rooms in summer!
Vitalink Turbo is a potent organic stimulator for plants formulated from L-amino acids and brassinosteroids. Amino acids are key elements for the synthesis of proteins, while brassinosteroids are natural hormones that promote plant growth. It is normally used after two weeks into flowering and until the final flush, in all growing media.
Finally, Vitalink Finale has been especially formulated for the last two weeks of the plant's life, accelerating the ripening of flowers. It contains potassium oxide, phosphorous pentoxide, magnesium oxide and sulphur trioxide (NPK 0:10,5:7,2). It also aids to flush the roots and thus get the best possible quality.
As you can see, the exhaustive range of nutrients and additives offered by Vitalink is suitable for all types of growers. Whether you're an indoor or outdoor grower, or you use soil or coco coir, you'll find everything you need to improve the performance of your plants within Vitalink's catalogue.
Happy harvest!
Vitalink feeding charts for Earth Max  and Coir Max A+B: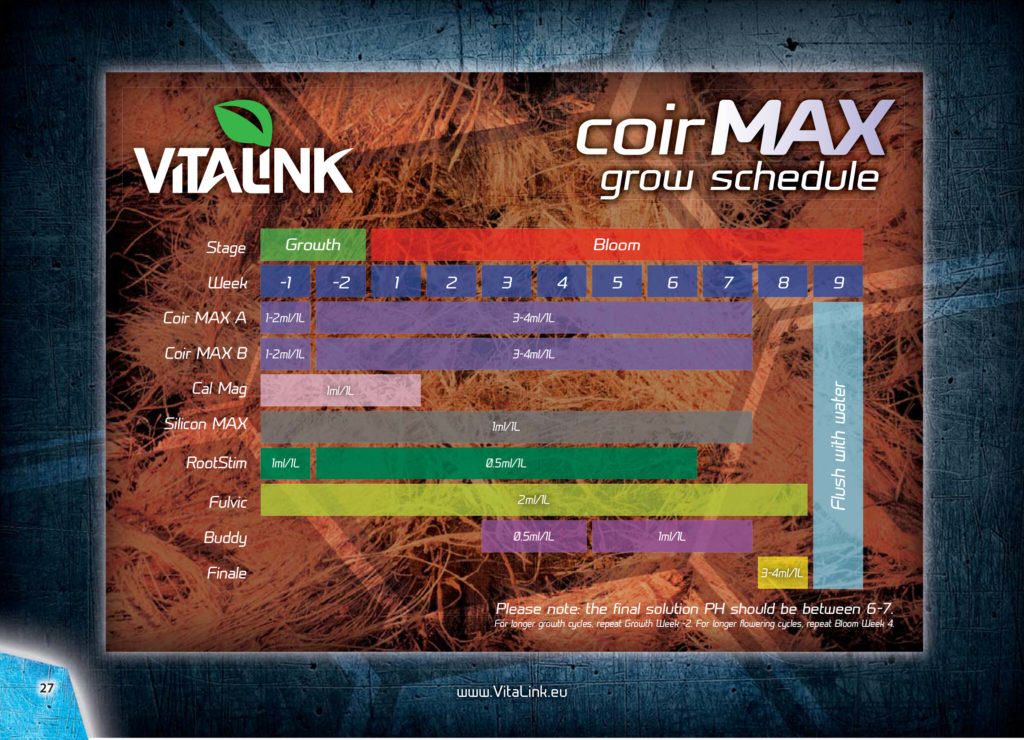 The articles published by Alchimiaweb, S.L. are reserved for adult clients only. We would like to remind our customers that cannabis seeds are not listed in the European Community catalogue. They are products intended for genetic conservation and collecting, in no case for cultivation. In some countries it is strictly forbidden to germinate cannabis seeds, other than those authorised by the European Union. We recommend our customers not to infringe the law in any way, we are not responsible for their use.