Conical Blunt Kush Herbal Warps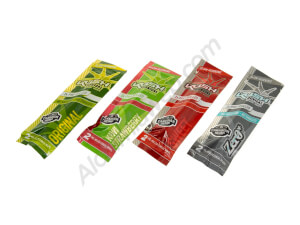 Conical Blunt Kush Herbal Warps
Geschenk
Bei Jedem Einkauf
Sichere
Zahlung
Diskreter
Versand
Kostenloser
Transport (*)
Entschuldigung, Inhalt auf Englisch, wir übersetzen dieses. Produkt und bald werden Sie es in Ihrer Sprache haben.
Alchimia presents the pre-rolled conical Blunt Kush Herbal Warps, with different flavours or neutral taste. So that you can use them with your harvest in an original way.
Industrial Hemp manufacture
Blunt Kush Herbal Warps sheets are made from Canadian industrial hemp. They do not contain any trace of CBD, THC or other cannabinoids, nor do they contain nicotine or tobacco.
The pre-rolled Blunt Kush Herbal Warps are presented in different flavours to choose from, Kiwi-Strawberry, Sweet, Zero or Original with a neutral flavour.
Kush Herbal Warps info:
Nicotine and tobacco free
CBD, THC or other cannabinoids free
Glue free
2 pre-rolled blunt per pack