E-Liquid Greeneo Pineapple Express CBD 10ml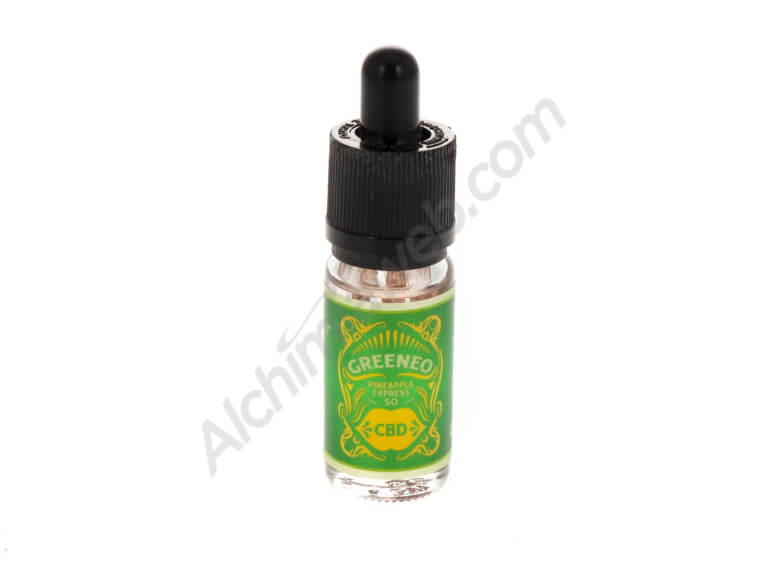 E-Liquid Greeneo Pineapple Express CBD 10ml
Geschenk
Bei Jedem Einkauf
Sichere
Zahlung
Diskreter
Versand
Kostenloser
Transport (*)
Entschuldigung, Inhalt auf Englisch, wir übersetzen dieses. Produkt und bald werden Sie es in Ihrer Sprache haben.
Alchimia Grow Shop offers Greeneo Pineapple Express CBD E-Liquid for vape, recreating the aroma of this famous cannabis variety thanks to cannabis terpenes, available with 0.5%, 1%, 2%, 4% and 8% of CBD.
Greeneo Pineapple Express CBD E-Liquid, sweet pineapple aroma on a herbal Skunk background
The base of this e-liquid is made by mixing 80% propylene glycol (PG) and 20% vegetable glycerin (VG).
This PG/VG blend is enriched with a combination of terpenes that simulates the aroma of the fruity cannabis strain Pineapple Express, offering a sweet aroma of ripe pineapple mixed with herbal Skunk touches, and finished off with Canabidiol.
The high percentage of PG gives the liquid a very light, runny texture, which means it works well in all kinds of atomizers (clearomizers, RDA, and even in a Pod) and can be used in all types of e-liquid vaporisers.
E-Liquid Greeneo Pineapple Express CBD, with 0.5%, 1%, 2%, 4% and 8% Cannabidiol
Its formula contains no dyes, flavour enhancers or artificial preservatives of any kind, and the aroma is achieved thanks to a mixture of cannabis terpenes of the highest purity, obtained in a laboratory.
In addition, the CBD used comes from organic industrial hemp plants grown in the European Union, completely free of pesticides or heavy metals.
This e-liquid is sold in 10ml glass bottles, including a dropper for easy use. At 0.5% concentration each ml contains 5mg CBD, 1%, 10mg, 2%, 20mg, 4%, 40mg, and 8%, 80mg.
Greeneo Pineapple Express CBD E-Liquid 10ml info:
E-Liquid with CBD to consume in a vaporiser
With CBD extracted from organic hemp of European origin
Available in 0.5%, 1%, 2%, 4% and 8% of CBD
Flavoured with hemp terpenes
Recreates the aroma of the Pineapple Express cannabis variety, with a ripe pineapple, exotic herbs and Skunk flavour
Produkte im Zusammenhang mit E-Liquid Greeneo Pineapple Express CBD 10ml (CBD E-Flüssigkeiten)