Lumii Solar 630w CMH/LEC (2 x 315W)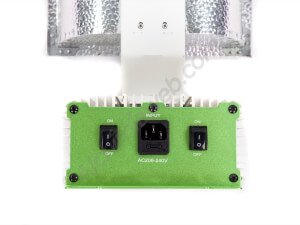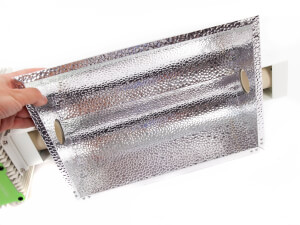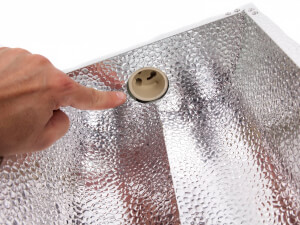 Lumii Solar 630w CMH/LEC (2 x 315W)
Geschenk
Bei Jedem Einkauf
Sichere
Zahlung
Diskreter
Versand
Kostenloser
Transport (*)
Entschuldigung, Inhalt auf Englisch, wir übersetzen dieses. Produkt und bald werden Sie es in Ihrer Sprache haben.
This Lumii Solar 630w CMH/LEC fixture is a Ceramic Metal Halide lamp that holds connection for two 315w CMH bulbs, allowing us to give our plants the perfect light spectrum, combining two bulbs as the grower pleases.
The lamp is made up of the reflector and ballast which are hung together inside the grow tent. The ballast has a switch that allows us to connect and disconnect the two bulbs, at the same time or separately. This configuration means we can use only one bulb for the growth period, and then use both in flowering to obtain a high yield with a lower final energy consumption.
Lumii Solar 2 x 315w CMH - versatility and energy efficiency
The two bulbs are 315w and can be configured using the same light spectrum or two different spectra depending on whether the varieties being cultivated are Sativas, Indicas or hybrids.
Possible combinations with 315w LEC bulbs:
3200k + 3200k ideal for flowering with fast harvest plants
4200k + 3200k ideal mixed light growth and flowering
4200k + 4200k ideal for long flowering plants
The supplied reflector is quality made of anodized aluminum that provides a high reflection of light and an even distribution in the grow room so that all plants receive the same amount of light.
The Lumii Solar 630w uses latest LEC technology in the ballast, which has a soft start for the high PAR bulbs. It also has protection against short circuits, making this CMH lighting system safe as well as very efficient.
This LEC lighting system is very versatile and allows it to be used in small tents from 90x90cm up to 1.50m2.
Lumii Solar 630w CMH/LEC Fixture info:
Ballast and reflector in a single unit
Power: 630w (2x315w)
High PAR light
Takes 2 x CMH 315w bulbs
Ideal as a supplementary light in greenhouses
Ideal for grow spaces up to 1.5m2
Independent on / off button for each bulb
Anodised aluminum reflector