Old Time Bubba Kush by Mosca Seeds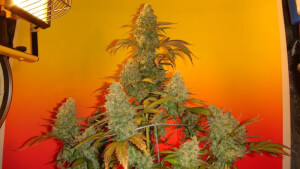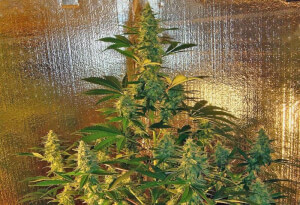 Old Time Bubba Kush by Mosca Seeds
Geschenk
Bei Jedem Einkauf
Sichere
Zahlung
Diskreter
Versand
Kostenloser
Transport (*)
Entschuldigung, Inhalt auf Englisch, wir übersetzen dieses. Produkt und bald werden Sie es in Ihrer Sprache haben.
Mosca Seeds presents Old Time Bubba Kush, a cannbis hybrid created by crossing a Pre '98 Bubba Kush clone with Old Time Moonshine, resulting in a complex, old school flavour and a strain that all the old school farmers will be delighted to rediscover and to grow these legendary genetics in their gardens.
Old Time Bubba Kush combines the best characteristics from its ancestry and even improves upon them, bringing more vegetative vigour to the Bubba Kush, a famously slow-growing strain in veg now invigorated with the strength of OTM.
It has strong, rigid branches like those of the Bubba Kush, but with a greater internodal distance which means it stretches considerably during the transition to flowering, doubling or even tripling its height. It is therefore advisable to start flowering plants early enough to avoid problems with height management indoors.
These are fast-flowering genetics, requiring no more than 8 weeks of 12/12 for a satisfying crop of compact, fragrant nugs that can weigh in at up to 550g per m2 when grown indoors.
Cultivated outdoors in optimal conditions Old Time Bubba Kush can yield, depending on the size of the plants, up to 1000g per plant.
As it's genetics suggest, it's a powerfully psychoactive variety that has tested at over 20% THC, delivering a powerful, relaxing and long-lasting effect.
Its aromas combine fruity, earthy and sweet notes for a complex and long-lasting taste on the palate, a true connoisseur herb.
Mosca Seeds Old Time Bubba Kush info:
Genetics: Pre '98 Bubba Kush x Old Time Moonshine
Type: Regular seeds
Indica/Sativa hybrid
Indoor flowering: 8-9 weeks
Outdoor harvest: October
Yield outdoors: +600g per plant
Yield indoors: 500-600g per m2
THC: + 20%
Produkte im Zusammenhang mit Old Time Bubba Kush by Mosca Seeds (Mosca Seeds)