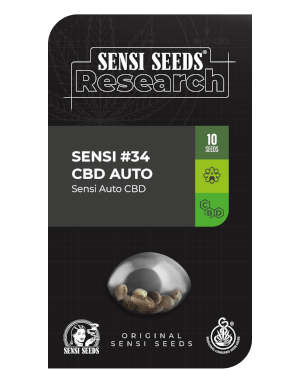 Geschenk
Bei Jedem Einkauf
Sichere
Zahlung
Diskreter
Versand
Kostenloser
Transport (*)
Entschuldigung, Inhalt auf Englisch, wir übersetzen dieses. Produkt und bald werden Sie es in Ihrer Sprache haben.
You can discover Sensi #34 CBD Auto, a cross between a great classic cannabis genetic line, an automatic Skunk, and an individual with an exceptional CBD content. Sensi Seeds Research programme offers you the possibility to try out their latest crosses.
Sensi #34, the cannabis classic in CBD Auto version
Sensi Seeds team crossed its auto Super Skunk with an individual with a high CBD concentration. The result is an Indica dominant plant with a compact structure.
It withstands all climates, with a cultivation cycle slightly longer than the average time observed in auto-flowering varieties, with the harvest ready after about 10-11 weeks.
Sensi #34 is a resistant cultivar offering a very abundant harvest.
Sensi #34, CBD calm with the classic Skunk flavours
Sensi #34 CBD Auto produces compact and resinous buds with powerful and penetrating organoleptic qualities. Its earthy and sweet aromas and flavours permeate the atmosphere from the very first puffs.
Sensi #34 Auto CBD has a high CBD contain with a THC:CBD ratio of 1:6. It does not produce any psychoactive effect, delivering some relaxation but above all, you will obtain all CBD therapeutic benefits.
Sensi Seeds Skunk CBD Auto info:
Type: Automatic cannabis seed
Genetics: Sensi Auto CBD
Indica dominant hybrid
Flowering period: long
Yield: Very abundant
Structure: Compact plant
THC:CBD ratio: 1:6
Produkte im Zusammenhang mit Sensi #34 Skunk CBD Auto (Sensi Seeds)