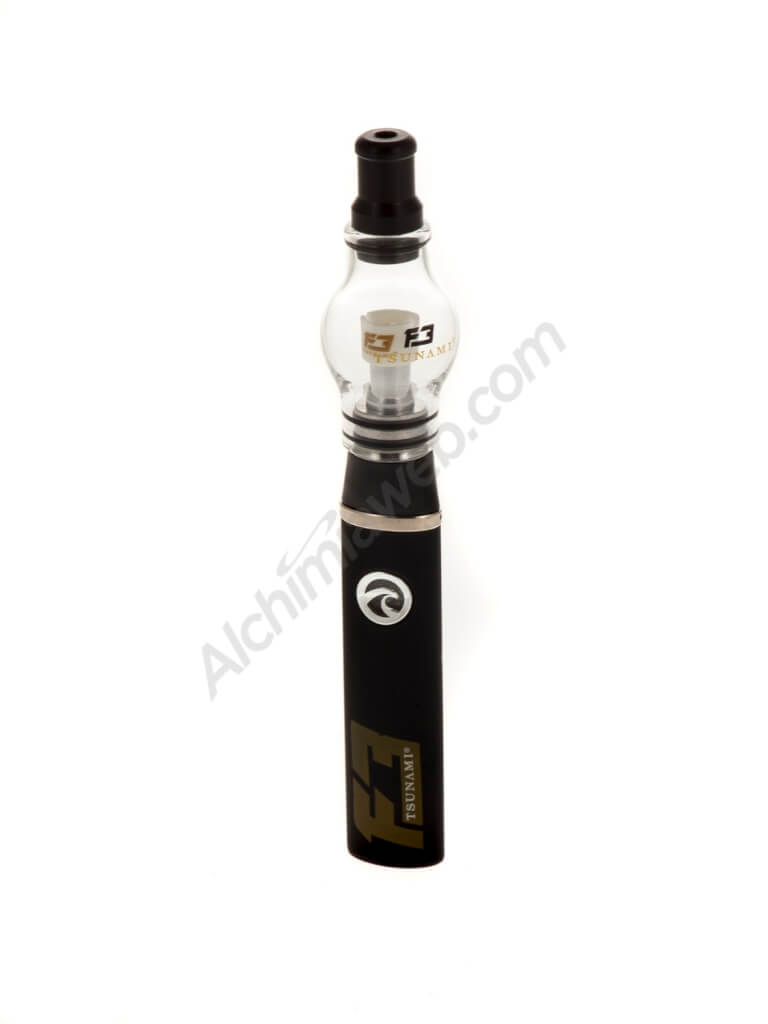 Geschenk
Bei Jedem Einkauf
Sichere
Zahlung
Diskreter
Versand
Kostenloser
Transport (*)
Entschuldigung, Inhalt auf Englisch, wir übersetzen dieses. Produkt und bald werden Sie es in Ihrer Sprache haben.
Alchimia Grow Shop presents the Tsunami 3 in 1 cannabis resin and flower vaporiser, designed to be extremely versatile, compact and easy to use.
It has a very similar design and dimensions to those of an e-cigarette or POD Vaporizer, with a height of 13cm with the Wax dome and the oils tank, and 10.5cm with the herb chamber.
Tsunami 3 in 1 vaporiser, compatible with flowers, wax and oil
This compact and convenient size means that we can stow it away comfortably and discreetly a pocket without it bothering us, as it weighs less than 100g.
Swapping the atomisers over is very simple: to replace the herb chamber (to vape the flowers from our own cannabis harvest) with the wax, we must remove the whole piece with the included connection to the vaporiser base.
To do this, we remove all the elements above the silver washer by the power button, pulling them apart gently.
Tsunami 3 in 1 vaporiser, with battery autonomy to last all day
Both the wax and oil atomisers share the same connection with the vaporiser body, conveniently saving us a piece.
To use the tank for oils, CBD e-liquid or terpenes, fit the wax atomiser head, from which we will remove the glass dome, and carefully unscrew the ceramic atomiser to expose a thread, to which we can connect the tank.
It has a 360mAh battery, which combined with its atomisers with resistances between 2.3 and 2.6 Ohms guarantees us enough autonomy for the whole day with moderate use.
Tsunami 3 in 1 vaporiser, operates with a single button
It is recharged via a micro USB port and the battery needs a maximum of 2 hours to fully charge. We will be able to see that it is charging by a small red led next to the micro USB port, which will turn off when it is ready to go.
The manufacturer recommends that to protect the battery, only the included charger should be used, that we should not leave it charging all night but to disconnect it when it fully recharged, and that we should not operate the vaporiser while it is charging.
To turn it on or off, simply press the button 5 times in a row, and when we want to inhale, we keep the button pressed while we puff, and then release it.
Tsunami 3 in 1 Vaporiser info:
Portable vaporiser for herb, wax and oil
Easy to change atomisers
Dimensions: 13.5cm x 1.5cm
Battery: 360mAh
Charging time: 1-2h
Turn on and off by pressing the button 5 times in a row
Take a puff at the same time we inhale
Produkte im Zusammenhang mit Tsunami 3 in 1 Vaporiser (Verdampfer für Harz und Cannabiskonzentrate )