Adjust-A-Wings Defender - Small, white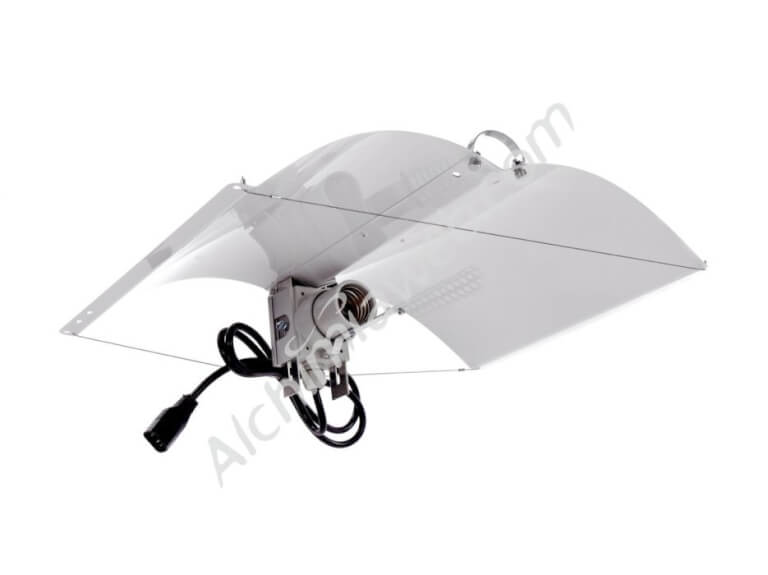 Adjust-A-Wings Defender - Small, white
Free gift
with every purchase
Secure
payment
Discreet
shipping
Free
shipping (*)
This Adjust-a-Wings Defender small white reflector for 250w bulbs is one of the best reflectors for cannabis growing that can be found on the market.
In this case, it is the white version of the renowned Adjust a Wings reflector, which combines a touch of elegance with many advantages for growing marijuana indoors.
With this high-range reflector we can optimize the lighting system of our growroom. It easily adapts to the growing space by opening or closing its wings according to the number of plants to grow and the distance between the bulb and the plants, redirecting and improving the light emitted by the lamp.
With this reflector we can increase the growing space by up to 65% due to its high reflectivity. There will be a 33% saving in electricity for the same crop area and a 33% reduction of the emitted heat (compared to a basic smooth reflector using the same light output).
Both Super-Spreader and bulb holder are included as parts of the reflector, being a quality device for dissipating the heat produced by the growing lamp.
Adjust a Wings Defender Small features:
White Reflector
1 Bulb holder
1 Super Spreader
2 adjustable tensioning cables
Adjustable Wings.
Suitable for a 75 x 60 cm growing space
Ideal for 250w MH / HPS lamps
Dimensions: 54cm x 38cm (21.3 "x 15")
Video ofAdjust-A-Wings Defender - Small, white
Accessories of Adjust-A-Wings Defender - Small, white
Adjust-A-Wings Defender - Small, white related products (Grow Light Reflectors)