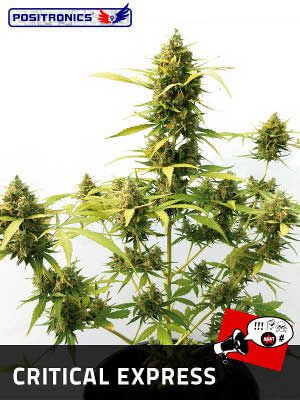 Free gift
with every purchase
Secure
payment
Discreet
shipping
Free
shipping (*)
Critical Express is an Autofem cannabis strain bred from the Critical Mass clone selected by Positronics, crossed with Lowryder 2 to provide Critical Mass with the auto-flowering trait, getting a productive and tasty automatic variety with citric and floral aromas. Find it now in AlchimiaWeb.
Critical Express comes from the Critical Mass mother plant used to breed Critical#47, as it produces large and fleshy flowers with strong smell and taste. This autoflowering version maintains perfectly these remarkable features, while reducing the full growing cycle to 65-68 days from seed germination to harvest.
Its structure is compact and ramified, and thanks to a short inter nodal distance it yields from 40 to 100gr/plant, growing up to 90-120cm. Positronics recommends to use at least 7L pots, for the available substrate volume is directly related to final size and yield of autoflowering cannabis plants.
To optimize results, Critical Express should be grown with a 18-20 hours/day photo-period, so planting these seeds at end of spring will allow our plants to receive the maximum of sunlight and thus express all its potential.
Critical Express' buds are characterised by their fruity and citric aroma, complex and long lasting. Its effect isbody and mind relaxing.
Critical Express from Positronics Seeds features:
Genetics : Critical Mass x Lowryder 2 Automatic strain
AutoFem hybrid
Full cycle : 65-68 days
Indoor Yield: 40-100 gr/plant
Outdoor yield: 40-100 gr/plant
THC : 12-15 %
CBD : 0.2%
Mold resistance: medium
Critical Express related products (Positronics Seeds)