Free gift
with every purchase
Secure
payment
Discreet
shipping
Free
shipping (*)
Alchimia proudly presents Disco Biscuit from Underground Originals, a regular cannabis variety characterised by its dense flowers with huge, resinous calyxes, giving off a first class sweet and floral aroma that will captivate and energise.
Disco Biscuit comes from a UGORG selection of Girl Scout Cookies, crossed with a male of its UGORG #1 (UK Cheese x UGORG's Blues) line resulting in an exciting Indica dominant hybrid.
Responding well to cultivation techniques such as supercropping, pruning and trellising, its branches quickly forming heavy and fleshy buds, offering a medium to high yield depending on the conditions of the crop.
Its flowering period lasts only 8 to 9 weeks at 12/12 light cycle, in which time the flowers swell to become rock hard nuggets of potency and flavour, and are easy to manicure thanks to a great calyx/leaf ratio.
Its complex and persistent aroma combines notes of red fruit on a floral, earthy and sweet background, with an effect that is positive, mentally stimulating and physically relaxing.
Cannabis Cups won by Disco Biscuit:
Spannabis 2017 Madrid: 2nd Highest THC Flower, 2nd Indica
Elite Cup Amsterdam: 1st Water Hash, 1st People Choice's Hybrid
Monsters Cup 2018: 2nd Ice Water Hash
Masters Of Rosin 2018: 3rd Hash Rosin
Underground Originals Disco Biscuit info:
Type: Regular Seeds
Indica dominant hybrid
Genetics: UGORG Cookies x UGORG #1
Flowering: 8-9 weeks
Yield: Medium to high
THC: High
Disco Biscuit related products (Underground Originals Seeds)
French Touch Seeds
11 seeds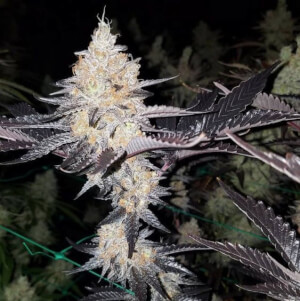 Dark Horse Genetics
10 seeds