The product Food Basic Kit is discontinued.
Food Basic Kit related products (Cannabis Edibles )
---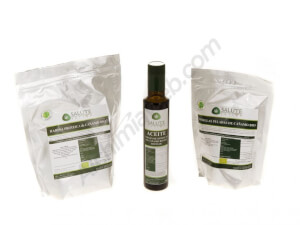 Free gift with every purchase
Food Basic Kit
Supplement your diet with hemp and save money with this kit of products, which includes hemp seeds (peeled and unpeeled) and hemp flour. Now available in Alchimiweb.
These peeled hemp seeds come from organic crops and provide your dishes and salads with Omega 3 and 6, fatty acids and amino acids. Furthermore, they flavour your dishes with a delicious nut taste.
Unpeeled hemp seeds also come from organic crops and come ready to eat as is, or can be toasted on a frying pan to increase fiber and potassium content.
Finally, hemp flour is normally used mixed with other types of flour and is ideal to flavour your favourite desserts, cakes and pastries, which will also have more nutritional value.
Get this kit and save 10% on the price of these products!
---