Free gift
with every purchase
Secure
payment
Discreet
shipping
Free
shipping (*)
Aficionado French Connection presents Fruit Flambé, a cross between four powerful and famous American genetic lines, including an exceptional Purple Punch selection used as a mother. The male used is a hybrid between Forbidden Fruit, Zkittlez and Magnum Opus created in 2016 by Leo Stone and Professor Q.
Fruit Flambé has vigorous and branchy development. It is easy to cultivate and adapts well to the different growing systems such as coconut, hydro, aero or soil. Cultivated outdoors it can become a large size plant when it has enough substrate and well-balanced nutrition.
Regular seeds plenty of power, flavours and resin
Fruit Flambé flowering is a visual and olfactory spectacle, displaying a range of purple colours that enliven your indoor grow tent or your garden. It produces large, very compact, dense, rocky and totally resin-coated buds. The resin yield is enhanced by the incredible amount of resin that floods into the nearby leaves covering them with trichomes.
Fruit Flambé harvest is ready after about 56 to 63 days of flowering, with an abundant yield that can exceed 550g per m2 cultivated indoors. Outdoors the harvest is ready between the end of September and early October, with a yield according to the plant size that can exceed 800g per plant.
It delivers an intense aroma and flavour thanks to its rich terpene profile, combining lavender, grape, candy, marshmallow, cotton candy and white lilac, a unique experience for your palate.
It has a powerful and psychedelic effect but balanced between body and mind thanks to its high THC levels.
Aficionado French Connection Fruit Flambé info:
Type: Regular cannabis seeds
Genetics: Purple Punch x [Forbidden Fruit x (Zkittlez x Magnum Opus #18)]
Indica dominant hybrid
Indoor flowering: 8-9 weeks
Outdoor harvest: Early October
Indoor yield: 500 to 600 g per /m2
Outdoor yield: More than 800g per plant
THC: High
Fruit Flambé related products (Aficionado French Connection)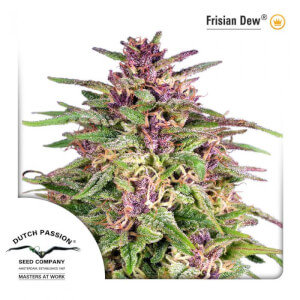 Sweet Seeds
3 seeds + 1 free seed