The product Full Energy is discontinued.
Full Energy related products
Tropical Seeds Company
3 seeds
There are only 3 units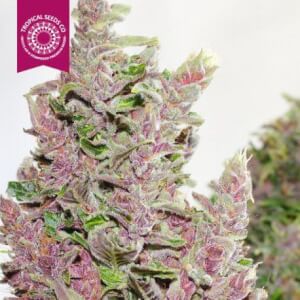 Tropical Seeds Company
3 seeds
There is only 1 unit left
Tropical Seeds Company
3 seeds
There are only 2 units
---
Free gift
with every purchase
Secure
payment
Discreet
shipping
Free
shipping (*)
Full Energy is a mostly Sativa cannabis hybrid bred by Tropical Seeds from the Old Timer's Haze variety , enriched with 25% of Afghani genes to get a shorter flowering period while keeping its slightly acid flavour and energetic high effect. Find it now among AlchimiaWeb's regular seeds collection.
This backcross of the Old Timer's Haze line presents the typical features of this old school sativa - a slender structure and fluffy buds with hazy aroma - while having a faster flowering, being ready to harvest after 12-14 weeks of flowering.
Full Energy can be successfully grown both indoors and outdoors, altough it shows its full potential when grown in mild and dry climates. Its large flowers have an ethereal and shiny look, thanks to its silver calyxes which are covered with a white and sticky layer of resin. Its flavour is citric, slightly acid with orange hints.
Full Energy's effect is, as its names suggests, is stimulating and dynamic, suitable for all types of activities, from working to partying with friends.
Full Energy from Tropical Seeds Company features:
Name: Full Energy
Genetics: (Afghan x Old Timer's Haze) x Old Timer's Haze
Type: Regular
75% Sativa - 25% Indica
Flowering period: 12-14 weeks
THC: NC
Yield: medium