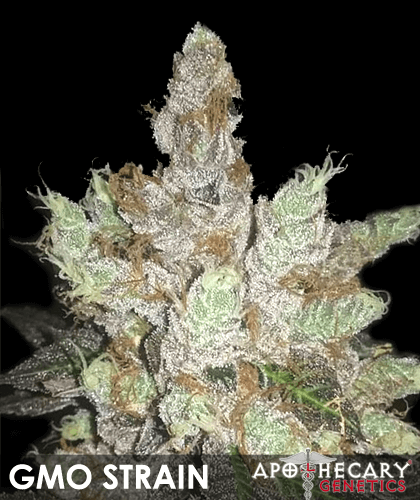 Free gift
with every purchase
Secure
payment
Discreet
shipping
Free
shipping (*)
Alchimia is glad to present GMO by Apothecary Genetics, a regular marijuana plant cross between two well-known and appreciated varieties as Chemdog D and Girl Scout Cookies (forum cut).
This strain was initially developed by Mamiko Seeds and selected by Skunkmasterflex. Now Apothecary Genetics introduces this variety in a regular seed format.
It is a compact plant with medium internodal distances. It is easy to manage and adapts well to pruning techniques either in indoor or outdoor cultivation.
GMO has a 60-day flowering period, offering uncommon aromas and flavours that combine the terpenes profiles of its GSC and Chemdog ancestors. Chemdog provides a petrol load with coffee and fruit notes, and inherits from GSC sweet and earthy tones.
It produces a strong effect due to its high power but it does not knock out. GMO is a great variety to help in relieving specific or chronic pain.
Apothecary Genetics GMO info:
Type: Regular cannabis seed
Genetics: ChemDog D x Girl Scout Cookies (Forum Cut)
Indica Sativa hybrid
Indoor flowering: 8-9 weeks
Outdoor harvest: beginning-mid October
Indoor yield: Average
Outdoor yield: >500g per plant
THC: High