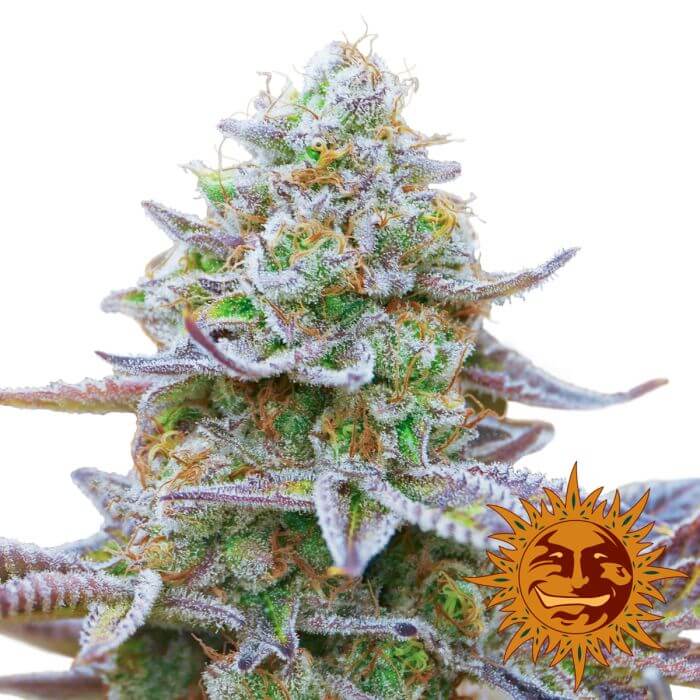 Free gift
with every purchase
Secure
payment
Discreet
shipping
Free
shipping (*)
Alchimiaweb.com presents Gorilla Zkittlez from Barney's Farm, a new feminised variety combining two champions from the West Coast of the USA.
This is a mould-resistant strain with a hybrid structure: robust, well-branched and an average internodal distance, forming a large central cola surrounded by secondary branches offering hard, dense buds.
This hybrid between Gorilla Glue #4 and Zkittlez can reach up to 1.70m tall and will be ready to harvest in 60 days, producing a crop of up to 700g per m2 when grown indoors. Outdoors you can expect to harvest at the end of September for a crop of up to 2.5kg per plant.
Its buds are dense and form fleshy calyxes, completely coated with white, aromatic trichome heads, allowing us to make high-yielding resin extractions.
The high level of THC, around 24%, gives Gorilla Zkittlez a really intense, relaxing and pleasant effect at the physical level, which helps us manage pain and to relax, keeping our minds busy in a cloud of psychedelic thoughts.
The aroma is sweet, exotic and herbaceous, combining notes of ripe tropical fruit with the taste of exotic hashish.
Barney's Farm Gorilla Zkittlez info:
Type: Feminized seeds
Genetics: Gorilla Glue #4 x Zkittlez
Indica dominant hybrid
Flowering indoors: 8-9 weeks
Harvest outdoors: Beginning of October
Indoor yield: up to 700g per m2
Outdoor yield: up to 2.5kg per plant
Height: up to 1.7m tall
Gorilla Zkittlez related products (Barneys Farm)
Opinions about Gorilla Zkittlez and questions
If you buy a big volume do you give discounts I am looking at about 25 different ones
Hi Aj, thanks for your question. Send an email to info@alchiiaweb.com detailing what you'd like to purchase and we'll see what we can do. Best wishes and happy growing!
All my seeds turned hermaphrodite on me,never had this problem before on any of the numerous strains I have ordered and germinated before.
Hi Darren, thanks for your comment. I'm sorry to hear you had problems with hermaphrodites in your grow. Be sure to double-check your grow space for any light leaks that could have caused the problem, or any other source of plant stress that could have been to blame. Unfortunately we are unable to accept returns on seeds with hermaphrodite issues like this, as it is impossible to determine whether the problem was due to growing conditions or genetics. Best of luck with your next grow.
I must have a slow flowering pheno, week 3 and very small buds compared to my critical kush which is stacking the weight on fast, outside grow so started at the same time.
Hi CJ, thanks for your comment. Critical Kush is a very high-yielding plant so it's a bit of an unfair comparison! I've not grown Gorilla Zkittlez but neither of the parent plants are particularly vigorous or really big yielders, especially Zkittles, which is well-known for giving small harvests in terms of flower size and weight. However, these two plants tend to produce much more resin and much higher terpene levels, so really it's a case of very high quality flowers but not very heavy flower yields from this hybrid. Hopefully she'll start to bulk up a bit soon anyway, but I think the genetics of the Critical Kush give it the edge towards a heavier harvest, although the result will probably not be as aromatic or resinous as the flowers of Gorilla Zkittlez. Please let us know how your harvest goes in the end. Best wishes and happy growing!
Mine finished in the third week or September. Not sure of the exact yield but would estimate around 4 pounds of dry flower. Was easy to train to keep the height down around 5 feet. I give this plant a 5 out of 5 rating with no down side to growing it.
Hey Atomic, thanks so much for the feedback, we're really happy to hear that you're very satisfied! I hope you enjoy the results of your hard work and dedication now, well done! All the best and happy toking!
when growing outside this plant can reach 8-10 ft tall. this plant is thick and bushy requiring a lot of training. these plants have been grown in perfect outdoor conditions for a zone 5 and right now as of September 2nd they only have small purple nugs that won't be fully grown until mid to late October.
Hi Nathan, it sounds like your plant is a particularly large and late-flowering specimen. When did you germinate it for it to get that big? The harvest times and finish dates that the seed banks provide us are somewhat of an average for the Northern Hemisphere. We may find that some phenotypes are much faster, while some may be slower to finish. We may also find that plants mature faster depending on the latitude and atitude that we're cultivating at, so it's really difficult to give an exact date for harvest. If it's any consolation, your plant may be a longer flowering example, but it will reward you with a much bigger harvest than if it had finished earlier. I hope the weather stays favourable, all the best for the rest of the season and happy harvests!
Do you ship to Michigan in the US?
Hi Che, thanks for asking but unfortunately we're still unable to ship to the USA although we're working on it and are optimistic about being able to do so soon. All the best.
This strain is a Powerhouse!! Resin production is off the charts. Vigorous plants fill in every available inch of space. Buds are solid, heavy, and too sticky to take lightly. Smell, taste and buzz are undeniable. If you have a chunk of this nug in your pocket, you will be noticed. We call it the "Friend Maker".
Hi Fletch,
Hahahaha I'm loving the "friend maker" name!! Glad you're happy with it, thanks a lot for your comment.
Cheers!