250W Grow Electronic Light Kit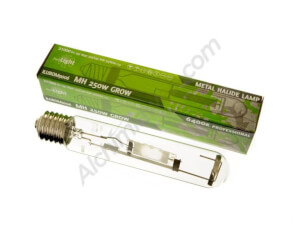 250W Grow Electronic Light Kit
Free gift
with every purchase
Secure
payment
Discreet
shipping
Free
shipping (*)
Alchimia Grow Shop presents the 250W Grow Electronic Light Kit, perfect for the vegetative development stage in your indoor cannabis grow tent.
250W Grow Electronic Light Kit, efficiency and quality
This kit includes all the necessary elements for your indoor cultivation lighting system, with functional and quality components at a really affordable price.
The main element is the 250W HM lamp with a 6400K spectrum and 25,000 lumens. This lamp radiates white-blue light for a healthy and vigorous plant growth.
The 250W electronic adjustable ballast offers maximum energy efficiency, being able to adapt the light intensity to each plant development stage.
250W Grow Electronic Light Kit, ready to install and operate
It is more efficient than traditional magnetic ballasts, protecting the lamp service life through a soft start-up and a built-in electronic protection.
The kit includes the Alchimia stucco reflector. It is manufactured in cocked aluminium, flexible, light and efficient, spreading the light over all the plants and maximising its development.
Includes a set of two Alchimia Light-Hangers pulleys with a 5kg capacity. It anchors the system, and also allows you to easily raise and lower the spotlight.
250W Grow Electronic Light Kit info:
1x 250W HM E40 lamp
1x Electronic ballast 250W with regulator
1x Aluminium stucco basic reflector
1x Alchimia Light-Hangers pulleys 5kg
Kit including 250W HM lamp, stucco reflector and electronic ballast
250W Grow Electronic Light Kit related products (Electronic lighting kit )