The product Phytoled professional GX-100 Full Cycle is discontinued.
Phytoled professional GX-100 Full Cycle related products
85W - 1 module
There are only 3 units
---
Phytoled professional GX-100 Full Cycle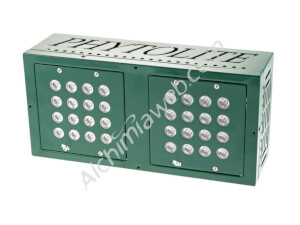 Phytoled professional GX-100 Full Cycle
Free gift
with every purchase
Secure
payment
Discreet
shipping
Free
shipping (*)
Phytolite presents here its new professional LED panels. the GX-100 Full Cycle, designed in Switzerland and tested in Italy. These panels have a modular system so we can use them for either growing or flowering our cannabis plants .
They enable the user to change the panels individually in an easy way, either if we want to change the light spectrum or just to replace them in case of failure. The functioning of the other panels won't be interrupted.
They offer 3 different types of light spectrum: one for thegrowth stage, another one for the whole cycle (Full Cycle) and the Real Vision mode (full spectrum, white light), which accentuates the colours of the illuminated objects, either orchids or other flower plants or just for installing it in the kitchen.
We only have to purchase the needed replacement units and remove the old ones, so we can continue enjoying our LED panel. In this way, we don't have to send the device to the manufacturer in case of malfunction.
These standard PHT201 units are installed on an aluminium radiator that keeps them cooled.
The cooling is performed thanks to the Turbo Cooling System, which uses fans twice the size of the normal ones in LED units of the same potency.
Thus, along with the size of the body, allows maximum air flow and enables us to use them even in extreme hot conditions. These fans have 2 operating positions: they switch on automatically when the lights are on, while the second position it's switched automatically when temperatures rise.
They can be connected in series through an accessory cable, using only one wall socket, and making the installation in large indoor growing spaces much easier.
Is has a 1-year warranty that you can extend to 2 years by registering your device in the manufacturer's web.
Phytoled professional GX-100 Full Cycle features:
Dimensions: 36.5cm x 17.5cm x 11cm
Power: 66W
LED lifespan: 50.000 hours
Use between -20ºC and 40ºC
2-year warranty with the manufacturer
2mm Aluminium body
Completely modular, the LED panels can be easily replaced
It continues to operate with missing/damaged panels
You can replace your LEDs individually or replacing the whole panel. System compatible with Growth, Full Cycle and Real Vision panels
Opinions about Phytoled professional GX-100 Full Cycle and questions
Would I be able to grow 2 plants and get good results, just with this led panel ?
Hi Alex,
You can do it without problems, although yields will be higher with a more potent panel. This one is ideal to keep a few mother plants.
Best!
Hello. Im for Portugal and im looking for LED panels. The PhytoLEDs Professional GX-100 Full Cycle is equal to wich hps power? 150w?200 or 250? In comparison of lumens. And the PhytoLEDs Professional GX-200 Full Cycle refers to wich HPS power? thanks
Hi Carlos,
According to the product specifications, the GX-200 provides 80.000 lumens. (a 600W HPS lamp is around 90.000 lumens).
Hope it helped!