Powder Feeding Mostly Indica - Short Flowering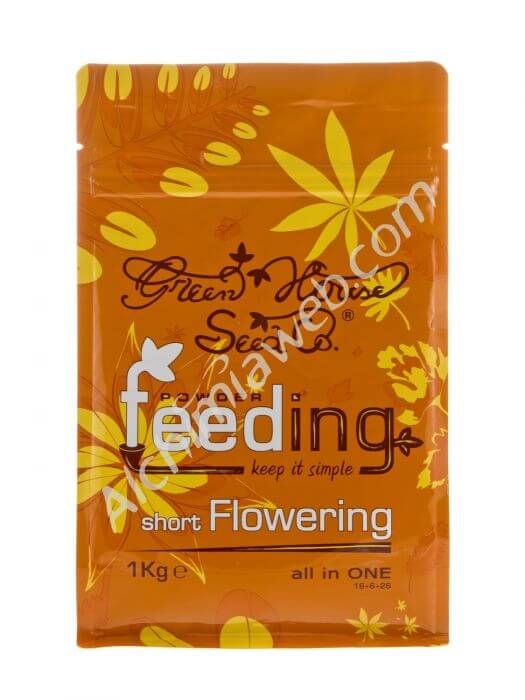 Powder Feeding Mostly Indica - Short Flowering
Free gift
with every purchase
Secure
payment
Discreet
shipping
Free
shipping (*)
Power Feeding is the new range of mineral fertilizers in powder from Green House, designed to make the life of the grower easy, as they integrate everything your plants need in the entire crop in just one product.
The Powder Feeding Mostly Indica - Short Flowering has been prepared with a composition that will ensure proper development in the growth phase and the flowering, considering that it will last 8 weeks as long. Ie, it is indicated for Indica genetics or short flowering hybrids, both indoors and outdoors and in greenhouses.
Its composition is NPK 16-6-26 and we'll mesure out 0.5-2g/l depending on the phase of development and genetics concerned.
Features of Mostly Indica - Short Flowering:
N Total nitrogen 16%
NS Nitrate Nitrogen 11%
NA ammonia nitrogen 5%
PO Nitrogen Phosphoric 6%
KO soluble Potassium 26%
Mg Soluble Magnesium (Mg = 1.2%) 2%
B soluble boron 0.02%
Cu Copper soluble (ethylenediamine chelate) 0.04%
Fe Soluble Iron (ethylenediaminetetraacetic chelate) 0.1%
Mn Soluble manganese (ethylenediaminetetraacetic chelate) 0.05%
Mo Soluble Molybdenum 0.01%
Zn Soluble Zinc (ethylenediaminetetraacetic chelate) 0.01%
Powder Feeding Mostly Indica - Short Flowering related products (Green House Feeding)