The product Smart Dabb Classic Electric Nail is discontinued.
Smart Dabb Classic Electric Nail related products
There is only 1 unit left
---
Smart Dabb Classic Electric Nail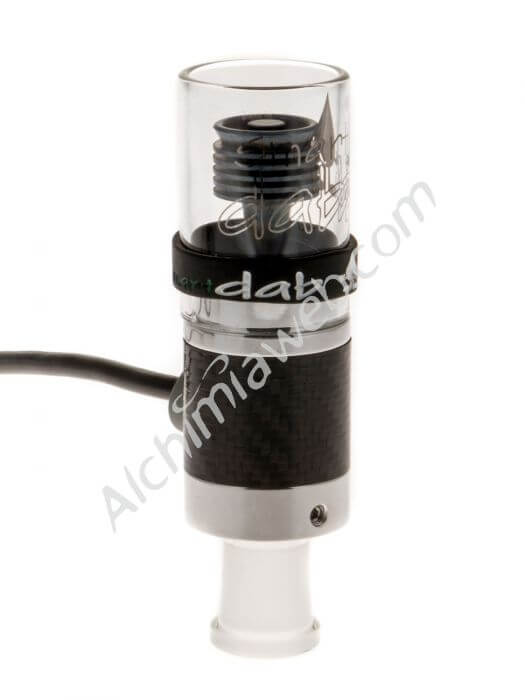 Smart Dabb Classic Electric Nail
Free gift
with every purchase
Secure
payment
Discreet
shipping
Free
shipping (*)
Alchimia welcomes here the Smart Dabb, a titanium electric nail especially designed for dab lovers thanks to its fast heating and stable temperatures.
The Smart Dabb Classic is composed of a heating element with a titanium nail on the top, while the bottom part is open to connect an adapter for our favourite bubbler.
Its operation is simple, since we only have a single button. We just have to turn it on, wait for a while and we can start dabbing. It includes a glass dome so no smoke is wasted.
We'll place the dome only when we want to make a dab, and we'll remove it after doing it, to avoid it to get hot and dirty.
The temperature reached is around 455ºC and it stays constant, so we don't have to use the flame torch anymore to heat our nail.
(Bubbler not included)
Smart Dabb Classic features:
Electric nail for dabbing
Temperature: 455ºC
Titanium nail
Includes 4 adapters for bubblers and glass dome
Fabric carrying bag also included
Opinions about Smart Dabb Classic Electric Nail and questions
Hi Sarah,
The MTA 48 is the temperature control unit, what I need to know is what type of electric nail you're using connected to it.
Best!
my black box won't heat it's a Maxwell MTA-48
Hi Sarah,
What type/model of electric nail are you using?
Best!
I'm looking for just the straight dome glass piece. Know where to find or do you have for sale? Thank You
Hi Collin,
We don't have this replacement part available, and I've searched a bit and can't find it anywhere.
Best!
Hello, I was wondering do you have replacement part for the smart dabb controller. I'm looking for a straight sided dome. Thanks, Harry B
Hi Harry,
I'm sorry but we don't have any dome compatible with the Smart Dabb.
All the best!