KIT 2 LEC Sunburst CMH 315w + Alchibox 240cm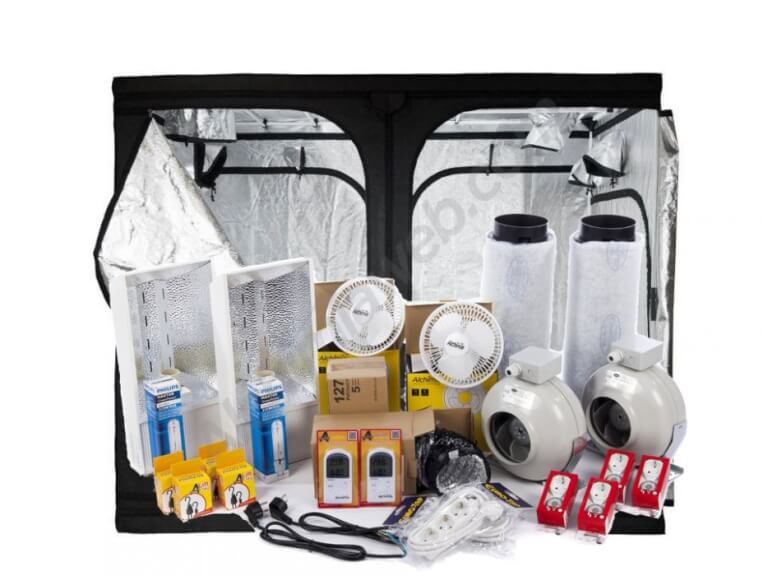 KIT 2 LEC Sunburst CMH 315w + Alchibox 240cm
Geschenk
Bei Jedem Einkauf
Sichere
Zahlung
Diskreter
Versand
Kostenloser
Transport (*)
Entschuldigung, Inhalt auf Englisch, wir übersetzen dieses. Produkt und bald werden Sie es in Ihrer Sprache haben.
Grow kit with 315w Sunburst lighting (x2) and Alchibox 240x120x200cm grow tent
This kit is designed for cultivators who require more growing space and to have two light sources. Ideal for growers who make resin extractions or for those who use it for medicinal use and consume a greater quantity of flowers.
The Alchimia grow cabinet, 240x120x200cm, is composed of two 315w LEC CMH lighting systems that cover the entire cultivation area. They almost use half the watts required when using HPS lights for same area. In other words, with the same energy consumption of one 600w HPS bulb, we can use two 315w LEC CMH bulbs, thus almost doubling the performance.
The grow kit incorporates 4 bulbs, 2 of 3100K and 2 of 4200K, free of charge, being able to use the most suitable according the crop type. It is recommended to use 4200K bulbs for plants higher than 1m and 3100K bulb for plants with a height lower than 1m.
In addition to including the LEC CMH new lighting systems, this kit also incorporates all the necessary elements to carry out a complete crop from start to finish.
The grow kit with cabinet and LEC CMH lighting incorporates:
2 Sunburst 315W CMH with 3100K bulb
2 CMH 4200K Grow Green bulb 315 w
2 Power cable (+ plug)
2 Extension 3 outlets - Cable 1.5 m
4 Legrand EU mechanical timer - European plug
1 Alchimia cabinet box 240L
2 Alchimia basic thermohigrometer s / probe
2 Alchimia Lighthangers 5kg (two)
2 Alchimia ClipFan 15w
2 Alchimia Extractor Can-Fan RS 125L / 340
2 Black plastic mouth for carbon filter125mm
2 Alchimia Can Lite 125/300 filter without mouth
1 Alchimia Combi duct 127mm x 5m with flanges
Video vonKIT 2 LEC Sunburst CMH 315w + Alchibox 240cm