Das Quantum Kush Produkt ist nicht mehr katalogisiert.
Ähnliche Produkte wie Quantum Kush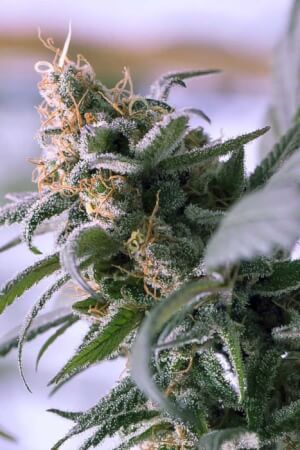 Subcool's The Dank (früher TGA)
10 Samen
Subcool's The Dank (früher TGA)
10 Samen
Nur noch 1 Einheit
Subcool's The Dank (früher TGA)
5 Samen
Nur 2 Einheiten übrig
---
Geschenk
Bei Jedem Einkauf
Sichere
Zahlung
Diskreter
Versand
Kostenloser
Transport (*)
Entschuldigung, Inhalt auf Englisch, wir übersetzen dieses. Produkt und bald werden Sie es in Ihrer Sprache haben.
The Quantum Kush is the first cannabis strain in the world with more than 30% THC!
Significant levels of other phytocannabinoids such as THCV or CBG accompany this incredibly high level of THC, while a complex terpene profile provide rich and sugary flavors, very long lasting.
To create this strain, Subcool crossed its female clone Sweet Irish Kush with a TimeWreck male (Blood Wreck x Vortex).
Cannabis strain Quantum Kush, new world record with 30,6% THC content
To date, the strongest marijuana strains, like the Y Griega variety , had THC levels around 27-28%; Quantum Kush, analyzed in the laboratory, reached 30.6% THC, what represents a new THC world record and thus positions it as the most potent marijuana strain in the world!
The effect of Quantum Kush is extremely strong and long lasting, but without nervousness or paranoia, which are usually associated with high levels of THC.
Quantum Kush performs very well and it will be appreciated by those seeking a relaxing effect or for those who need high levels of THC, whether for medicinal or recreational use.
Thus, this strain will be perfect if you need to stimulate the appetite, if you have multiple sclerosis, ADHD (Attention Deficit Hyperactivity Disorder), cancer, nausea, depression, anxiety or sleep disorders.
Quantum Kush seeds from TGA Subcool features:
Phenotypes: All plants are large and sharp, but they have some differences in taste and aroma: one pheno is clearly spicy Kush, another one is sweet Kush trend, while the last one is a good combination between both
Height: Large and vigorous plants whose size will triple during the stretch of the pre-flowering stage
Production: High
Indoor/ Outdoor: Recommended for both indoor and outdoor crops
Best method of growing: Quickly trim the apex to form a bushy plant of about 80cm in height
Flowering period: 53-63 days
Sativa / Indica: 75/25%
Hybrid: Sweet Irish Kush x TimeWreck
Type of effect: powerful, relaxes the mind, with long lasting effect. More suitable to relax than for doing activities.
Smell and taste: Earthy with Kush hints and sugary touches. Moderate smell
THC 30,6% ; CBD 0,1% ; CBN 0,2% ; CBC 0,6% ; THCV 0,3% ; CBG 0,8%