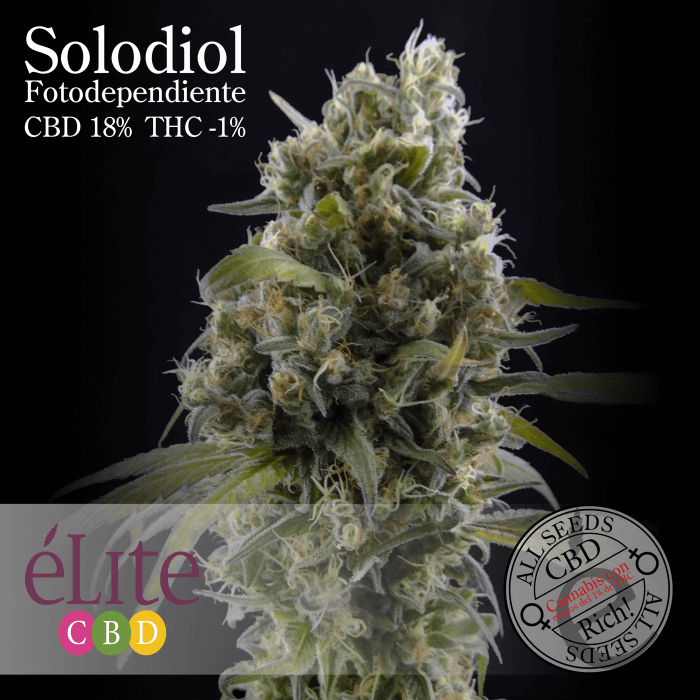 Free gift
with every purchase
Secure
payment
Discreet
shipping
Free
shipping (*)
Elite Seeds presents its new medicinal variety Solodiol Clasica, a cannabis hybrid capable of producing up to 20% CBD (Cannabidiol) and less than 1% THC. Now to be found as feminised seeds in the Alchimiaweb online grow shop!

The breeders at Elite Seeds have spent years searching for medicinal varieties, and as a result the seed bank has offered CBD-rich strains for some time. The team is now very proud to present a plant with less than 1% THC, for users of medicinal cannabis looking for the benefits of this non-psychoactive cannabinoid.
This sturdy, easy-to-grow feminised variety will provide generous crops of dense, compact flowers with Diesel aroma that can test at up to 20% CBD in laboratory analysis.
Elite Seeds Solodiol Clasica info:
Type: Feminized seeds
Mostly Sativa
Indoor flowering: 8 -9 weeks
Outdoor harvest: Late September/Early October
Yield: Average
Up to 1:20 THC:CBD ratio
THC content: less than 1%
CBD content: Up to 20% (average 14%)
Solodiol Clasica related products (Elite Seeds)
Opinions about Solodiol Clasica and questions
Any seeds with high content CBD and below 0.3%THC?
Hi Ryan,
Unfortunately, we still don't have such strain. There are plenty of breeders out there improving the current "CBD only" strains, so I believe we'll hopefully see a strain with such low THC percentage (and high CBD) in 2019...Until then, I guess we're limited to the known, legal hemp varieties.
Best!
Hello guys compliment for this strain .... i would like to read a thing but, is it sure that it contains less than 1% thc? I ask why I'm intolerant to thc, but I really like CBD effect. thank you
Hello Nicole, as this strain is brand new on the market, we are still waiting feedbacks from the growers to be sure. On the olders CBD Only strains, THC may sometimes vary (2 , 3%...) but always stay low. Best regards!
Hi Everyone, Does somebody know how long this strain takes to flower ? Many thanks.
Hi Daniel,
I've asked Elite Seeds and they've sent me some more info about Solodiol, which you can already read in the description.
It takes around 9-10 weeks to flower indoors.
Best!
Hello, Thanks for your input. Will you be reporting the outcome of your research here on this page ? If not, can you just post on this thread the link of the page onto which you'll add these precious information, please ? So I can check from time to time new updates. Again thanks for your help. Grateful for your contribution. Cheers
Hi Jamy,
Sure, I'll write an article for our Blog. Will let you know as soon as we publish it, although it may take a few weeks.
Best!
Hi Guys, Prior to purchasing this or any other High CBD strain (haven't made up my mind yet as to which CBD strain I should get. Anyway…), was wondering how to find out according to trichome color, right harvest time for CBD peak. I've scoured the web for an answer but there seem to be no consensus on that matter. The answers I have found cover the full spectrum of trichs coloration. Some say harvest early when trichs are still translucent, others say wait and harvest when milky, others say harvest just like any other cannabis strain when amber trichs start showing up, and still others advise to go full term to increase CBD %. To say the least, all this lead me nowhere close to the answer I am still seeking. I am now even more confused than before I started searching for the correct answer. Lab testing samples at different stage of the plant cycle, would certainly be the best way to settle this issue for good. But cannabis lab testing is still unavailable around here, and Alpha Cat and the likes are expensive, too messy and lack accuracy… I was wondering how most of you guys at Alchimia actually do to determine peak CBD window ? Thanks
Hi Jamy,
That is a very interesting question. I did some research a few months ago and ended as confused as you're. Lots of sources with differing conclusions.
My advice is to harvest the plants at their peak of cannabinoid content, which is when you'd normally harvest it if you were looking for high THC content.
I'd harvest some parts of the plant earlier than others so you could easily find the effect you're looking for. In this way, you'll now that certain plant provides the desired effect with "x" weeks of flowering.
I'll definitely do some more research about it as soon as I can, there is a lot of confusion out there although I'm pretty sure that this issue is being thoroughly examined.
Talk soon!