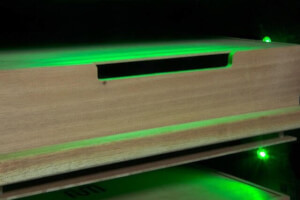 Free gift
with every purchase
Secure
payment
Discreet
shipping
Free
shipping (*)
Alchimiaweb presents here the FUM XL electronic cellar, with which the user can control the temperature and humidity for a perfect curing and storage of cannabis buds.
Measuring 61 x 58 cm, with a height of 124 cm, its total volume is 191 litres, enough to store approximately 2.000 gr of dried buds and thus being ideal for cannabis social clubds and associations.
The interior space is divided into 5 compartments with trays made of okume wood, completely odourless and with very low porosity, thus retaining the smell of the buds.
A 135 micron screen is placed on the lower part of each tray, which allows proper air circulation while collecting the most mature resin glands detached from the buds.
We can select the temperture (5-22ºC) with the digital display (it uses a 220v compression refrigeration system), while the humidity is adjusted with a water reservoir with fans.
With this cellar we can cure and store our buds in the best possible way to enjoy their organoleptic potential at most, which can be ruined due to inadequate storing temperature and/or humidity.
FUM XL Electronic cellar info:
Dimensions: 58 x 61 x 124 cm
4 compartments: 450 x 360 x 90 mm
1 compartment: 470 x 275 x 90 mm
Volume: 191 litres
Temperature range: 5 - 22ºC (adjustable)
Recommended temperature: 18- 20ºC
Lock system
Weight: 68kg
Boxes and trays made of okume wood
135 micron mesh
Safety glass, UV-proof
220v