The product VitalHemp Hemp seed oil 0.2% CBD is discontinued.
VitalHemp Hemp seed oil 0.2% CBD related products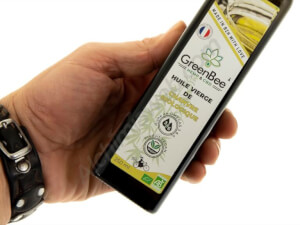 There is only 1 unit left
---
VitalHemp Hemp seed oil 0.2% CBD
VitalHemp Hemp seed oil 0.2% CBD
Free gift
with every purchase
Secure
payment
Discreet
shipping
Free
shipping (*)
We are glad to present here at Alchimia Grow Shop, VitalHemp CBD-enriched hemp seed oil, a natural source of essential elements, vitamins and amino acids.
VitalHemp 0.2% CBD hemp seed oil, organically grown and cold pressed
Made from organically grown hemp seeds, it is obtained by cold pressing, seeking to maintain all its nutritional and therapeutic properties.
It is guaranteed that 100ml contain 59g Omega-6 acids, 20g Omega-3 acids, 12g Omega-9 acids, 9g saturated fatty acids, Vitamin E and B and minerals.
To maximise its properties, it has been enriched with 240mg hemp extract providing a 0.2% CBD, the hemp terpenes and other non-psychoactive cannabinoids, which act and modulate the CBD thanks to synergies.
VitalHemp Hemp seed oil 0.2% CBD, with omega 3, 6 and 9
This elements blend makes it very beneficial for the body, helping to enrich our diet, reduce HDL cholesterol and triglycerides, stimulating the immune system and acting as a cardio protector.
It has a very aromatic herbal nutty taste, ideal for salads, sauces or cold dishes. It should be consumed raw, unheated, as heat degrades its properties.
The recommended dosage is a 2-3 tablespoons per day maximum. Shake the bottle before use. Store in a cool, dark and dry place.
VitalHemp Hemp Seed Oil 0.2% CBD info:
Nutritious oil based on hemp seeds
Cold pressing
Enriched with 0.2% CBD hemp extract
From organically grown hemp
Based on organic hemp seeds and organic hemp extract
Contains linoleic acid, alpha-linoleic acid, gamma-linolenic acid, oleic acid, vitamins E and B, saturated fatty acids and minerals.
Recommended dose: 2-3 tablespoons/day
Consume cold to maintain all its beneficial properties