Honey Peach Auto CBD by Sweet Seeds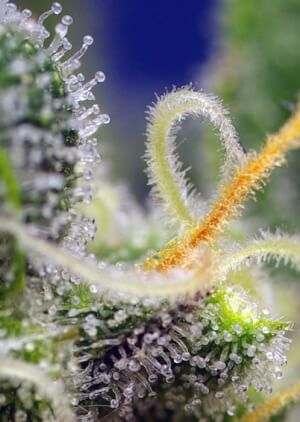 Honey Peach Auto CBD by Sweet Seeds
Free gift
with every purchase
Secure
payment
Discreet
shipping
Free
shipping (*)
Honey Peach Auto CBD is a fifth generation autoflowering cannabis strain developed by Sweet Seeds, characterised by its fruity aroma and richness in Cannabidiol, having a CBD content between 7 and 12%. Available now in AlchimiaWeb's automatic seed collection!
A cross between the best autoflowering lines of Sweet Seeds genetic library and a variety rich in CBD, Honey Peach Auto gives fast plants with a fruity flavour and a THC:CBD ratio between 1: 1 and 1:1.5.
With an Indica character, this variety forms compact plants generally measuring 60 to 100cm, with strong and well-formed branches. Maturing 8 weeks after germination, Honey Peach Auto CBD will form dense, compact, resin-rich flowers and give a production of 40-120g per plant outdoors and 400-550g per m2 indoors.
The fruity aroma of Honey Peach Auto CBD combines notes of peach and lemon on a woody cypress background.
Sweet Seeds Honey Peach Auto CBD info:
Type: 5th generation feminized autoflowering
70% Indica;29.2% Sativa; 0.8% Ruderalis
Complete cycle: 8 weeks from germination
Indoor yield: 400 - 550g per m2
Outdoor yield: 40 - 120g per plant
Height: 60-100cm
THC: 6-9%
CBD: 7-12%
THC/CBD ratio: 1:1 to 1:1.5
Honey Peach Auto CBD by Sweet Seeds related products (Sweet Seeds)