Cannavitrol high CBx hemp ointment
Cannavitrol high CBx hemp ointment
Free gift
with every purchase
Secure
payment
Discreet
shipping
Free
shipping (*)
Alchimia presents here Cannavitrol high CBx, a 100% natural ointment made from plant oils which act in sinergy with the cannabinoids contained in hemp oil, ideal to take care of different skin problems and wounds.
The anti-inflammatory properties of CBD are especially efficient to combat pain, insect bites or burns. Cannavitrol high CBx can also be used to treat eczema, psoriasis, herpes, skin irritations and wounds. The CBD contained is also efficient to treat acne.
Cannavitrol high CBx has been formulated by Vitrovit laboratories in Barcelona, Spain. It contains their CBx hemp extract, which is also used in their CBx Oil and CBx capsules.
The CBx extract contains mainly CBD, but also 400 compounds (CBC, CBG, CBN...) naturally found in cannabis plants, which improve the therapeutical properties of CBD.
The hemp used has been organically grown on the east coast of Spain and is certified by CCPAE (Catalan Council of Organic Farming). The active and aromatic compounds of the flowers are extracted with vegetable oils which nourish and restore the skin, like olive oil, hemp seed oil or sweet almond oil.
Cannavitrol high CBx must be used on clean and dry skin by massaging the oil on the affected areas to enhance the product absorption. Use 3-4 times a day.
Composition of Cannavitrol high CBx:
Olive oil, hemp seed oil, CBD extract, sweet almond oil, soya oil, hydrogenated vegetable oil, tocopherol acetate (vitamin E).
Volume: 100ml
Total content in CBD: 112 mg
Cannavitrol high CBx hemp ointment related products (CBD Pharmaceuticals and Cosmetics)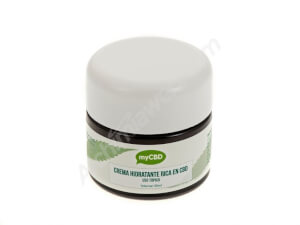 50ml
There are only 2 units