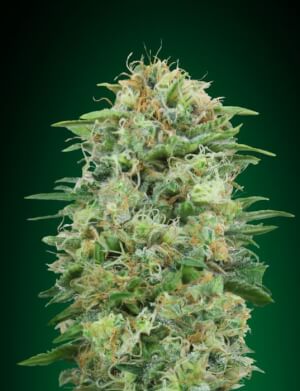 Free gift with every purchase
White Widow CBD
White Widow CBD from 00 Seeds Bank is a feminized cannabis variety rich in CBD and low in THC. This is the medical cannabis version of White Widow, with a smoother effect thanks to its high CBD content.
This variety produces plants that are easy to grow, with vigorous growth and well developed secondary branches. Grown indoors it can reach 80-110cm in height, and up to 240cm when cultivated outdoors in the ground.
Its flowering is explosive, offering a heavy yield of large and dense at harvest time. In indoor cultivation it can produce up to 450-500g per m2 after just 50 to 55 days of flowering, and 500g per plant outdoors, being ready to harvest between October 1st and 10th.
Its THC/CBD ratio is 1:2 to 1:3 with 5.5% THC and 12-16% CBD. This ratio of cannabinoids means that the psychoactive effect of THC barely perceptible. Depending on the phenotype cultivated, this ratio may vary but CBD levels are always above THC.
White Widow CBD is the ideal plant for cannabis users looking for the properties of CBD and THC but without the heavy psychoactive high.
00 Seeds Bank White Widow info:
Type: Feminized seeds
Genetics: White Widow CBD
THC Ratio: CBD: 1:2 to 1:3
Outdoor harvest: 1 to 10 October
Flowering indoors: 50-55 days
Outdoor yield: High
Indoor yield: 450-500g per m2
---
White Widow CBD related products (00 Seeds Bank)