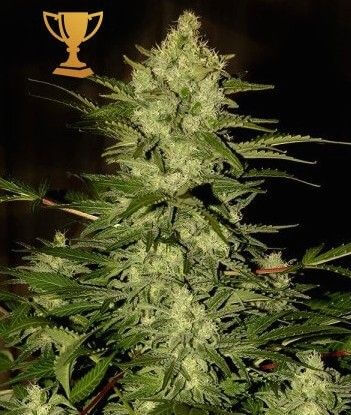 Free gift
with every purchase
Secure
payment
Discreet
shipping
Free
shipping (*)
Now in the Alchimiaweb.com catalogue, Mr. Amnesia Mass by Mr Hide Seeds, a hybrid crossing two classic cannabis plants to create a variety of high potency and intense aroma.
We're talking about the cross between Amnesia Haze x Critical Mass. This variety produces plants with a 70% Sativa, 30% Indica genotype, extremely robust, vigorous and easy to cultivate.
Highly resistant to pests and diseases and particularly to drought, this plant develops with a hybrid structure, acquiring a pine tree shape, with a prominent main cola surrounded by multiple side branches filled with buds.
This plant has an impressive yield, indoors up to 550g per m2. Despite having Sativa inheritance, it can be harvested after just 60 days of flowering.
Mr Amnesia Mass, a powerful hybrid between Amnesia Haze x Critical Mass
Its resin production is also very high, inherited from Critical Mass. The flowers are loaded with multitude of aromatic resin heads, which makes it ideal for hashish extraction.
It offers a sweet haze and lemon fragrance, but without an incense taste. It is a delight to the palate when it is smoked or consumed in a cannabis vaporizer.
The effect is extremely compelling. Very stimulant, psychoactive and with psychedelic touches that strongly stimulates creativity, while your body is relaxing progressively and profoundly.
The strong effects mean it's not recommended for inexperienced users, but highly recommended for heavy consumers looking for strong sensations.
Mr Hide Mass Seeds Mr. Amnesia info:
Type: Feminised cannabis
Genetics: Amnesia Haze X Critical Mass
70/30 Sativa - Indica
Indoor yield: 550 g/m2
Outdoor yield: very high
Indoor flowering: 60 days
Outdoor flowering: Early October
THC: High
Awarded with the first prize to the most productive genetics in the Master Seeds Cup in 2015 and Master Seeds Cup Chile in 2016
Awarded the 2nd Prize in the solventless extractions category of the Elite Cup Amsterdam 2017 (VIP jury and Popular jury)
Awarded with the 1st prize in the Copa Cata Zona Norte Argentina and the Biomenorcannabis, both in 2017
Awarded 2nd Prize for the best Sativa in the cup of the Thunder Talca in Chile in 2018
Mr. Amnesia Mass related products (Mr. Hide Seeds)