Spannabis 2018
The most important fair in the European cannabis sector - and the most visited cannabis event around the world - will be held this coming weekend at Fira de Cornellà, Barcelona. During 3 days, tens of thousands of professionals and visitors meet at Spannabis to know about the latest marijuana strains, nutrients, growing systems, smoking accessories, vaporisers, climate control units, lighting systems...Also, and following the trend of the past years, it'll pay special attention to one of the most widely used cannabinoids in the medical field - cannabidiol or CBD - as well as cannabis resin extracts and concentrates.
Alchimia Grow Shop at 2018 Spannabis
The party starts on Friday 9th of March. The XV edition of The Cannabis Fair (as Spannabis is also known) includes a new pavilion to host more exhibitors and increase the global surface of the fair, something necessary if we take into account the large number of professionals who want their space in this event. In this way, this year's edition will count with 22 new exhibitors for a total of 258 companies.
As could not be otherwise, Alchimia Grow Shop will be there sharing our booth with our brothers from Philosopher Seeds and Reggae Seeds. Fun and lots of laughs are ensured!  As always, we'll be in the central pavilion (booth 86), right in front of the restaurant. Also, and as every year, you'll be able to play with us and win lots of prizes like seeds, shirts, grinders, ashtrays, bags, and many more!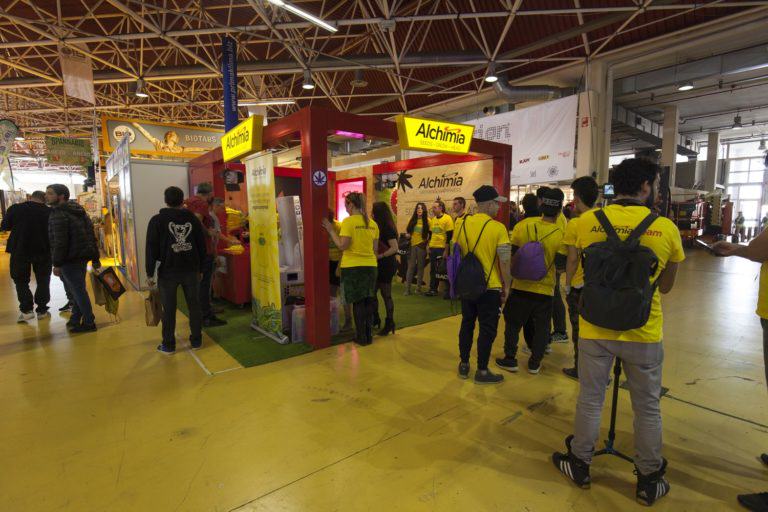 As many of you may already know, and apart from the commercial fair, Spannabis also includes two major cannabis-related events, the World Cannabis Conferences and Spannabis Champions Cup.
2018 World Cannabis Conferences
This event is one of the very few in Europe where you can meet experts and personalities from the medical marijuana field, most of them being Spaniards due to the increasing cannabis culture in this country. From doctors to scientists, politicians, activists or growers, they'll tell us about their experiences and points of view on two main issues: the social and political side and the scientific and therapeutical side.
This year's edition of the Conferences will be the 6th so far, and will be held on Saturday and Sunday at Auditori de Cornellà with the following schedule:
Friday, 9th March 2018
12:30h: REMA - Mujeres Cannábicas: A-liadas (Cannabis Women). REMA present their new projects on activism, antiprohibitionism and feminism. With Garazi Rodriguez, Maite Paillet and Noemí Sánchez.
13:30h: Cáñamo: Regreso al Futuro II (Hemp: Back to the future II). Round table focused on the possibilities of industrial hemp, one of the most ancient crops. With Eelkje van Oldenburger, Vaniek Colenbrander and Ana Rodríguez.
15:30h: Opportunities, trends and perspectives. The boom of medical cannabis and legalisation in some areas of the planet opens new and exciting perspectives for this plant. With Chris Walsh, journalist, founder and current managing editor at Marijuana Bussines Daily.
16:45h: ICBC - International Cannabis Business Conference. One year ago, Germany approved the use of medical cannabis. Michael Knodt will tell us more about the current situation in this country and its future for coming years.
18:00h: Social regulation, persons and collectives. A brief history of the activism of cannabis social clubs and a look at the current legislation, with the case of Pannagh as example. With Hector Brotons, José Afuera and Andrés García.
Saturday, 10th March 2018
12:30h: OECM - Spanish Observatory of Medicinal Cannabis. Carola Pérez, director of the Observatory will present their project on the different therapeutic uses of cannabis.
13:00h: Treatment of refractary epilepsy. Dr. Mariano García de Palau (OECM) will explain the treatment of this disease with cannabinoids
13:50h: Cannabinoids and neuroprotection. A study about long-term use of different drugs conducted by ICEERS will be presented. With Dr. José Carlos Bouso, Santi Martinez, Claudia Zangolini, Oscar Parés and Daniel Jiménez.
17:00h: Medical regulation and laboratory testing. Cannabinoid testing and clinical pharmacology must go hand in hand to ensure a future for medical cannabis. With Dr. Magí Ferre, Jorge Soto and Marta de Luxán.
18:30h: Natural cannabis. Therapies, rituals and science of the unknown. Science? Ritual? Magic? Since millenia, cannabis has been used by shamans and doctors along with other herbs in their potions and ointments. Furthermore, its psychotropic effect has been linked to other realities. With Virginia Montañés, Adriana Rodríguez and Olaya Alcantarilla.
Here you have more info about the World Cannabis Conferences.
2018 Spannabis Champions Cup
This is doubtless one of the most important competitions in Europe, with the best professionals of the sector competing with their strains and extracts. An excellent chance to decide your next strain to grow! For the first time, it also becomes a fundraising event, for part of the benefits of the competition will go to OECM for the study of medicinal cannabis.
As we mentioned, only seed companies, grow shops and cannabis clubs can enter this competition. Doubtless, their entries will be astounding since everyone wants to be one of the winners! These are the different categories:
Best Sativa strain
Best Indica strain
Best CBD strain
Best solvent extract
Best solventless concentrate
With three prizes for each category, each entry will be judged and lab tested. Thus, three more prizes will be awarded:
Highest THC content
Highest CBD content
Best purging (extracts)
Here you have more info about the Spannabis Champions Cup.
2018 Spannabis Awards
Besides these two events, Spannabis also organizes a competition among all exhibitors, where all visitors and professionals (as well as a specialized group of judges) can vote for:
Best seed bank
Best booth
Best nutrient
Best growing product
Best paraphernalia product
Best hemp product
Best vaping device (new category)
The results will be know on Sunday 19:30h at the outdoor stage.
2018 Spannabis concerts
One of the best things of Spannabis is its outdoor area. During the three days, you can take a walk, drink or eat something, breathe some fresh air and of course enjoy some live music, dj's and performances. This is the schedule:
Friday, 9th March
Ravid Goldschmidt
11:30h
Toxic in Dub
13:00h
Xavier Jansana is Toxic in Dub: Downtempo, Reggae/Dub
El Loren
16:00h
Olive Tree Dance
18:30h
100% Hi Energy Organic Dance Music
Saturday, 10th March
Mina's Collective
11:00h
Daddy Panda
12:30h
Groove, Soul, Afro Beat, Reggae, Dub, Jazz, Boogaloo, Hip Hop…
Warriors of Dub
14:00h
Roots, Dub, Steppas
Tetra Hydro K
16:30h
Dub Engine
19:00h
Sunday, 11th March
DJ Stonermanbrujo (Brujo Selektah)
11:30h
Mapuxe Sound
13:00h
Bainoo Di Lion
16:30h
Karlixx
18:00h
Dj Rambla
19:00h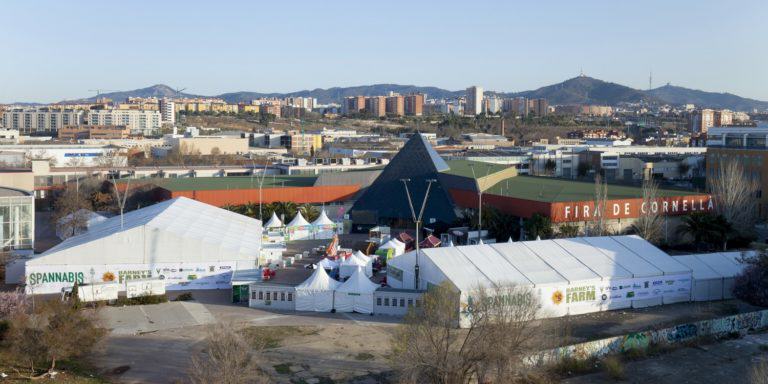 And, as already mentioned, the awards will be held at the central stage at 19:30h. See you there!
Also, remember to check our social media (Facebook, Twitter, Instagram) for more info...
See you guys at booth 86!
The articles published by Alchimiaweb, S.L. are reserved for adult clients only. We would like to remind our customers that cannabis seeds are not listed in the European Community catalogue. They are products intended for genetic conservation and collecting, in no case for cultivation. In some countries it is strictly forbidden to germinate cannabis seeds, other than those authorised by the European Union. We recommend our customers not to infringe the law in any way, we are not responsible for their use.