How to make feminised cannabis seeds
Until the 1990s, any cannabis cultivator was aware that, at some point, they had to separate the male and female plants if they didn't want the first ones to pollinate the latter, which results in plants completely full of seeds. However, those were the days when pioneering seed banks like Dutch Passion were revolutionizing the cannabis scene with the birth of the first feminized cannabis strains, or in other words, seeds that only develop into female plants. At the beginning of the 20th century, many seeds banks were offering this type of seeds, feminized versions of classics strains that had been cultivated during many years as regular plants.
We are sure that by now you?d probably have grown some feminized seeds, maybe even though you are a purist and the fiercest defender of regular seeds. But... do you know where feminized seeds come from? Are you familiar with the processes used by both breeders and growers to obtain them? In this article we explain everything!
Advantages of growing feminised seeds
Indeed, the advent of feminized seeds brought about a genuine revolution within the cannabis sector. Growers were now sure that all their plants would be females, without the need to differentiate between male and female plants or having to remove the males before they could ruin the crops, which offers a number of benefits of significant importance:
Space and resources saving: no more growing plants which eventually will be removed for being males.
Reliability: it?s not that most plants are female, or that they are genetically more likely to produce female plants. The plants grown from feminized seeds have only female chromosomes (XX), therefore this method is 99% reliable.
Sinsemilla plants: by not having males in the grow room, your female plants won't be pollinated, so they won't produce any seeds during the flowering period (something that every cultivator wants, unless they want to obtain seeds)
These advantages were of great interest for the growers, and soon feminised seeds accounted for a large portion of the seeds available in the market. In addition, being able to use only female plants (generally known and selected clones) to produce seeds had another great advantage for seed producers and breeders of new varieties: they no longer need to keep males in their gene pools! And not only that... from that moment on, any female plant they could get their hands on could be used as a male to pollinate other plants, thus exponentially increasing the possibilities of creating new crosses.
It is not surprising, therefore, that at present, feminized seeds represent virtually all the seeds in the market, since they offer a number of significant advantages for both professional and home growers and breeders, for photoperiod and autoflowering plants. The main disadvantage of this method is a well known and hotly debated issue: the growers who buy this type of seeds cannot produce their own seeds in the absence of male plants, so the only way they can manage it it?s using the same process to obtain this type of seeds. But... what are these processes and what are they based on?
Female crosses: feminised cannabis seeds are born
As we?ve already mentioned, feminized seeds are the result of a process that reverses the sex of a female plant, that is, she is forced to produce male flowers. This way, and once into flowering, the female chosen will start to develop what we know as male flowers (stamens and anthers), which, just like male plants, will release the pollen that will pollinate the female plants. What is then the difference between a male plant and a reverted female plant?
The sex of cannabis plants is determined in the same way as ours, through the so-called sex chromosomes or genosomes. Male plants have a couple of different sex chromosomes called "XY" or heterogametic, while female plants have two chromosomes called "XX" or homogametic. When crossing a male (XY) with a female (XX), we will obtain around half of the plants of each type in their offspring. In other words, when a breeder uses a male and a female plant, the seeds produced by them will be approximately 50% males and 50% females.
After this explanation, many of you will have already figured out that if we cross two female plants (reversing the sex of one of them to force it to produce pollen), the result will be seeds that will produce female plants, as there are only female sex chromosomes in the equation. If crossing XY with XX produced 50% of each class (male and female), crossing XX with XX will produce plants that only exhibit chromosomes XX, that is to say, female plants. No matter how many times we "transform" a female plant into a male plant, we won´t be changing their genetic composition, which will still be female or XX. This way, the pollen produced by this plant will pass down female sex chromosomes exclusively.
As you can see, and although we normally use the expression "reversing the plant sex", that is not exactly what is done, because the sex chromosomes of the female plant (XX) have not changed, even if we managed to produce male flowers. This "sex change" of female plants can be achieved in a number of ways, but usually with the same goal: to reduce the level of ethylene in plant tissues and/or inhibit the ethylene action, which makes the plant develop male flowers on entering the flowering period, as if it were a male from regular seeds. This is because ethylene is a natural regulator of the sex expression in plants!
Let's see now the most popular ways to reverse the sex of a female plant in order to produce feminized seeds.
Methods used to produce feminized cannabis seeds
There are several ways to secure that a female plant produces pollen, and almost all of them require some type of chemical that is often sprayed on the plant. Once sprinkled with the chosen product and under a flowering photoperiod, the plant will flower normally, but as a male instead of female, producing 'feminized' pollen (which only contains chromosomes XX) that can be used to pollinate other females in order to produce seeds. These are some of the most commonly used techniques:
Stress or rodelization
One of the first methods used to obtain seeds that produce female plants was stress or rodelization. There are several ways to stress the cannabis plants to make sure they develop male flowers, such as through temperature, nutrition, photoperiod, and pH. However, supporters of this technique often prefer something as simple as delaying the harvest 2-3 weeks in order to force the plants to develop a few male flowers without stressing them as much as with any of the other methods we have mentioned.
Although this action will produce far less pollen than other techniques like STS, it will be enough to obtain a handful of seeds for the domestic growers to try to create their own feminized crosses. Also, the great advantage of this technique is that is 100% natural, and it doesn´t use any chemicals. It is an excellent alternative for anyone who just wants a few seeds and wishes to keep it simple without any formulas or laboratory products. However, bear in mind that this is the only method listed in this post that may produce some plants with hermaphroditic traits.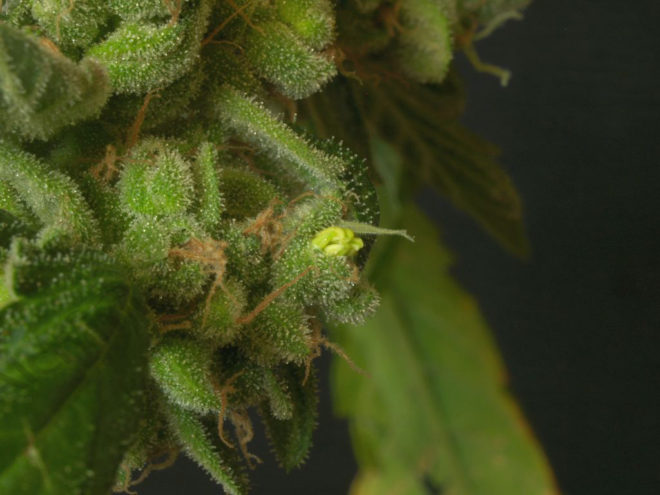 STS or silver thiosulfate solution
Without any doubt, one of the most commonly used methods for both producers and seed banks. This is a solution made of distilled water, silver nitrate and sodium thiosulphate (sometimes called sodium hyposulphite) that, after being sprayed on the female plants, inhibits their ethylene action resulting in the formation of male flowers once flowering has been induced. STS is relatively easy to prepare, although its lifespan after combining the two components is quite limited, barely a few days as long as it´s well preserved (in a dark and cool place).
It is important to mention that you must not consume any part of the plants sprayed with this type of product, although that would be weird, as the plants have "become" males and won´t produce any buds. Nevertheless, you shouldn't use the reverted plants to make resin extracts; the best thing is to discard them after harvesting the pollen. Both components, sodium thiosulphate and silver nitrate, are also used for photo-development.
Colloidal silver
This is another way to revert the sex of the plants, but this time using a solution made of 30ppm colloidal silver (that you can easily find in many pharmacies and also online) and distilled water. The solution must be applied for a few days until the plant starts producing male flowers, something that it´s not necessary with STS, where in most cases one single application is enough.
Colloidal silver is formed by electrically charged silver nanoparticles and has antibacterial and antifungal properties. This product was introduced in the market in 1980 for therapeutic use. However, as with STS, you should get rid of the sprayed plants once their pollen is harvested, as colloidal silver is absorbed systemically by the plant and remains in its tissues.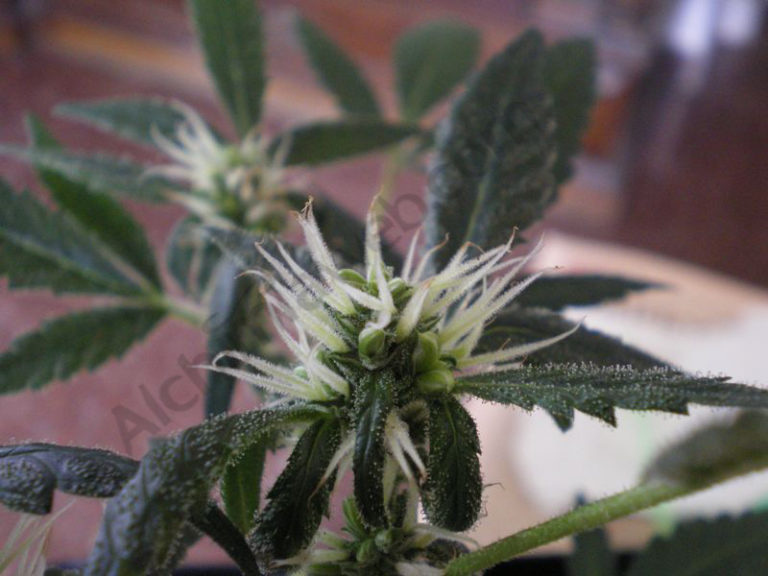 Silver nitrate
This is a method researched by Mohan Ram, who also conducted extensive investigations on plant sex reversal with STS. According to his findings, sodium thiosulphate (STS) is more effective in producing male flowers and viable pollen in female plants. Probably because of this, silver nitrate is mixed with sodium thiosulphate, instead of using it in isolation.
Gibberellic acid
Gibberellins are plant hormones that help regulate various processes related to the development of the plants. There are several types of gibberellins available in the market, although the most common and effective is gibberellic acid or GA3 (Gibberellin GA3). This product is used in a very similar way to colloidal silver, sprayed on the plants during several days before switching the photoperiod over to flowering.
It is worth stating that one of the side effects of gibberellic acid is a significant stretching of the treated parts of the plant, so don't be surprised if this happens to your plants! The recommended dose to achieve the best results is approximately 100ppm.
Urban legends and lies about feminized seeds
Despite the fact that, after two decades of cannabis cultivation, many of the false myths surrounding feminized seeds have been debunked, from time to time we still hear some arguments like the ones shown below. As is often the case, many of these stories are spread by people who have never grown this type of seeds or have none or very limited experience with them. Ignorance is always a bad thing, and that's why we want to emphasize several points in relation to feminized seeds and the myths that often go with them; myths such as the following:
Feminized seeds produce hermaphrodite plants:
The problem with monoecious hermaphrodite plants has more to do with the parents used (and if they exhibit any hermaphrodite trait) rather than with the type of seeds produced. If to create a feminized seed you use a female plant with a tendency to produce male flowers, part of its offspring will likely inherit that characteristic, whether the said female plant is used as a pollen donor (after reversing its sex) or as a recipient of pollen (letting it flowering as usual).  Yet the same thing happens when producing regular seeds: if the male or female parents are not stable in this respect, neither will be their offspring (or at least part of it).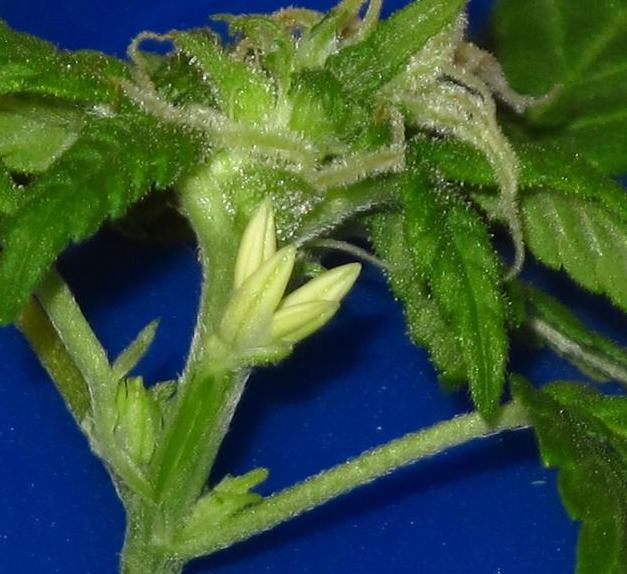 Many growers have been surprised by the presence of hermaphrodite plants in their marijuana crops. In this post we will tell you how to detect them and how to proceed if you find a hermaphrodite cannabis plant in your growing space. We will also discuss the causes of this hermaphroditism.
Feminized seeds produce mutant plants:
Nothing could be further from the truth. It is true that sometimes some plants develop weird traits or mutations, although this also happens with regular seeds. Unfortunately, there seems to be not enough studies comparing the ratio of specimens with mutations of one or other type of seeds; however, given the millions of feminized seeds that have been germinated in the last 20 years, if mutations would pose a problem, the quantity of feminized seeds sold would certainly not be so high, and this would be a "public security" issue within the cannabis sector, both for the growers and the producers of the seeds.
Feminized seeds have chemicals:
This is another lie that some people believe. As it's been mentioned before, a female plant is sprayed with some chemicals in order to inhibit its ethylene action. After a few weeks of this and once in the flowering period, the plant will produce male flowers and pollen, which will be harvested to pollinate the female plants designated to produce seeds. Once the seeds are formed, they are collected and packed immediately, so they don't come into contact with any chemicals or the plants that produce seeds, nor, of course, with the seeds themselves. Also, to produce cannabis seeds, you normally need two separated indoor cultivation areas, one for the reverted plants (treated females) and the other for the females to be fertilized to produce the seeds, so the latter can?t get "contaminated" with any chemicals.
Feminized seeds are GMOs:
Once again, this is a false statement. We have already pointed out that by using these sex reversal techniques we inhibit the ethylene action in the female plant, and under no circumstances the seeds (or plants) are genetically modified. The sex chromosomes of the female plant converted into a male plant are still female (XX), nothing has changed at a genetic level.
We hope you found this article interesting; even today, many people are still unaware of the intriguing process behind this type of cannabis seeds. Do not hesitate to leave your comments; we will be delighted to answer them.
Regards!
Bibliography:
Marijuana Botany, Robert C. Clarke
The Cannabis breeder's Bible, Greg Green
The Cannabis grow Bible, Greg Green
Breed your own vegetable varieties, Carol Deppe
Induction of Fertile Male Flowers in Genetically Female Cannabis sativa Plants by Silver Nitrate and Silver Thiosulphate Anionic Complex, Mohan Ram, Sett R.
The articles published by Alchimiaweb, S.L. are reserved for adult clients only. We would like to remind our customers that cannabis seeds are not listed in the European Community catalogue. They are products intended for genetic conservation and collecting, in no case for cultivation. In some countries it is strictly forbidden to germinate cannabis seeds, other than those authorised by the European Union. We recommend our customers not to infringe the law in any way, we are not responsible for their use.