The Origins of Diesel
Origins of Diesel cannabis strains
In recent years, Diesel strains have become, by their own merits, one of the most popular cannabis genetics, seeked by growers and users both for its intense and special taste and for its strong effect, mainly caused by THC contents which can exceed 20% in most specimens. As it often happens in the world of cannabis, the exact origin of this genetics is uncertain, although one of the most commonly accepted theories tells us that it'd be directly related to the Chemdog and, later, also to the OG Kush marijuana.
Therefore, to clarify the origins of Diesel we need to know more about the mythical Chemdog strain - often called Chemdawg - and how it reached the East Coast of the United States.

Grateful Dead and Chem cannabis
On the 6th or 7th of June 1991, during a concert of Grateful Dead at the Deer Creek Amphitheater in Noblesville, Indiana, a young breeder called Chemdog met Joebrand (alias Wonkanobe) and Pbud in the parking lot, who sold him a 500$ bag of a pot called Dog Bud (grown indoors near the California-Oregon border). Surprised by the quality of the buds, Chemdog asked them for their number, and they later agreeded that they would send him a couple more bags to the East Coast. According to Chemdog himself, one of these bags contained only sinsemilla, while he found 13 seeds in the other bag, to the surprise of Pbud and Joebrand, who had been buying these buds for more than a year without ever finding any seed. The male parent of these seeds remains unknown, and even the possibility  of a self-pollination has been considered.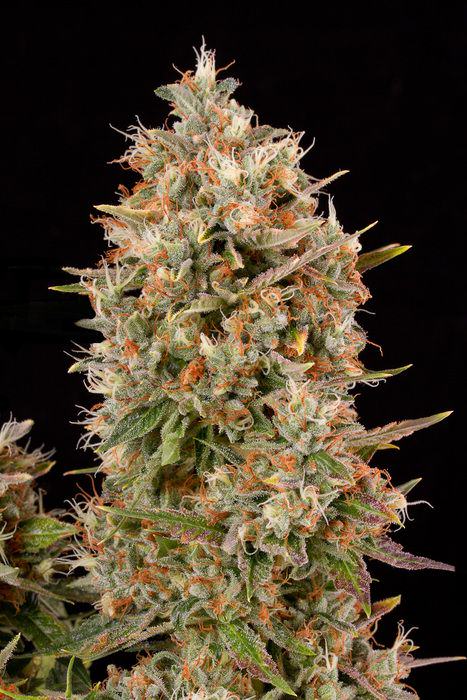 That same year, Chemdog germinated 4 of these seeds; one of them was a male that was discarded (Chemdog was still very young, 17 years, and didn?t notice the potential of this plant) while the other three - which were females - were labeled as follows:
Chemdog (today known as '91 Chemdog)
Chemdog "a" (today called Chemdog's Sister)
Chemdog "b"
10 years later, in 2001, Chemdog and his girlfriend tried to germinate 3 more seeds, labeled as "c", "d" and "e". The "e" never sprouted, the "c" turned out to be mediocre, while the "d" has been preserved until today, known as Chemdog D or Chem D.
In 2006, Chemdog and Joebrand met again and Joebrand got 4 of the last 6 seeds. He labeled them from #1 to #4 and kept the #4, which he called "Reunion pheno" since he considered it the most similar phenotype to the original genetics. If we are to believe this, Chemdog would be still keeping the last 2 seeds today.
Chemdog and his friends - most of them were underground breeders - developed several hybrids from the Chemdog marijuana. These ones became especially popular:-
Giesel (Chem D x Massachussetts Super Skunk)
Bubble Chem (Chemdog's Sister x Sag's Blueberry)
Chemhaze (Chem D x '93 NL#5/Haze, also called Dawg Daze)
Super Snowdawg (Bubble Chem x Super Skunk/Oregon Sno)
Chemdog D x Pbud (variedad old school de Colorado)
OG Kush and Diesel cannabis
In 1992, JJ and Weasel met in New York City's Central Park, and shortly afterwards Weasel obtained the Massachusetts Super Skunk and the '91 Chemdog from Chemdog, although he didn't like this name and changed it for Diesel or New York City Diesel. Just a couple of years later, in 1995, the Original Diesel came in - also known as Underdawg, Diesel #1, Headband or Daywrecker Diesel - a hybrid developed by Weasel from the '91 Chemdog and a Massachusetts Super Skunk x Sensi Seeds Northern Lights cross.
Soon, the famous Sour Diesel - also called East Coast Sour Diesel, or simply ECSD - was created by accident when a whole crop of '91 Chemdog was pollinated by DNL (Northern Lights x RFK Skunk/Hawaiian) or by Massachusetts Super Skunk (JJ-NYC).
There seems to be no relationship at all between the American Diesel lines and the New York City Diesel from Soma (so popular in Europe thanks to the Mandarin Cut), neither in relation to the organoleptic traits nor to the effect, which is milder than American Diesel genetics.
We cannot tell this story without mentioning the OG Kush strain . There are several theories about its origins: for some people, it is simply a sister of the Sour Diesel. For others, it is a self-pollination of the '91 Chemdog selected in the Lake Tahoe area in 1996. Finally, the third and most widely accepted theory (Kailua Kid from Sierra Seed Company) tells that it'd be a cross between a Chemdog clone and a Lemon Thai x Old World Paki Kush hybrid developed in Northern California; this theory would explain the "Kush" in the name of the variety, while the "OG" would probably mean "Ocean Grown" (grown near the ocean).
From here, different clones of the popular OG Kush were selected, kept and shared, such as the Tahoe Cut (introduced to the community by Swerve in the nineties), the San Fernando Valley or SFV cut (coming from the area with the same name) or the Raskal's OG cut (also from the San Fernando area) among many others.
Today, we can find a large number of hybrids developed from Diesel and OG Kush genetics, which gives us a hint about the quality of these strains, characterized by a very intense cerebral effect and an unmistakable blend of diesel, earthy, piney and citric notes.
JJ-NYC is one of the breeders that has developed different varieties from the original genetics. He performed different tests with Hindu Kush and Afghani seeds from the Sensi Seeds Bank, developing a backcross called Double Dawg (Chemdog D x Afghani) which he backcrossed again, thus creating the Tres Dawg. Tres Dawg has been used for developing numerous hybrids of excellent quality, like Star Dawg (Chem 4 x Tres Dawg), White Dawg (The White x Tres Dawg) or Original New York City Diesel ('91 Chemdog x Tres Dawg). Rez from Reservoir Seeds has also used this genetics in his breeding projects, offering extraordinary versions like Sour Diesel IBL, mother plant of the renowned Riri cut, selected in France by Riri in 2006.
The articles published by Alchimiaweb, S.L. are reserved for adult clients only. We would like to remind our customers that cannabis seeds are not listed in the European Community catalogue. They are products intended for genetic conservation and collecting, in no case for cultivation. In some countries it is strictly forbidden to germinate cannabis seeds, other than those authorised by the European Union. We recommend our customers not to infringe the law in any way, we are not responsible for their use.