The history of Barney's Farm
The origins of Barney's Farm
Barney's Farm Seed Bank is one of the pioneers in cannabis seed marketing, having started collecting genetics and making crosses in the 1980s, at a time when few companies were distributing hybrid cannabis seeds. Hence, the history of Barney's Farm stems from the foothills of the Himalayas, where its founder Derry began to recover and reproduce pure cannabis strains or landraces. Passionate about the plant, Derry continued his research by travelling to countries renowned for their indigenous cannabis lines, such as Afghanistan, Pakistan, India, Nepal, Thailand, Burma, Vietnam and China.
Once his collection of cannabis genetics had grown large enough, Derry returned to Amsterdam to grow them, create new crosses, stabilise them and offer them to the public, thus offering growers a new world of flavours and effects. Moreover, his strains were adapted to indoor cultivation, being easy to grow and offering very rewarding results, which was rare at the time, as pure landrace varieties are not the most suitable for indoor cultivation under artificial lights.
From these beginnings, Barney's Farm seed bank was born, and a team of experienced growers quickly joined Derry to develop its activity, first offering regular cannabis seeds and then starting with feminised seeds once the feminisation process was developed. Later, the arrival of auto-flowering strains on the market allowed Barney's Farm to offer Autofem (automatic and feminised) versions of their plants, perfect for fast outdoor growing but also great indoors, where they give excellent results.
Barney's Farm, one of Amsterdam's best coffee shops
Being based in Amsterdam and being passionate about sharing great cannabis genetics, it was quite natural that Barney's Farm opened its own coffee shop in Haarlemmerstraat in the 1990s, offering its strains to the public and allowing visitors to get to know them.
The originality of the genetics and the perfection with which they were cultivated quickly contributed to Barney's Farm's reputation. Indeed, the company went from being originally known only by cannabis growers to becoming a brand known by all consumers with renowned strains such as Liberty Haze, Vanilla Kush and Tangerine Dream.
This success was naturally recognised by the rest of the industry, and over time Barney's Farm has become a fixture at Cannabis Cup events such as the High Times Cannabis Cup in Amsterdam, a competition in which this Dutch seed bank is a regular competitor, and with a long list of victories: more than 40 awards in official competitions!
Barney's most popular cannabis varieties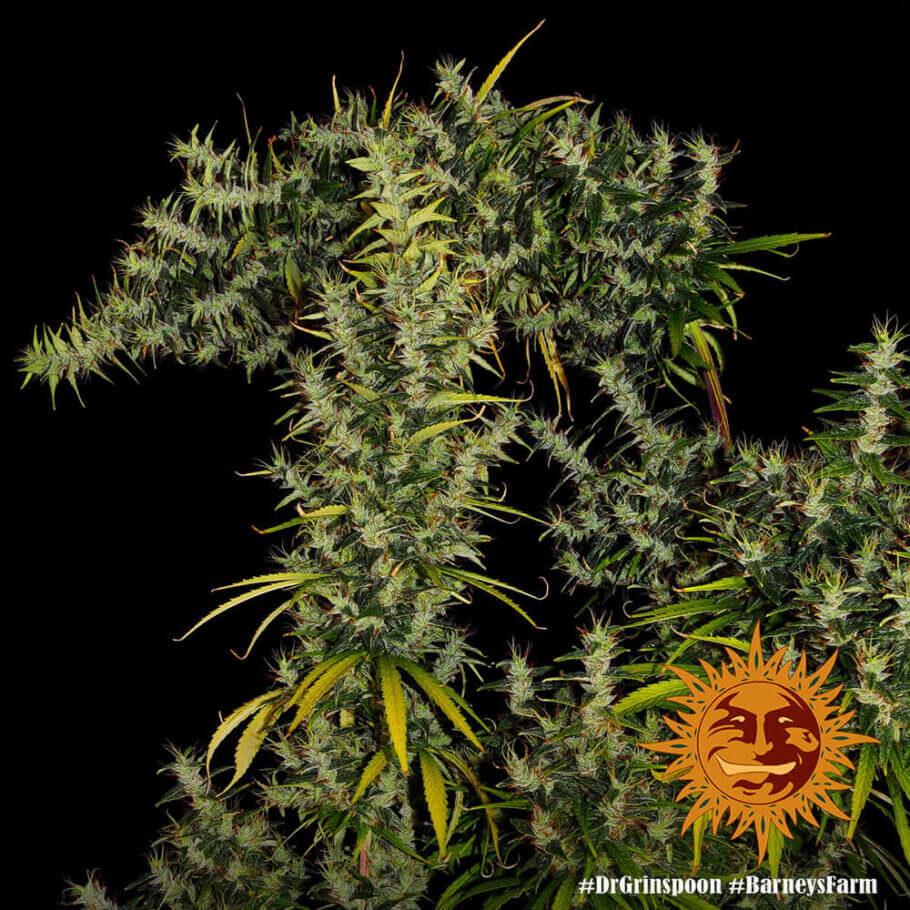 Today, the Barney's Farm seed catalogue contains dozens of strains, among which we can find regular, feminised and automatic versions, offering a really wide range of genetics to cannabis growers.
Indica-dominant varieties: LSD, Vanilla Kush, Critical Kush, 8 Ball Kush, Chronic Thunder, Red Cherry Berry, Violator Kush...
Sativa-dominant varieties: Utopia Haze, Liberty Haze, Dr Grinspoon, Acapulco Gold, G13 Haze, Pineapple Haze, Honey B, Malana Bomb, Amnesia Lemon, Laughing Buddha...
US cannabis varieties: Biscotti Mintz, Banana Punch, Kush Mintz, Gorilla Zkittlez, Glookies, Limon Tree, Glue Gelato, Mimosa Evo...
In addition, many of these varieties have also been bred in the form of Autofem seeds, to adapt more easily to growers' needs, especially outdoors in the northern hemisphere.
As you can see, Barney's Farm is a true institution in the cannabis world, both for its coffee shops and its extensive seed collection, making it a safe bet for both growers and recreational users passing through Amsterdam.
Happy harvests!
The articles published by Alchimiaweb, S.L. are reserved for adult clients only. We would like to remind our customers that cannabis seeds are not listed in the European Community catalogue. They are products intended for genetic conservation and collecting, in no case for cultivation. In some countries it is strictly forbidden to germinate cannabis seeds, other than those authorised by the European Union. We recommend our customers not to infringe the law in any way, we are not responsible for their use.