Dutch Passion's Think Different auto
Dutch Passion Think Different auto grow review
Dutch Passion have seen their automatic 'Think Different' variety become one of their best sellers, more popular even than some of their established photoperiod varieties which have been on sale for years.  It has been surprising to see how quickly the best automatics have become so popular so we followed a Think Different grow review by European grower 'Tang' to find out more.
Think Different is a sativa variety based on genetics from an exceptional phenotype of AK47.
"This Think Different is the second biggest auto I've grown.  The biggest was Dutch Passion's AutoXtreme but that had more than twice the light above her.  The Think Different was very low odour until the last few weeks when she smelt of citrus and fresh grass....lovely.  The next time I grow this strain I will make sure I have more light available. The dry yield on this Think Different was bang on 6oz at 168 grams. She was grown under 200W of LED, LED is the only indoor grow technology which allows me to maintain cool grow room temperatures in the hot summer months.  Its also less expensive to run than an HPS, which makes it worth the extra purchase cost".
"Think Different germinated and was grown in a 15 litre soil container containing Plagron Light soil. The nutrients were Sensi Grow and Sensi Bloom from Advanced Nutrients. Every day I gave her 20 hours of light and 4 hours of darkness, this was the same for 75 days from start to finish.   Autofem genetics can flower under 20 hours of daylight, this gives them bigger colas than a photoperiod variety can achieve in the same time.  My Think Different grew like a normal cannabis seedling, automatics look and seem like traditional cannabis at first.  I saw the first female flowers after 25 days.  It is strange to see cannabis blooming under 20 hours of daily light, but somehow automatics manage it.  Think Different grew one dominant bloom and was surrounded by slightly smaller blooms.  Under 20 hours of light it takes about another 40-50 days to finish, so in total from seed to harvest is about 70-75 days, 10-11weeks".
"Automatics use the 20 hours of daily light to grow faster than they could under 12 hours of daily light.  Week by week you can see the difference, the roots grow quickly and the plant development is surprisingly fast.  Growth of the side branches is rapid, they search out the light and you can see the plant expand with vigour.  The resin production starts to gradually increase from day 40-50.  On Think Different the smell odour and aroma were not too intense, I would say for the last 2 weeks you need to pay attention to the carbon filter.  By the end the hairs were starting to turn orange and the blooms had finished growing.  Feeding is easy, just understand when your plant is ready for stronger feed and slowly increase the nutrient concentration.  Its just like feeding a photoperiod variety, follow the same rules".
"I can see why this strain has become one of their (Dutch Passions) customer favourites.  The yields are well above average, it's a killer smoke and it's easy-to-grow. Its easy enough for a new starter wanting a tough plant or an experienced grower wanting to push a strain to the limit. This is the second time I've grown Think Different so I know a spicy taste will evolve in my curing jars over the next few months, she packs a punch and tastes good now but I know it will get even better.  If you are going to give this strain a run be careful - she will get large in bigger pots, this one was grown in a 15L Airpot in soil.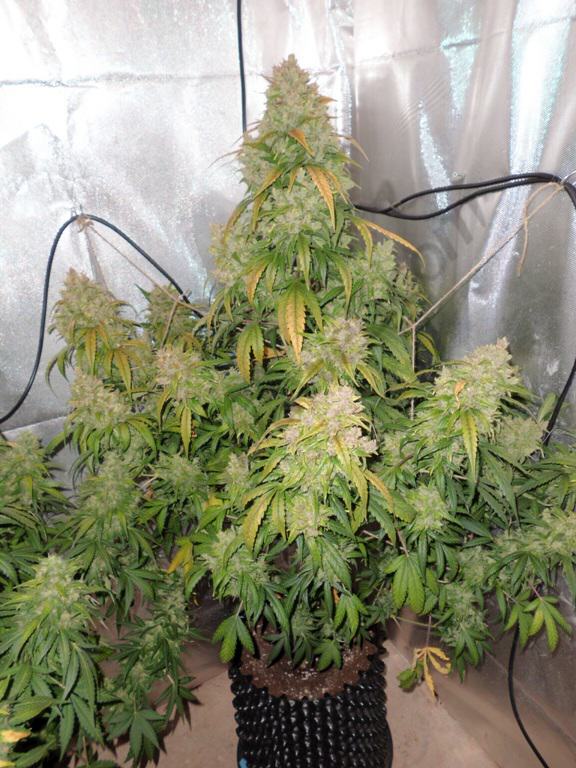 The articles published by Alchimiaweb, S.L. are reserved for adult clients only. We would like to remind our customers that cannabis seeds are not listed in the European Community catalogue. They are products intended for genetic conservation and collecting, in no case for cultivation. In some countries it is strictly forbidden to germinate cannabis seeds, other than those authorised by the European Union. We recommend our customers not to infringe the law in any way, we are not responsible for their use.