Grow report of Zombie Kush
Today we present you a grow report of Zombie Kush, a feminised cannabis strain developed by Ripper Seeds which stands out for its vigorous growth and awesome resin production.
Thus, the Ripper Seeds Zombie Kush seeds were sharing a small 1 x 1.1 x 1.2m grow room with a couple of automatic plants which were halfway through their life cycle and , as you'll see, they adapted perfectly to the 20/4 photoperiod. The lighting system used was a 250W LED Full Spectrum lamp, so there were no problems with high temperatures.
Let's see in detail how these ladies performed on this indoor environment.
Growth of Ripper Seeds Zombie Kush
As we mentioned, the seeds were germinated directly under 20/4 photoperiod. The growth during the first two weeks was spectacular, so we would be able to take some cuttings from our vegging plants pretty soon. The plants developed perfectly and looking like the typical Indica-dominant hybrids.
The nutrients used at this stage were basically Greenhouse Powder Feeding, Aptus Regulator and small amounts of Start Boost. This combination of nutrients worked perfectly and our plants never had any deficiency or excess, always looking healthy and lush and showing a beautiful green color.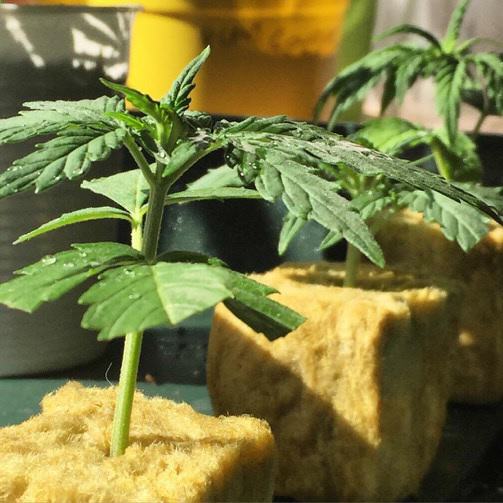 Since we also wanted to test these seeds outdoors, we took 4 clones from our vegging plants. No hormones or rooting gel was used, and the cuttings rooted in their rockwool cubes without a problem within 10 days. The plan was to put a clone in an indoor grow room and take the mother plant outside to test it under the sun.
The mother plant released a strong aroma even in the growth period; as soon as weather conditions were good enough, she was transplanted into a big Smart Pot and moved outside. It was also fed with Greenhouse Powder Feeding and Aptus Regulator. It must be noted that the Zombie Kush mother plant was moved outside along with other strains which were germinated, cloned and moved outside at the same time, being the most vigorous variety among all the strains tested.
Bloom stage of Ripper Seeds Zombie Kush
One of the first thing that surprised us was resin production. Even at early stages of the bloom period resin glands were already developing, and soon covered every sugar leave and even fan leaves. Doubtless, this plant produces top quality trim for resin concentrates. The smell during the first weeks into flowering was also outstanding.
The feeding schedule was changed in order to check the reaction of the different strains. While the Zombie Kush remained indifferent, the development of other plants - like a Diesel hybrid - was seriously compromised, so we could witness first hand that this strain is ideal for novice growers who could make some mistakes in regard with feeding the plants.
After observing the reaction of most plants to the new feeding schedule we started to flush them with clean water. The Zombie Kush was left for a few extra days, so she was flushed for a total of 3 weeks to ensure the best organoleptic quality. The water used to flush the plants was previously boiled and filtered through a 25 micron activated carbon filter.
During the flushing period, the plant turned into beautiful autumn colours until the fan leaves became almost black-purple. The smell was very intense and all fan leaves showed considerable amounts of trichomes, so they were kept for further processing into resin extracts.
Harvest of Zombie Kush
The Zombie Kush was harvested after 9 weeks of bloom. After 12 days of drying it was trimmed and left to dry for a few more days. The buds looked gorgeous, completely covered with resin glands. The plant yielded 38 grams of dried and manicured buds, a very nice yield on our first time with her.
Once dried, the scent was mainly kush, with sweet and floral notes on an earthy background. The effect was intense, relaxing and ideal to improve mood.
If you want to try an easy to grow Kush genetics with very nice flavor and abundant harvests then you should give the Zombie Kush a try!
Happy harvests!
The articles published by Alchimiaweb, S.L. are reserved for adult clients only. We would like to remind our customers that cannabis seeds are not listed in the European Community catalogue. They are products intended for genetic conservation and collecting, in no case for cultivation. In some countries it is strictly forbidden to germinate cannabis seeds, other than those authorised by the European Union. We recommend our customers not to infringe the law in any way, we are not responsible for their use.