Runtz, born under a lucky star
Without a doubt, and especially after winning in record time a fair amount of awards in some of the most prestigious US cannabis cups, one of the biggest genetics hypes of the moment is Runtz by Cookie Fam. This impressive variety has produced some phenotypes of truly amazing quality, and has been used as mother plant to create several first-class hybrids which have won the hearts of marijuana fans, professionals and cup judges alike.
Runtz caused such a stir that, only three years after its release in California, it was voted best strain of the year 2020 by the prestigious Leafly platform, an award worthy of the impact created by this plant. But let's not get ahead of ourselves and start at the beginning... Where does Runtz come from?
Origins of Runtz
It seems it all started in the same place where many other legendary plants within the cannabis scene were born, which is none other than California. In December 2017, a rapper (Yung LB) from Berner's Cookie Fam team entered a few Runtz buds into the Emerald Cup in Santa Rosa. Since then, when many already knew they were before something special, the strain's popularity has continued to grow, partly thanks to the market strategy of Cookie Fam, creators of the Cookies genetics and the first brand to sell this type of weed. We should point out that, apart from Yung LB, there were two other Berner-related people involved in the creation of this strain: Nick and Ray.
Once again, and similar to what happened to the famous Girl Scout Cookies strain years before, Berner's excellent marketing skills (and those of the Runtz Crew team) produced an increase in Runtz's popularity, which soon became one of the most sought-after genetics in American dispensaries. In just a short time, and as usually is the case with this type of strains, it was possible to find among the most elitist circles several phenotypes of Runtz selected by cultivators from all over the country, as well as a substantial number of genetics developed from this variety, both new hybrids and versions of the original plant.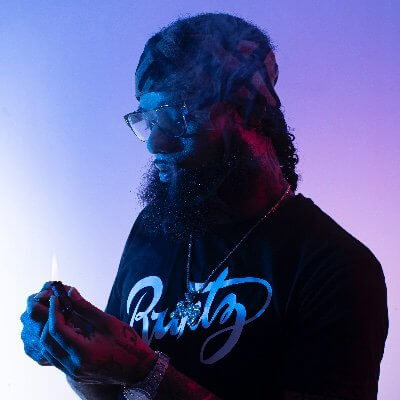 Genetics of Runtz
To develop this amazing breeding project, Yung LB, Nick and Ray crossed two of the most famous plants of the moment in a cocktail that, in hindsight, had every chance of becoming a winner. Using the - according to many - best possible Gelato's clone, the Gelato #33 (also known as "Larry Bird" after the legendary basketball player), and crossing it with a plant such as Zkittlez, only can have one outstanding result!
Indeed, as you already know, within the Gelato genetics there are several elite clones selected by the breeder himself (Mr. Sherbinski) that stand out for their creamy, sweet and slightly fruity flavour, and are usually known by the number shown in their label at the moment of being chosen. The most popular are #33, #41, #45 and #47, each of which offer their own organoleptic traits that make them unique. Many individuals who have tried all of them think that, without a doubt, #33 is one of the best Gelatos you could find, so Yung LB and the like's selection was after all not misguided.
On the other hand, what can we say about Zkittlez that hasn't already been said? Created from a cross of Grape Ape and Grapefruit by Terp Hogz and 3rd Gen Family, this strain has been collecting awards since 2015, and is considered by many one of the tastiest plants on the cannabis scene. With a medium THC content, and not being necessarily a champion in the bag appeal and aesthetic departments, its strong fruit candy flavour and aroma makes up for any flaw it could have, and turns it into one of the most sought-after genetics of recent years.
Flavour and aroma of Runtz
Given such great mother plants, it's no surprise that one of the most distinct and interesting traits of Runtz is a pungent and sweet aroma of fruit candy, with creamy notes reminiscent of dairy products, and heavy hints of gas that put the finishing touches to a memorable taste. These flavours linger in the tongue for a long time, making you feel you could still taste them after exhaling.
The buds' appearance is wonderful, with a thick resin layer covering both chalices and leaves, and contrasting with the pink and purple tones developed during the flowering period (with lower temperatures, they can acquire a very dark and spectacular purple shade). This plant is one of those specimens that taste and smell the same, something very unusual. The high is in line with its Indica dominant nature, and it's relaxing both at a physical and mental level.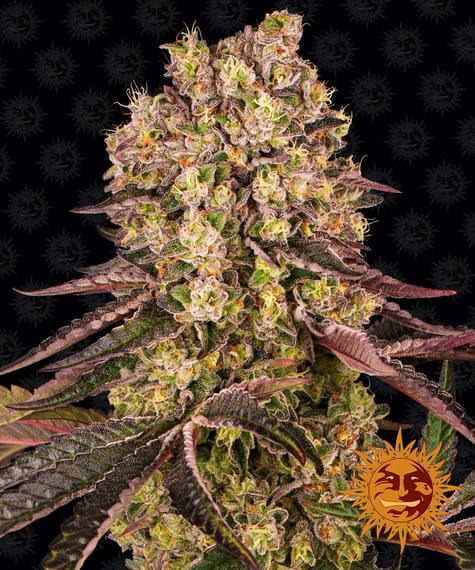 Runtz seeds and crosses
Below you'll find a list with some of the strains available in Alchimia which contain Runtz genetics, either because they are crosses of this strain and another plant or versions of the original plant backcrossed with itself. You can even find it in autoflowering format!
Runtz photoperiodic seeds
Runtz automatic seeds
As you can see, if you decide to grow this plant, there are several options, both in photoperiodic and automatic format. The Runtz wave has arrived in full force, and is here to stay!
Happy growing!
The articles published by Alchimiaweb, S.L. are reserved for adult clients only. We would like to remind our customers that cannabis seeds are not listed in the European Community catalogue. They are products intended for genetic conservation and collecting, in no case for cultivation. In some countries it is strictly forbidden to germinate cannabis seeds, other than those authorised by the European Union. We recommend our customers not to infringe the law in any way, we are not responsible for their use.