Top 10 highest-THC cannabis strains of 2022
THC or tetrahydrocannabinol is the best-known cannabinoid in the cannabis plant, responsible for its psychoactive effects. So, although the effects produced when weed is consumed also depend on other compounds present in it, such as secondary cannabinoids and terpenes (in the phenomenon known as the entourage effect), its concentration plays a pivotal role in the potency of cannabis.
Whether it is to obtain the most intense high possible, but also to be able to reduce the doses consumed or to easily obtain the medicinal effects sought in the context of therapeutic cannabis use, the THC level of the cannabis plant is a feature of great interest to many growers and consumers.
Today we invite you to get to know the most potent cannabis strains of 2022 currently available on the market.
Godfather OG, 34% THC
As its name suggests (in reference to Francis Ford Coppola's famous film adaptation of the Mario Puzo book) the Godfather OG strain reigns supreme in the cannabis microcosm, with a THC level never seen before. A hybrid between the most potent OG Kush lines, Godfather OG has 34% THC, a formidable level that seems difficult to match even with passionate breeders who consistently push the boundaries, as they have been able to do since the beginning of the history of cannabis breeding.
Chiquita Banana, 33% THC
This hybrid between OG Kush genetics and a Banana line has earned its reputation for its taste and smell, which perfectly evoke the aroma of a basket of very ripe bananas, but also for its high potency, with a THC level of 33%. Chiquita Banana is highly resinous, and rich in terpenes and cannabinoids, it is a top choice for lovers of both flowers and concentrates.
Grease Monkey, 31 % THC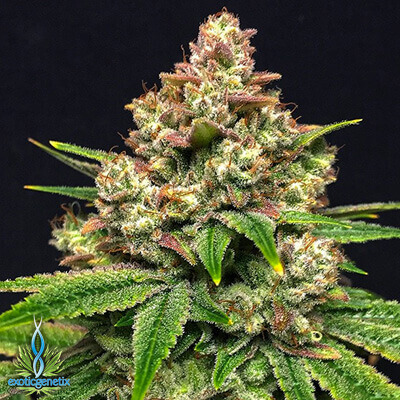 for anyone who has tried it, Grease Monkey is an unforgettable strain: with a spectacular bag appeal, its rock-hard buds look like they have been dipped in a thick layer of icing sugar and give off a captivating aroma that combines spicy notes of coffee in a floral, creamy and sweet background. But it's the effect that's the highlight of the show, deeply relaxing, immersing its consumer in a timeless bubble; and this is thanks to its 31% THC, which makes it a serious candidate for any cannabis cup, both in bud and resin form.
Quantum Kush, 30,6% THC
Quantum Kush is a North American strain, born from the collaboration between the seed bank Homegrown Natural Wonders and the breeder Subcool. It is a hybrid between Sweet Irish Kush and TimeWreck, whose potency translates into a strong relaxing effect, with great potential for medicinal use.
Gorilla Ghost, 29 % THC
BSF Seeds' Gorilla Ghost strain is a hybrid between two strains that are already highly potent: on one side of the cross we have Gorilla Glue, a very resinous Indica/Sativa hybrid with a devastating effect; on the other, Ghost OG, a cross between Ghost Train Haze and an OG Kush line. The result is a variety that's as vigorous as it is productive, with a remarkable potency thanks to its 29% THC content.
Johnny Apple Seed
In this instance, we have a union between two top strains: Cereal Milk and Apple Fritter, to create a hybrid that stands out for its speed, great resin production and very high THC content, which can exceed 30%. Johnny Apple Seed by Elev8 Seeds will win you over with its delicious and complex flavour, fast flowering and excellent yields. And of course, for its stellar THC content!
Mandarin Panties
Mandarin Panties by Seed Stockers is part of their Humboldt line of strains, being a very potent hybrid between Mandarin Cookies and Pink Panties, two strains that have stood out in recent years. The plants resulting from this cross display good branching and vigour, ideal for SCROG and outdoors due to its high resistance to mould. A first-class variety with around 30% THC that captivates with its creamy and fruity taste.
B-45 by Silent Seeds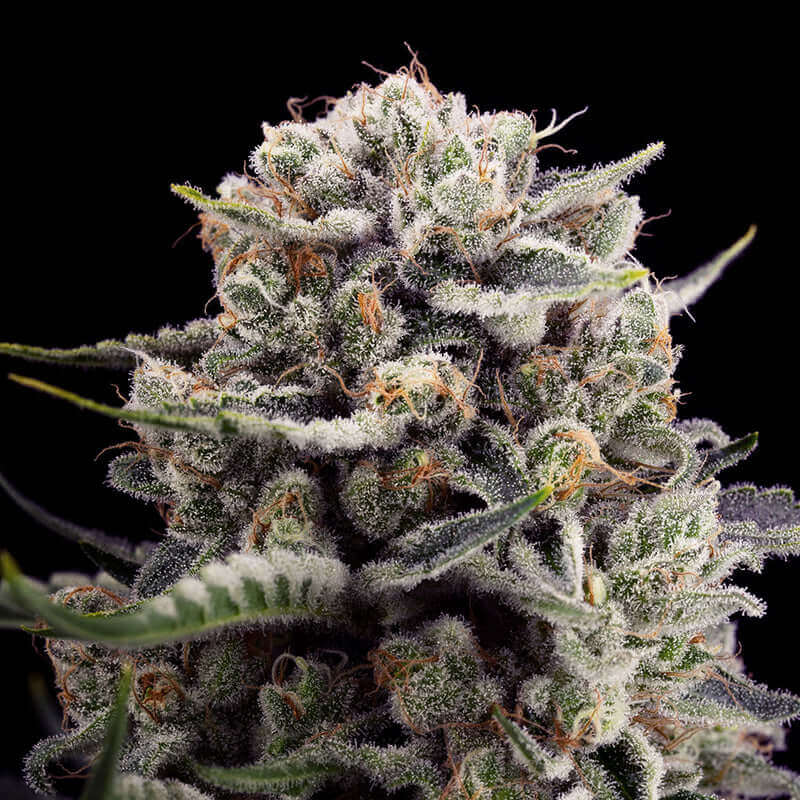 Created in collaboration with French rap star Booba, B-45 by Silent Seeds is a cross between (Florida OG x Pre'98 Bubba Kush) and Orange Punch #66, the result of breeding work aimed at creating a strain with a very high THC percentage and a devastating effect. With a THC content of over 30% and both flower and resin yields that are simply spectacular, we must congratulate them on their huge success!
Acid Dawg from Karma Genetics
Karma is one of the most respected breeders in the cannabis scene, with genetics such as Biker Kush and Road Dawg to his credit. Born from a cross between Stardawg and Sour Diesel, Acid Dawg by Karma Genetics stands out for its high yields, intense and complex flavour and high THC content, which can exceed 25%.
Royal Runtz by Royal Queen Seeds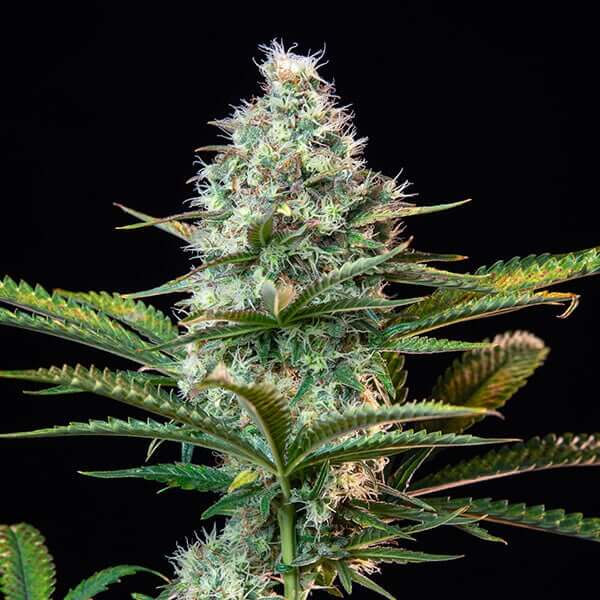 Beyond a shadow of a doubt, Runtz has been one of the most talked about strains in recent months. Created from a hybrid between the famous Gelato and Zkittlez, one of the main characteristics of Royal Queen Seeds' Royal Runtz is its intensely sweet, fruity and creamy taste, but don't be fooled... this tasty treat reaches THC levels of 27%, so watch out for its hard-hitting effect!
These are some of the most potent strains available in 2022, though we have no doubt that these THC levels will soon be surpassed by the increasingly active and talented breeders around the world. As always, we look forward to your recommendations and feedback in the comment section below...
Happy smoking and vaping!
The articles published by Alchimiaweb, S.L. are reserved for adult clients only. We would like to remind our customers that cannabis seeds are not listed in the European Community catalogue. They are products intended for genetic conservation and collecting, in no case for cultivation. In some countries it is strictly forbidden to germinate cannabis seeds, other than those authorised by the European Union. We recommend our customers not to infringe the law in any way, we are not responsible for their use.