7 fast flowering cannabis strains
Sometimes, you may not be sure about which cannabis strains to purchase for your next grow. Your personal taste and circumstances will greatly determine your decision, so while some of you may be looking for high yields or certain effect, others may prefer strains resistant to moulds or with the shortest possible flowering period.
In many occasions, the path followed by breeders to develop their genetics is similar, looking to fix certain traits in the offspring. Thus, today we'll present a list of strains known for their early flowering trait. As you'll see next, all varieties listed here have a bloom period no longer than 8 weeks, something that - on the other hand - doesn't question their quality at all.
Fast flowering cannabis varieties
We've carefully checked our category of fast flowering strains - which includes some of the fastest varieties in our catalogue of marijuana seeds - and have chosen the following list, which includes genetics that do not take longer than 8 weeks to be ready to harvest. Of course, and as you can see by checking that category, there are many other strains sharing this trait. We have chosen these 7 plants because we've tried them and we know they represent a very good balance between several desirable traits, as for example abundant yield, good quality and, of course, a very short flowering period.
Old Time Indiana Bubble Gum by Mosca Seeds
Without a doubt, the guys at Mosca Seeds can be proud of their Old Time Indiana Bubble Gum. It's a cross between Old Time Moonshine and the legendary Indiana Bubble Gum which combines some of the most sought-after traits by many growers: excellent yield, potent effect, awesome resin production and a flowering period that normally lasts 55 days. This outstanding mostly Indica variety is available in regular seed form, so you can also select a nice male for your breeding projects. A very interesting option for those looking for potency, high yields and early flowering. Available in packs of 10 seeds.
Jamaican Dream by Eva Seeds
Jamaican Dream is a dream come true for all lovers of Sativa genetics. Developed by the guys at Eva Seeds, she combines the best traits of both Indica (compact and bushy structure) and Sativa strains (uplifting effect and sweet, citric flavour). Suitable for both outdoor and indoor cultivation, she is normally ready after just 45 days of bloom, something absolutely impressive for a plant of this kind. It is then a strain highly recommended for novice growers for her resistance, fast flowering and excellent results. It is available in packs of 3, 6 and 9 feminised seeds.
Early Maroc by Philosopher Seeds
Our next strain has been especially bred by Philosopher Seeds for outdoor growers, being one of the earliest genetics in our shop. Indeed, the origins of the one and only Early Maroc are found in Morocco; after a selection process looking for the fastest plants, it has proven to be one of the fastest strains for outdoor cultivation on the market. She is harvested in August (Northern hemisphere) and, not surprisingly, she produces the finest old school Moroccan hash, which will doubtless delight many resin connoisseurs. Since Early Maroc is exclusively adapted to outdoor environment, she is not recommended for indoor grow rooms. Available in packs of 1, 3, 5 and 25 feminised seeds.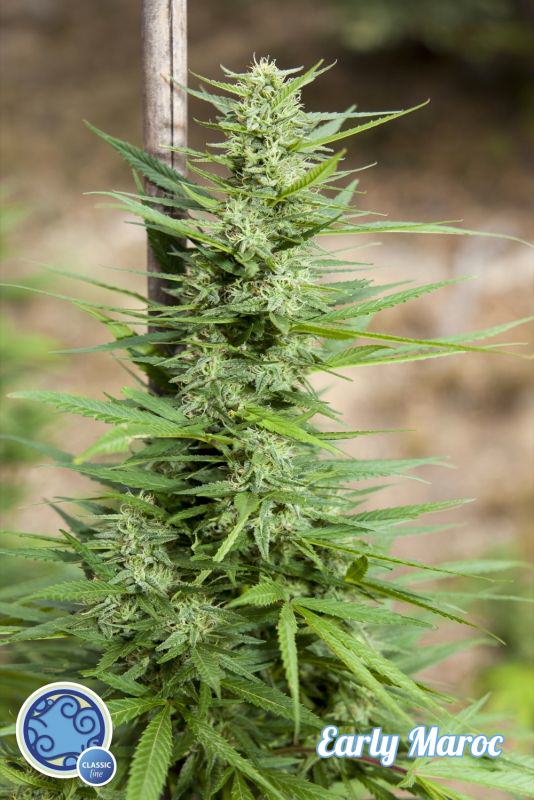 René by House of the Great Gardener
The guys at House of the Great Gardener crossed a splendid Himalayan Indica with a solid and stable Skunk #1 to create René, a cannabis strain highly appreciated for patients who need to relieve pains and reduce spasms. Her growth pattern is compact and sturdy, typical of Indica genetics, while her bloom period takes only from 7 to 8 weeks. Both the terpene profile and the excellent quality of her trichomes have made possible for René to be awarded in some of the most reputed cannabis events and cups around the world, especially in the resin extraction category. Available in packs of 6 feminised seeds.
Black D.O.G. by Humboldt Seeds
What happens when a skillful breeder like Biovortex develops a hybrid with two of the most sought-after clones of the West Coast of the USA? An astounding strain like Black D.O.G. from Humboldt Seeds, a cross between the popular Blackberry Kush and the also renowned Emeral Headband, a true classic from the Californian Emerald Triangle. Her average yield is compensated by the high quality of her flowers, which provide awesome grape and wild fruits notes on a diesel background. And it is ready in just 7-8 weeks! Available in packs of 3 and 5 feminised seeds.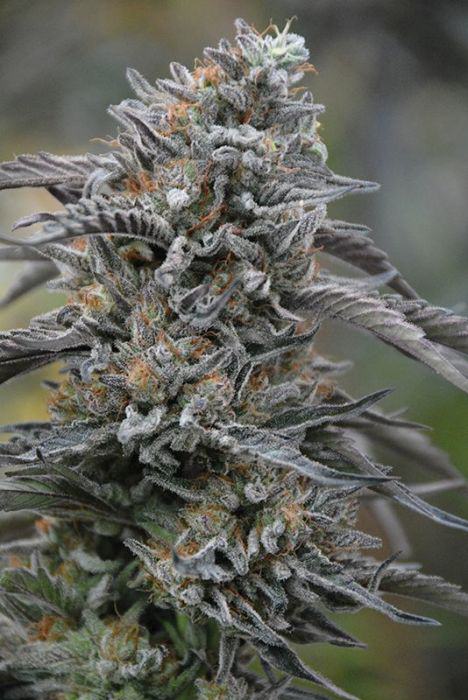 Industrial Plant by Dinafem
Let's take a look now at some of the most poular strains in Dinafem's catalogue of cannabis seeds, Industrial Plant. Born from a massive selection of the legendary Northern Lights - one of the very first hybrids ever developed - her parents are a pure Afghani line and a Sativa from Thailand. The resulting strain grows compact and bushy, with awesome yields, devastating effect and a flowering period that doesn't take more than 45-50 days. Available in packs of 1, 3, 5 and 10 feminised seeds.
Early Widow by Elite Seeds
Last but not least, Early Widow was developed after a tough process of selection performed by the guys at Elite Seeds, who were looking for an outstanding specimen with high potency and early flowering. Thus, they crossed Speed Skunk with White Widow and obtained compact and dark plants with very intense effect and a bloom period that only takes around 50 days. Her high resistance to pests and diseases is also outstanding, being suitable for novice growers or for those who just look for an easy to grow strain.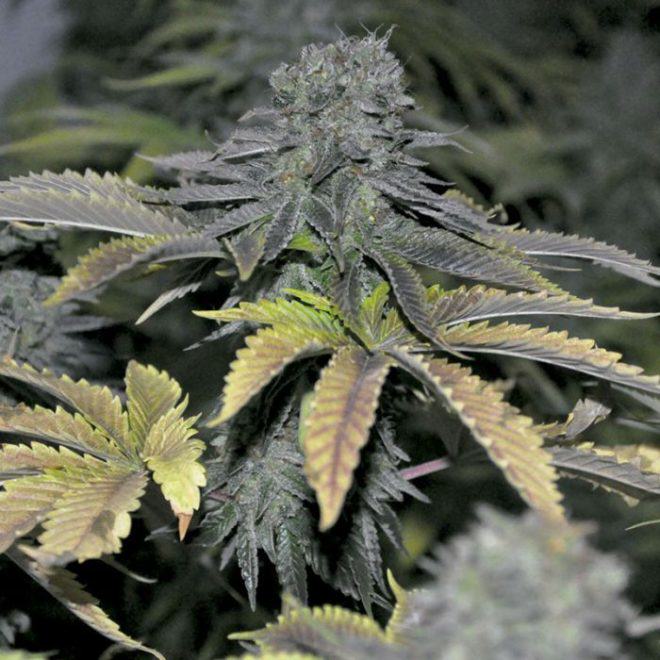 As you can see, you have a very wide range of fast flowering cannabis seeds to choose from, most of them with other desirable traits like high yield or quality. Do not hesitate to leave here your doubts and comments, we'll be pleased to reply them. And do not forget to tell us which are the fastest varieties you've ever grown!
Happy growing!
The articles published by Alchimiaweb, S.L. are reserved for adult clients only. We would like to remind our customers that cannabis seeds are not listed in the European Community catalogue. They are products intended for genetic conservation and collecting, in no case for cultivation. In some countries it is strictly forbidden to germinate cannabis seeds, other than those authorised by the European Union. We recommend our customers not to infringe the law in any way, we are not responsible for their use.